Bali is getting more traction for sustainable and eco-friendly vacations. I personally also hope that this is going to be a thing due to the mass tourism that's coming. With the millions of tourism that came in 2023, and more to come, we must think ahead and minimize our impact on nature. I think therefor that eco-tourism is something that will help with sustainability. It's not just about building with bamboo or ditching the air conditioner. It's a deeper commitment, one that believes even the smallest actions can make a big difference.
So now on this page, I want to reach more people and give the best options for you based on research and reviews available.
Map with best Eco-lodges
Why Choose an Eco-Lodge in Bali?
Eco-lodges are sprouting up across the island, promising not just a place to rest your head, but an experience that's kind to to Nature. But what makes a stay truly "eco-friendly"? It's more than just being located in nature. If we look at it closer it's sourcing food locally, reducing plastic use, conserving water and power, and supporting the artisans and communities that make Bali so special. It's about leaving a place better than you found it.
So, What Exactly is an Eco-Lodge?
Imagine this: A serene accommodation that's designed to have minimal impact on its surroundings. It's where sustainability meets comfort. These lodges are often in the heart of unspoiled environments, offering travelers a chance to connect deeply with nature. But it's not just about the environment. Many eco-lodges in Bali champion local communities, buying fresh produce from nearby markets and showcasing local crafts. As a guest, this means your stay not only treads lightly on the planet but also uplifts the people who call Bali home.
Bali's eco-lodges are more than just places to stay; they're experiences waiting to be had. Whether you're perched in a treehouse in Ubud or lounging in a chic villa in Uluwatu, you're in for a treat. Dive in as we explore Bali's best eco-lodges, where sustainability and luxury go hand in hand.
The Best Eco-Lodges of Bali in a list
The prices given are average per night and for 2 persons unless stated otherwise. it would be wise to check the current price before booking
Bali Swasti Eco Cottages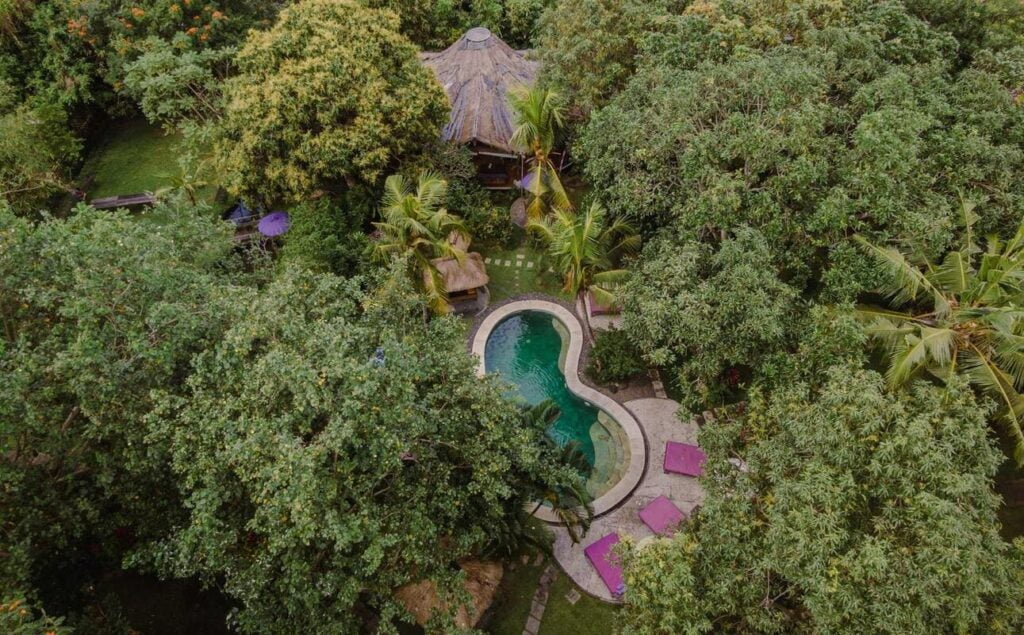 Bali Swasti Eco Cottages in Ubud, Bali, is all about being eco-friendly and sustainable. This resort is in the middle of beautiful gardens, giving guests a peaceful place to relax and feel close to nature. It is important for them to minimize the ecological footprint.
The cottages are designed in a traditional Balinese style. Each room has mosquito nets, ensuring guests have a comfortable stay. One of the best things about this place is the food. They grow their own organic veggies and also buy from local farmers. This means guests get fresh, clean food without any harmful stuff in it.
For those who like activities, there's plenty to do. You can join yoga and meditation classes to relax your mind. The whole place has a classic Balinese feel with lovely trees and stone paths. If you're in the mood for some pampering, they offer massages and other treatments to help you unwind. At their Spa 100% organic products are used.
Grün Canggu Garden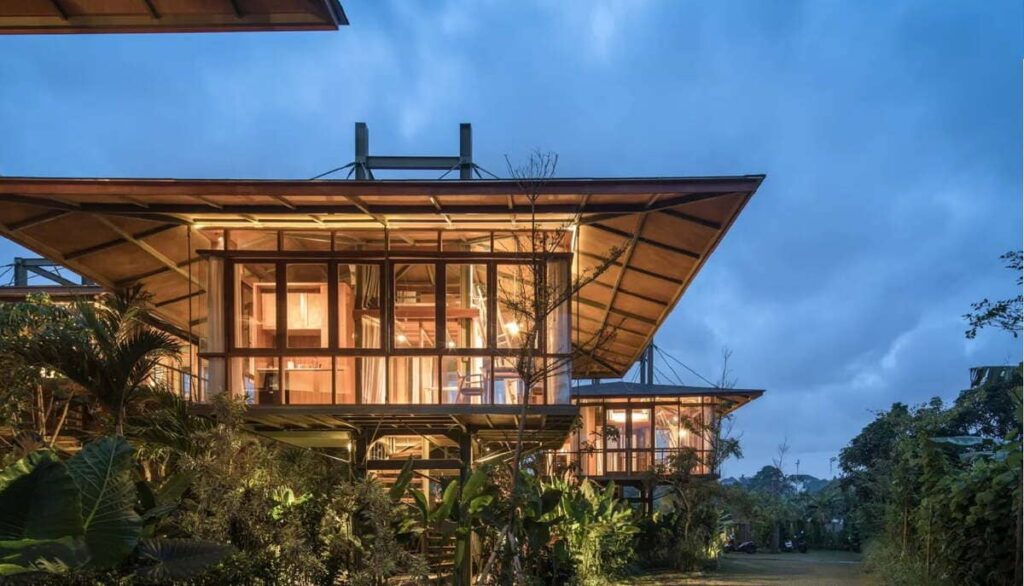 Grün Canggu Garden is committed to sustainability and has implemented several eco-friendly practices:
Solar Power: Grün Canggu Garden uses two solar power systems that can produce more than 10 kilowatts of electricity. This is enough to supply the whole place if guests use power wisely. By using this clean energy, they cut down on harmful emissions.
Nature-Friendly: Instead of harming nature, Canggu Garden's treehouses add to it. The place is filled with trees and green plants. This attracts local animals like birds, butterflies, and dragonflies.
Sustainable Design: The treehouses give guests a special experience. They're elevated, so you get great views and feel like you're floating. Each treehouse has its own area, but there's also a shared pool. Here, guests can relax, eat, and enjoy views of Canggu's beautiful rice fields.
These efforts make Grün Canggu Garden an eco-friendly place that respects and enhances its natural surroundings while providing a unique and sustainable experience for its guests.
Average price per night: IDR 1,750,000 (€ 105)
Green Village Bali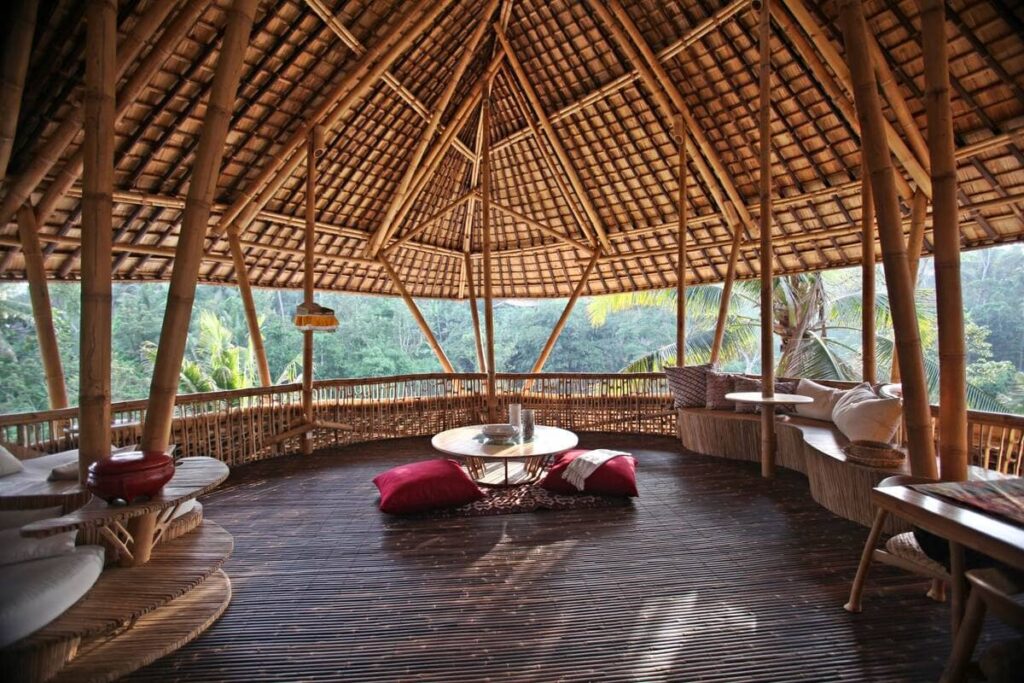 Green Village Bali is a great example of how to live and build in a way that's good for the environment. Here's what they do to be eco-friendly:
Using Bamboo: Every fancy house and villa in Green Village is made mostly from bamboo. The IBUKU team designs them, and then they're built by hand. The buildings show that bamboo, mixed with metals and stone, can make strong and beautiful homes.
Eco-Friendly Design: The village is designed to be both green and comfortable. It has 12 special bamboo houses and villas, all made to be kind to nature.
Community Feel: People in Green Village care about the environment and like to spend time together. They often have events and gatherings.
Close to Green School: All the bamboo homes are just a short, pretty walk from the Green School. This school teaches kids in a way that's all about nature.
Why Bamboo is Great: Bamboo grows fast and is super strong, almost like steel. The bamboo used in Green Village comes from nearby places in Bali and Java. They buy it from local farmers.
All these things make Green Village Bali a place that's good for nature and offers a special experience for visitors that want to experience the tour. Renting one of their villa's will require some enquiries.
Firefly Eco Lodge

Firefly Eco Lodge in Ubud, Bali, is special because it really cares about being good for the environment. The lodge is made using materials that are either recycled or don't harm the planet. It's located right in the middle of Ubud's rice fields, which is Bali's main area for arts and culture.
Even though it's close to the busy part of Ubud with all its shops and places to eat, the lodge feels quiet and peaceful. It's perfect for travelers who want a special experience close to nature.
At Firefly Eco Lodge, there's a lot to do. You can enjoy nature, go on adventures, and still have all the things you'd have at home. The staff there are friendly and will make sure you have everything you need.
The lodge is doing a lot to be eco-friendly. They're spending money and time to make sure they're not harming the environment or the people around them. But, the exact things they're doing aren't listed.
To sum it up, Firefly Eco Lodge isn't just a regular hotel. It's a place where you can enjoy nature, be comfortable, and know you're staying somewhere that cares about the planet.
website: https://www.firefly-bali.com/
Average price: IDR 500,000 (€ 30)
Bali Eco Stay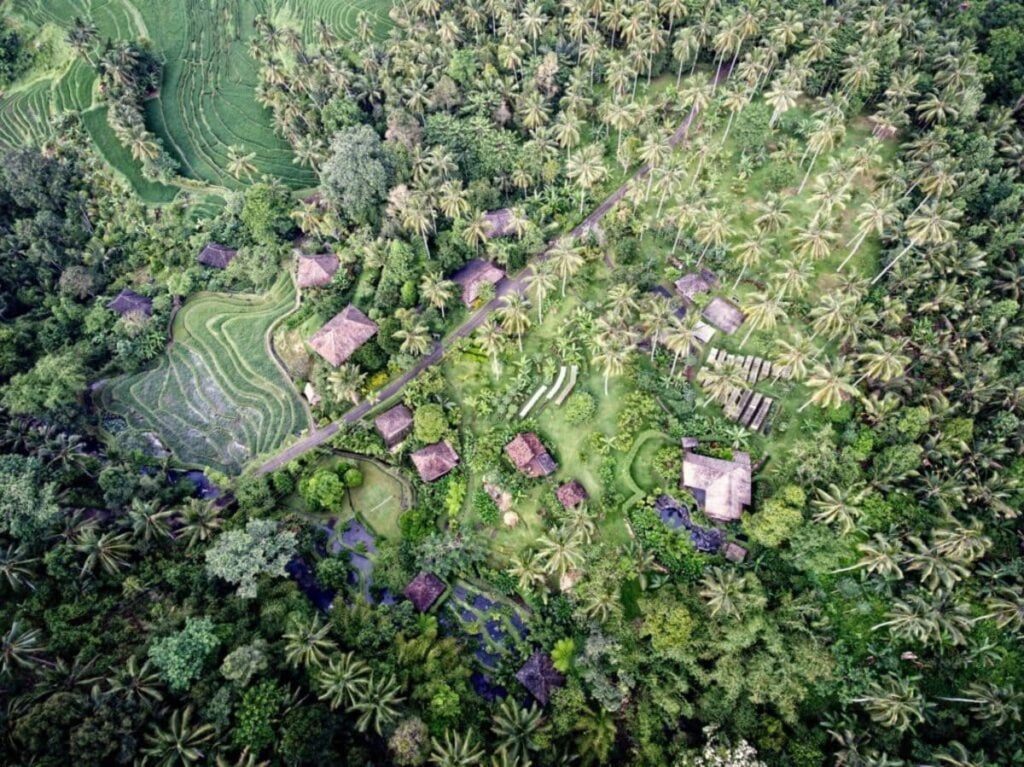 Bali Eco Stay is a special resort in the middle of Bali that's all about being kind to the environment. Here's what makes it different:
Eco-Friendly Choices: Bali Eco Stay doesn't use plastic. They save water with showers that don't use too much. They get most of their electricity from a river nearby. All the food they serve is grown right there, without harmful chemicals. And the water they give you? It's clean and comes from a spring.
Cool Places to Sleep: They have these cool open-air houses over water. From there, you can see rice fields, streams, and forests. At night, you'll hear the sounds of the jungle and water as you sleep.
Fun Things to Do: There's a lot to do at Bali Eco Stay. You can relax in natural pools, learn crafts from local elders, and explore nature and villages by walking, biking, or using a scooter.
Many guests love Bali Eco Stay. They talk about how it's good for the environment, has a beautiful setting, and offers fun activities. Some even call it an "eco-paradise." In short, Bali Eco Stay isn't just another hotel. It's a place where you can enjoy nature, be comfortable, and know you're doing something good for the planet.
Darmada Eco Resort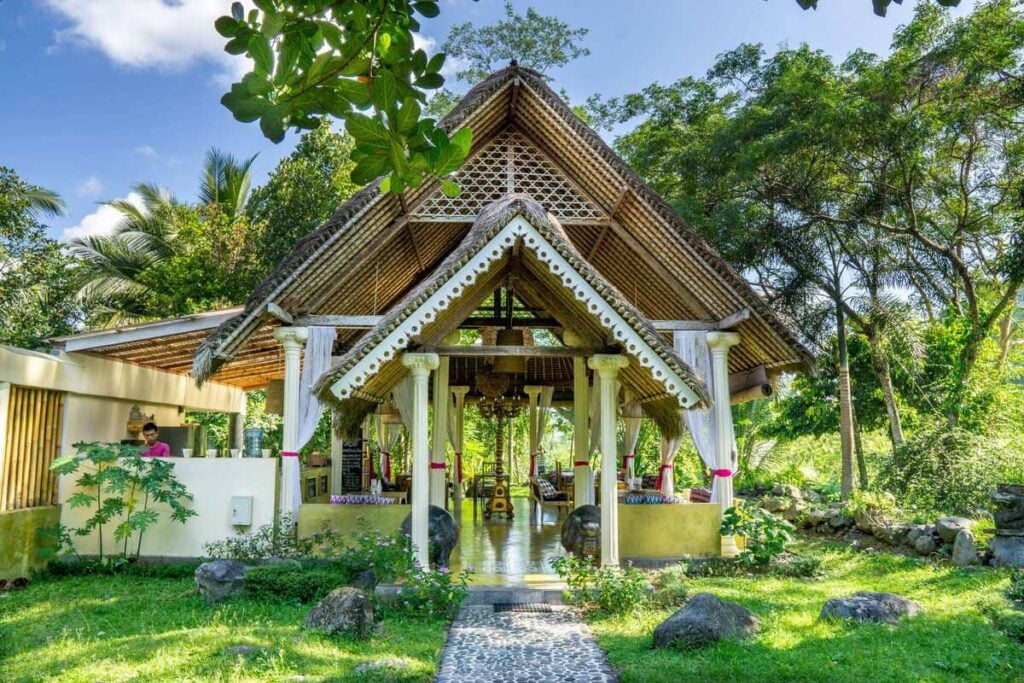 Eco-Friendly Choices: Darmada Eco Resort was made to protect nature and a special spring. It's on a big piece of beautiful land. They have a pool filled with spring water and a dining area with great views of the river and mountains. The rooms mix Dutch and Balinese styles and have handmade tiles. They serve both local and some western food with a local twist. Most of their food ingredients are bought from local farmers, and they're starting to grow their own too.
The resort has bungalows with amazing views of the Unda river and Mount Agung. You can relax and enjoy the scenery from front and back terraces.
There's a lot to do at Darmada Eco Resort. You can walk through rice fields, see green plants, small villages, and hills. If you like climbing, you can go up Mount Batur or the holy Mount Agung. Of course Sidemen itself offers a lot to explore.
Many guests love Darmada Eco Resort. They talk about how it's good for the environment, has a beautiful setting, offers lots of activities, has spa options, and the staff are really helpful. This Resort isn't just another hotel. It's a place where you can enjoy nature, be comfortable, and know you're doing something good for the planet.
Sarinbuana Eco Lodge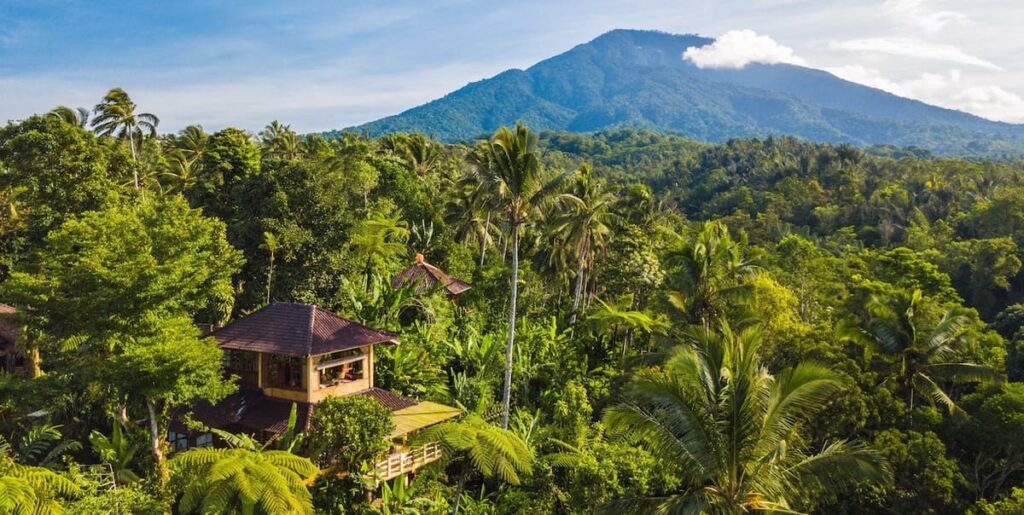 Sarinbuana Eco Lodge, nestled on the slopes of Mount Batukaru in Central Bali, is more than just a place to stay. It's a commitment to the environment and a unique experience for its guests. Here's a closer look:
Eco-Friendly Choices: Sarinbuana is serious about being green. They use natural gas for cooking, organic fertilizers in their gardens, and turn all organic waste into compost. They've cut down on energy by using LED bulbs and setting a power limit for the whole property. Plus, they only use natural cleaning products, have a no-plastic rule, and save water with low-pressure showers. A lot of their power even comes from a nearby river.
Cool Places to Sleep: The lodge has handmade bungalows with great views of gardens and mountains . Each room has a place to sit outside and its own bathroom. There's even a treehouse bedroom that guests love.
Fun Things to Do: There's never a dull moment at Sarinbuana. Guests can trek through the rainforest (3-5 hours), visit a mountain temple, learn the Indonesian language, or try Balinese calligraphy. They can also watch birds, take cooking classes, do yoga, or learn wood carving. And with the lodge's organic garden, meals are always fresh. For relaxation, there's a natural pool, a wood-fired sauna, and a fire pit to enjoy under the stars.
website: https://www.baliecolodge.com/
Average price: IDR 2,000,000 (€ 120)
Puri Dajuma Beach Eco-Resort & Spa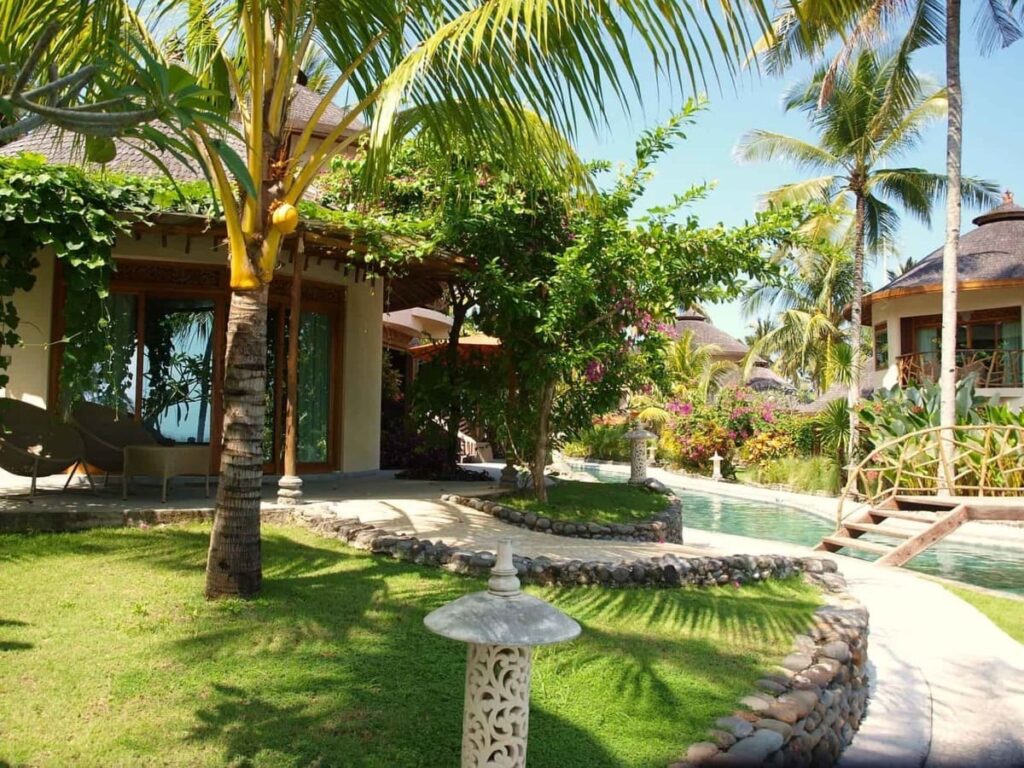 Puri Dajuma Beach Eco-Resort & Spa is a haven for eco-conscious travelers and those seeking an authentic Balinese experience. Operating since 2002, it offers 4-star beachfront stays near the Medewi surf spot and Bali National Park. Guests can enjoy air-conditioned rooms with stunning views, crafted with fine wood furnishings.
this Eco resort is serious about sustainability. They treat used water locally, ensuring no harm to the marine environment. Their eco-policy is impressive: they turn 80% of kitchen waste into compost, grind glass into sand, and collaborate with the local community to recycle plastics and cardboard. They're also energy-efficient, collect rainwater, and use eco-friendly cleaning products and toiletries.
There's never a dull moment here. Guests can indulge in spa treatments, embark on fishing, diving, or hiking adventures, or rent a car or bike to explore Pekutatan. The resort also offers classes on Balinese decoration, cooking, wood carving, and dancing.
website: https://www.dajuma.com/gallery/
Average price: IDR 1,500,000 (€ 90)
Hideout Bali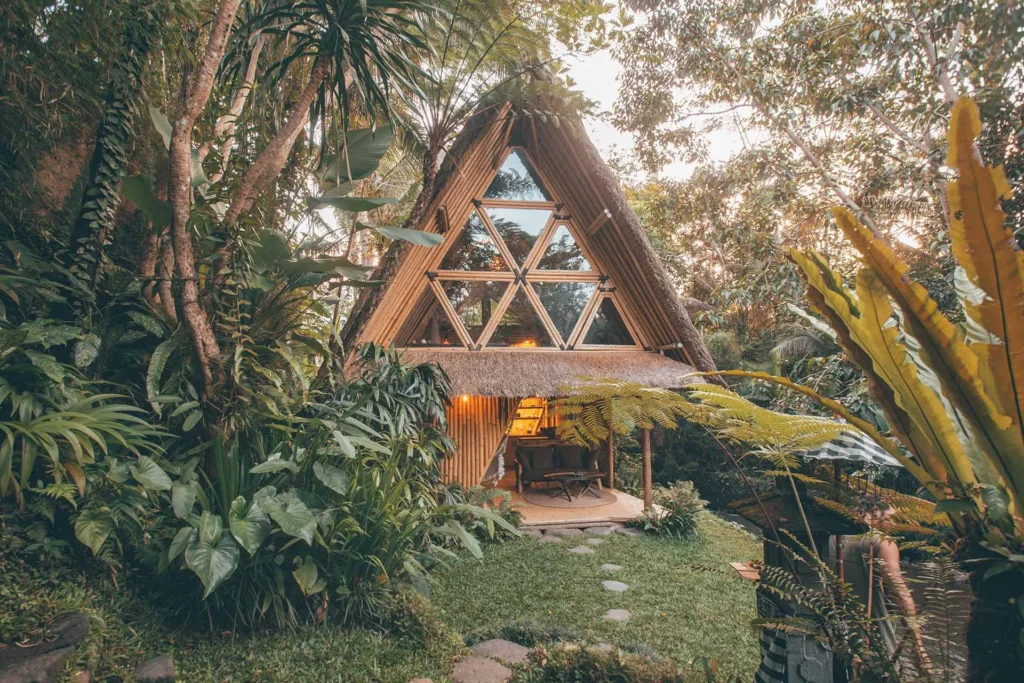 Hideout Bali is an eco-resort tucked away in East Bali's mountains, offering a genuine escape for those seeking adventure and tranquility. Here's a quick look at what it offers:
Each of Hideout Bali's homes is crafted entirely from bamboo, sourced locally and built by skilled local artisans. This ensures not just a unique stay but also a sustainable one.
The resort is run by a close-knit team from nearby villages, ensuring guests get an authentic Balinese experience. Whether you're a nature lover, trekker, artist, or just someone looking for a green getaway, Hideout Bali caters to all.
Guests can explore nearby regions like Karangasem, Sidemen, and Ubud, or simply relax in their bamboo haven. The resort also boasts a garden for those who prefer a quiet moment with nature. For foodies, the Hideout Bistro offers breakfast (included in the stay), lunch, and dinner, all delivered right to your door.
Embrace the local environment when you stay at Hideout Bali. While they maintain high cleaning standards, nature occasionally steps in, so guests might encounter an insect, frog, or even a snake. The internet can be spotty, so come prepared for a genuine off-the-grid experience.
website: https://hideoutbali.com/
Average price: IDR 3,750,000 (€ 225)
De Moksha Eco Friendly Boutique Resort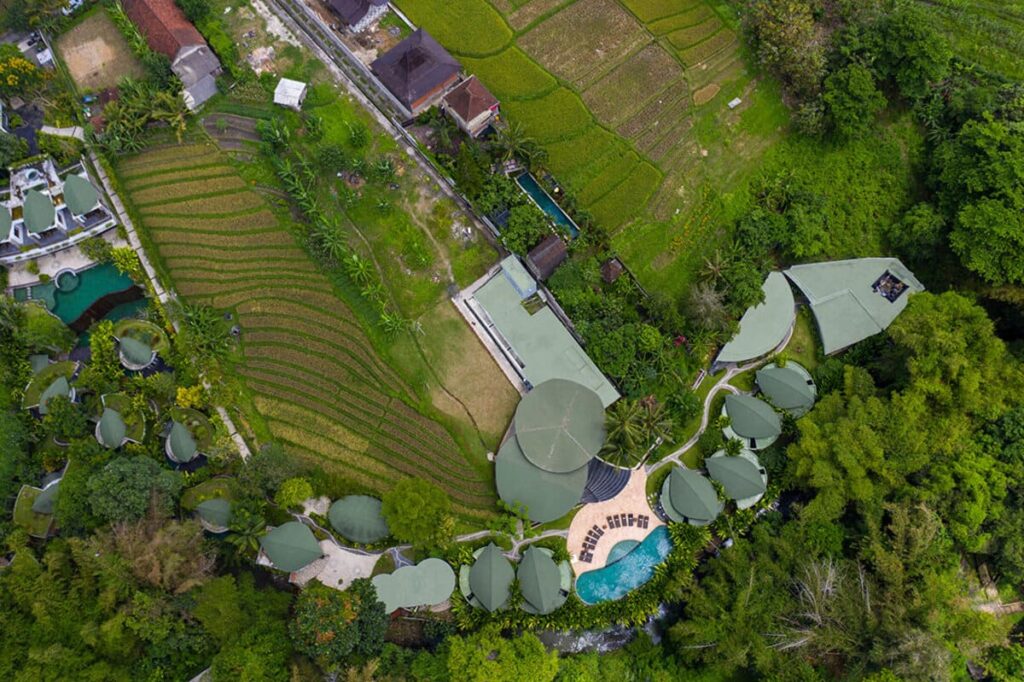 De Moksha Eco Friendly Boutique Resort in Tanah Lot is a haven for those passionate about sustainability and authentic Balinese experiences. Here's a snapshot of what awaits you:
Eco-Design: Nestled amidst traditional villages, rice fields, and forests, De Moksha's luxurious villas blend contemporary sophistication with Indonesian artistry. The resort's design, from its gardens to its unique leaf-shaped roof, reflects the Balinese concept of Trimurti, emphasizing creation, preservation, and destruction.
Authentic Experience: Beyond just a stay, De Moksha offers an intimate glimpse into Balinese culture. Their top-notch service ensures guests feel at home in their eco-luxury villas. The resort also fosters a community vibe, encouraging interactions among guests.
Activities Galore: Dive into a plethora of activities, from rice field walks and village cycling tours to Balinese dance classes and ceremonies. For those keen on farming, there's organic farming and permaculture. Chocolate enthusiasts can enjoy cacao plantation tours and chocolate-making courses. Adventure seekers can try surfing and diving. And for relaxation, the riverside spa and yoga shala await.
website: https://www.villamoksha.com/
Average price: IDR 1,000,000 (€ 60)
De Klumpu Bali Eco Tradi Stay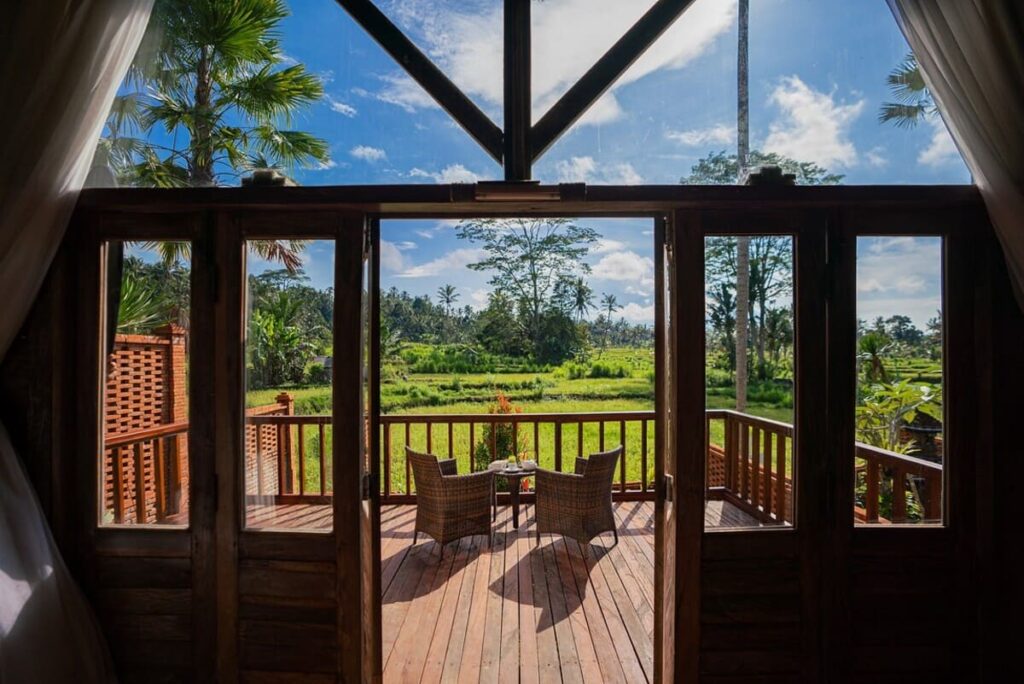 De Klumpu Bali Eco Tradi Stay is a haven for eco-conscious travelers seeking a genuine Balinese experience. Here's a glimpse of what this unique accommodation offers:
This eco resort is dedicated to sustainability. The resort is designed to harmonize with nature, from its green maintenance to its eco-friendly practices. The pool uses minimal chemicals, thanks to ionization purification. Vehicles are parked away from rooms and dining areas to maintain tranquility. Plus, they use energy-saving bulbs, monitor energy use, and recycle water for plants.
The rooms reflect traditional Balinese architecture, blending luxury with eco-friendly construction. It's a retreat that immerses guests in Bali's natural beauty.
Organic Dining: Fresh, organic vegetables and herbs come straight from their garden. They're big on composting, soil improvement, and even utilize stone walls for growing. This ensures guests enjoy the freshest meals.
Activities: From yoga amidst rice fields and treks to Tangkup Waterfall, to wellness treatments at Dedari SPA and exploring rural Balinese life. Kids can enjoy kite-making, while adults can learn about medicinal plants or take a Balinese dance class. There's also cycling, duck-catching, Gamelan music lessons, and cooking classes that start with a traditional market visit.
Local Charm: De Klumpu stands out for its blend of 5-star amenities and authentic local experiences. It offers a serene setting away from tourist crowds, letting guests delve deep into Balinese culture and nature.
iVilla – by Ekosistem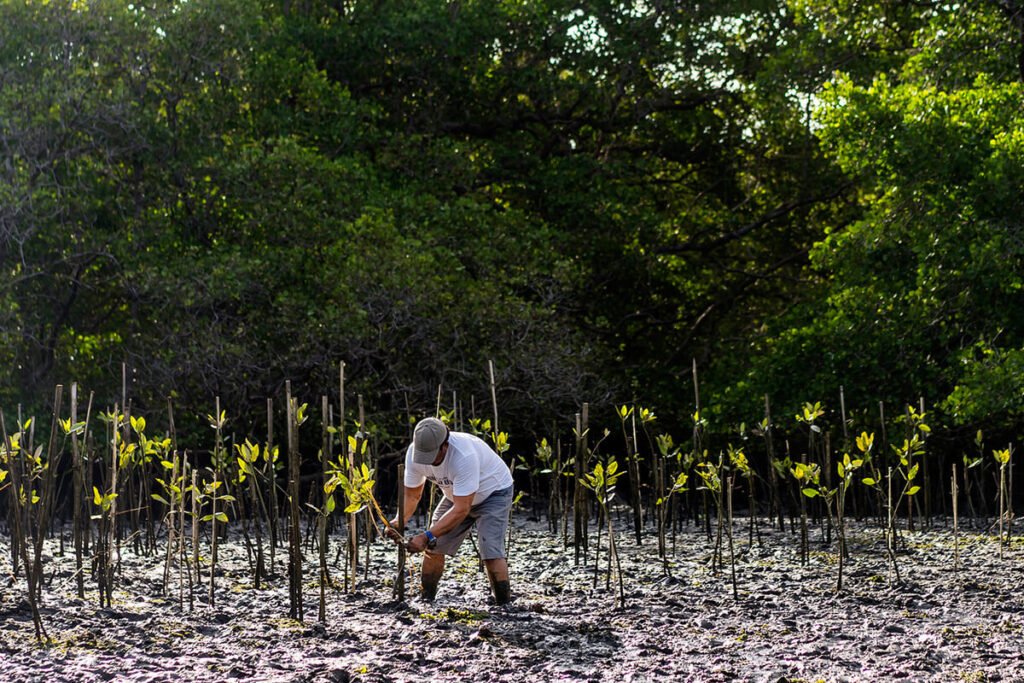 In short this is a luxurious retreat that combines sustainability with indulgence. iVilla is passionate about the planet. They champion sustainability with features like plant-based bathroom products, organic waste composting, and a #refillMyBottle station. Their initiatives extend to uplifting the local community and environment.
The villas are spacious, set within private courtyards, and designed for an elevated pool villa experience. They blend local artistry with five-star comforts, offering a tropical luxury experience.
Activities Galore: Dive into relaxation with the outdoor pool or embrace adventure with nearby hiking and biking trails. Plus, a complimentary drop-off service lets guests explore the local area with ease.
Local Charm: iVilla stands out for its blend of 5-star amenities and authentic Balinese experiences. Whether it's cycling or swimming, guests can enjoy a peaceful setting away from the usual tourist hustle.
Tepi Sawah Lodge
Tepi Sawah Lodge & Retreat is an eco-conscious haven nestled amidst Bali's pristine rice fields and lush forests. Here's a closer look at this sustainable sanctuary:
Eco-Heartbeat: Tepi Sawah Lodge & Retreat is not just about eco-friendly practices; it's a lifestyle. From the lodge's design to the daily routines of the staff, sustainability is at the core of everything. The team lives and breathes an eco-lifestyle, ensuring guests experience this commitment not just in words but in every action.
Natural Beauty: Described as a "hidden gem," the lodge offers an immersive experience in nature. Guests can relax in comfortable, authentic guest houses nestled between rice terraces, enjoying the serenity of green landscapes and the soothing sounds of nature from their balconies.
Comfort Meets Nature: The lodge promises a tranquil escape with rooms equipped with personal safes, dining areas, and open-air bathrooms. The garden and barbecue facilities add to the charm, ensuring guests have everything they need for a comfortable stay.
Activities & Exploration: Guests can indulge in on-site activities like cycling or venture out to explore the less-touristy side of Bali. With free parking and proximity to Bali Denpasar International Airport, the lodge is both secluded and accessible.
Average price: IDR 550,000 (€ 33)
Sebatu Sanctuary Eco-resort

Sebatu Sanctuary doesn't just talk about sustainability; they live it. They proudly adhere to the rigorous standards set by Green Globe and Earth Check, two leading global certification bodies for eco-friendly accommodations. The resort harnesses solar energy, collects rainwater, and has taken a firm stand against single-use plastics.
Guests can expect a blend of luxury and nature. Each room is air-conditioned, equipped with modern amenities like a flat-screen TV and DVD player, and offers a serene garden view from the terrace. Some rooms even have a balcony. And yes, there's free WiFi for everyone.
Unique Activities: Sebatu Sanctuary offers experiences that are authentically Balinese. Guests can:
Engage in a water purification ceremony at Sebatu village's sacred springs.
Trek to a secluded waterfall for a romantic picnic.
Start the day with an outdoor yoga session.
Swim in Bali's only chemical-free natural pool teeming with fish.
Learn Balinese cooking with fresh picks from an organic garden.
Master wood carving under the guidance of Bali's top artisan.
Awards & Recognition: The resort isn't just loved by its guests; it's also recognized globally. It's been honored with the Peoples' Choice Award by Trip Advisor for two consecutive years, placing it among the top 10% of hotels worldwide.
Sun Sang Eco Village Sun Sang Eco Retreats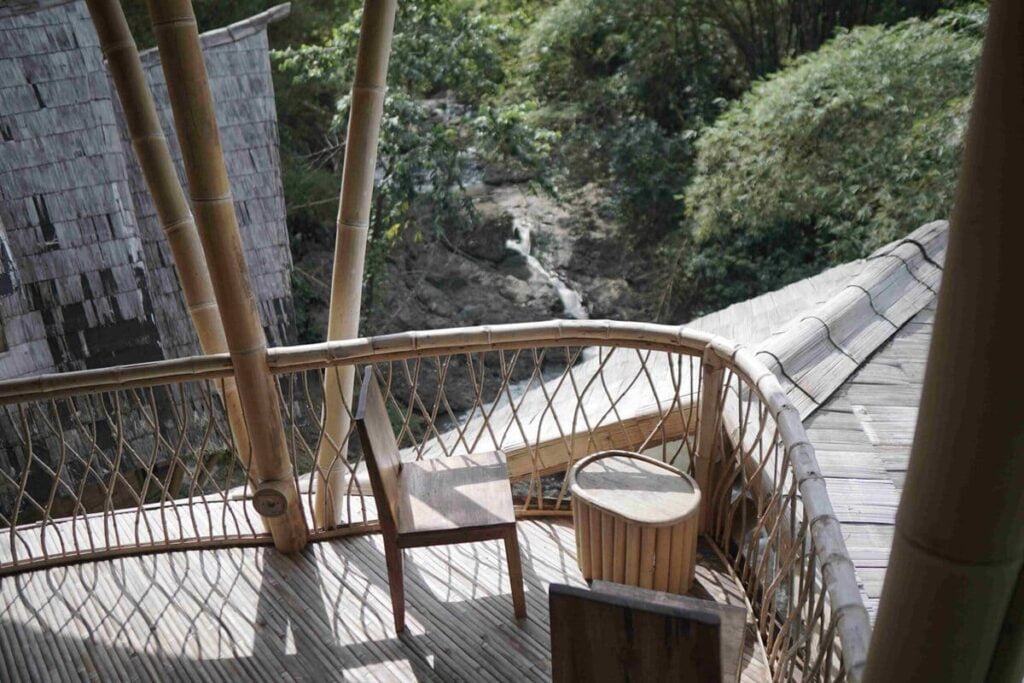 Sun Sang is all about green living. They're not just talking about sustainability, it's actually doing it. They're self-sufficient and are leading the way in responsible eco-tourism in the region. Their dedication to sustainability is evident in their bamboo houses, a material that's both renewable and eco-friendly.
The resort isn't just a business; it's a community. Each bamboo house is co-owned by eco-conscious investors and is managed by the resort team. They're also working hand-in-hand with local communities to find sustainable solutions to Bali's overdevelopment challenges.
Guests won't run out of things to do here. From fishing to a 4-day retreat that combines Tai Chi, juice detoxing, and bamboo culture, there's something for everyone. This retreat is more than just relaxation; it's about connecting with nature, personal growth, and supporting the resort's mission to promote bamboo architecture and empower local communities.
Their hard work hasn't gone unnoticed. They've earned the Travel Sustainable Level 2 status on Agoda! This means they're making significant strides in their sustainability journey.
Guests can wake up to river views in some units and enjoy the fresh air from their room patios. Breakfast? They've got options, whether you're into Asian, vegetarian, or vegan dishes. And yes, they offer free WiFi throughout the property.
Suenyo Eco Retreat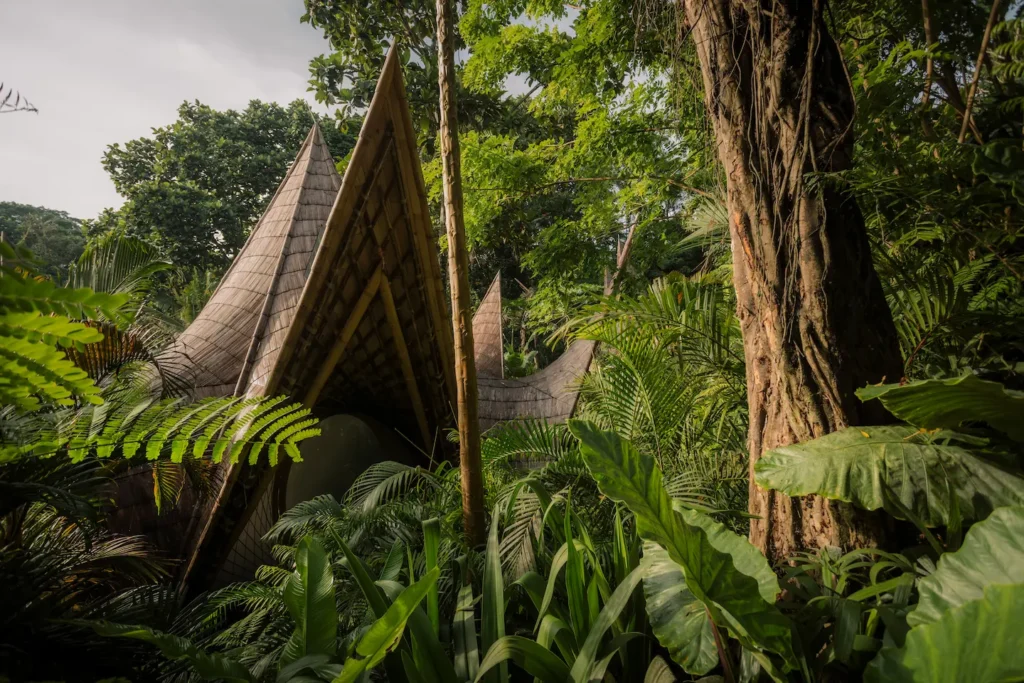 Suenyo wasn't just built on the land; it was crafted with deep respect for it. In the tropical jungle and alongside the Yeh Poh River, the retreat offers a genuine Balinese experience. But it's not just about the location; the retreat's bamboo structures are a testament to sustainable architecture, blending seamlessly with nature.
Suenyo's commitment to the environment is evident in every aspect of its operation. From sustainable construction methods to a strict zero-plastic waste policy, the retreat is all about minimizing its ecological footprint. But it's not just about the environment; Suenyo also supports local artisans and farmers, ensuring that guests get an experience that's both authentic and sustainable.
The retreat offers more than just a place to stay; it's a holistic experience. Whether it's yoga and meditation sessions, healing rituals, or rejuvenating spa treatments, every activity at Suenyo is designed to promote well-being and inner peace. And for those keen on exploring Balinese culture, the retreat offers a range of cultural activities that showcase the island's rich heritage.
Conclusion
Bali's commitment to eco-friendly tourism is evident in its growing number of eco-lodges. These aren't just accommodations; they're a testament to Bali's dedication to preserving its natural beauty and supporting its local communities. By choosing these lodges, travelers are not only getting a unique experience but also contributing to a sustainable future for Bali. It's a win-win: visitors get to immerse themselves in the authentic Balinese culture and environment, while also knowing they're making a positive impact. As more travelers become conscious of their environmental footprint, the hope is that eco-lodges become the norm, not just in Bali but worldwide. So, next time you plan a trip, consider an eco-lodge. It's a choice that benefits you, the community, and our planet. Safe travels!

Hi I am Dwi. I am a blogger, travel agent and a mom of a lovely daughter and wife to a supportive husband. I customize and plan tours in Bali and islands nearby for a living and have been doing this for more than 14 years. Get in touch via contact [at] taletravels.com