The whole European part of the world knows, or at least heard about the magical specialists of Thai massage. Those who must necessarily be in traditional Thai clothes and provide a service that is beyond the capacity of other masseuses.
Let's try to check today, is it a reality or a highly exaggerated myth? Are Thai massage specialists as good or does their name already go far away from them as myths.
Pattaya: The Massage Capital?
If you go to one of the tourist neighborhoods, you will definitely be called "Massage!" from left and right, and that's why at some point you may think that every second place in Pattaya is a massage parlor. Of course, this is not entirely true, but it is fair to say that even if you go deep into the usual residential neighborhoods – even if there are enough massage parlors, there is enough room for everyone.
What can I say – it's harder to find an ordinary hair salon than a massage parlor. This says a lot about the popularity of massage in Thailand even now.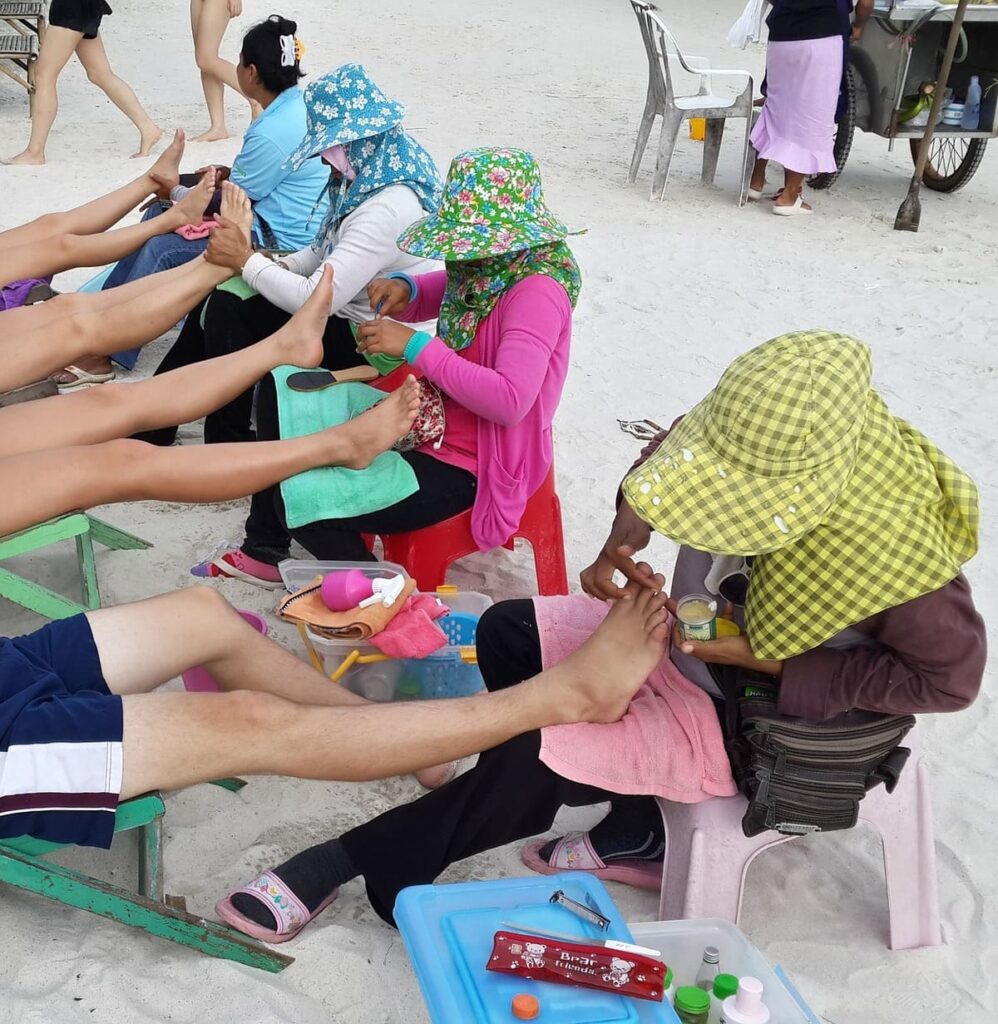 Even on the beaches of Pattaya, you can get a massage.
Quality Over Quantity: The Real Deal
In other countries, a simple massage and Thai massage is a different. It depends who is massaging you and if they have some cultural affinity or background related to Thailand. Most specialist in the art of Thai massage are Thai of course. This makes it a bit harder to find out who is the specialist in Thailand.
Here, in Pattaya, all specialists are Thai, or 99.9% of them. Therefore it is more difficult to choose a good specialist. As a rule of thumb, in massage parlors filled with pretty girls that are mostly young lack the experience. About national Thai costumes, of course, this is an exaggeration. Yes, they try to be in the salon in the same corporate uniform.
Since there are a great number of salons, of course, I did not check every one, but according to the numerous reviews of those with whom I was able to talk, the massages there are pleasant, and safe and beneficial for the health.
Some parlors put in the advantage of such simple plus services. The girls agree and sometimes even offer additional services for an additional same price. I think this partly depends on the availability of private rooms in the salon. But we will not talk about it here. Reality: So yeah, there are those who offer services who wants that "happy end".
Finding the Right Specialist
For example, if you have back pain, then out of 10 specialists there are only 1-2 of them who will rub your back so that you can breathe a sigh of relief. These specialists are often busy. And most likely you get a beautiful, but not-so-experienced girl to massage your back. They try, but it is more treating it as a relaxation, a pleasant pastime, no more. Don't expect too much and it will all be ok.
The price of this massage is on average 300 baht ($8.50) for a standard massage in 1 hour, or 200 baht ($5.60) for a foot massage. This is much cheaper than Western prices, so even if you don't cure your back pain in one session, it's worth going there just for the experience.
Walking along many streets in Pattaya, on Second Road, not very far from Terminal-21 shopping center, I found massage parlors "Green" and "Yellow", with the price of 200 baht for an hour of massage. It's even cheaper than average, and most importantly, there are always a lot of people there.
The list of services there is long: back, legs, legs + head, head and back, with and without oil, with and without aromas…. This list goes on, and in general, with assumptions, it is similar everywhere. This means that due to some remoteness from the center, the salons described by me are cheaper in price, but did not lose anything in quality. From the people I've talked with, they confirm my opinion. If you are interested I also compared prices Pattaya vs Bali to see where it is cheaper.
Reality: Don't expect miracles with your pains and aches over your body when a pretty girl is massaging you.
Hidden Gems: Therapeutic Massage Parlors in Pattaya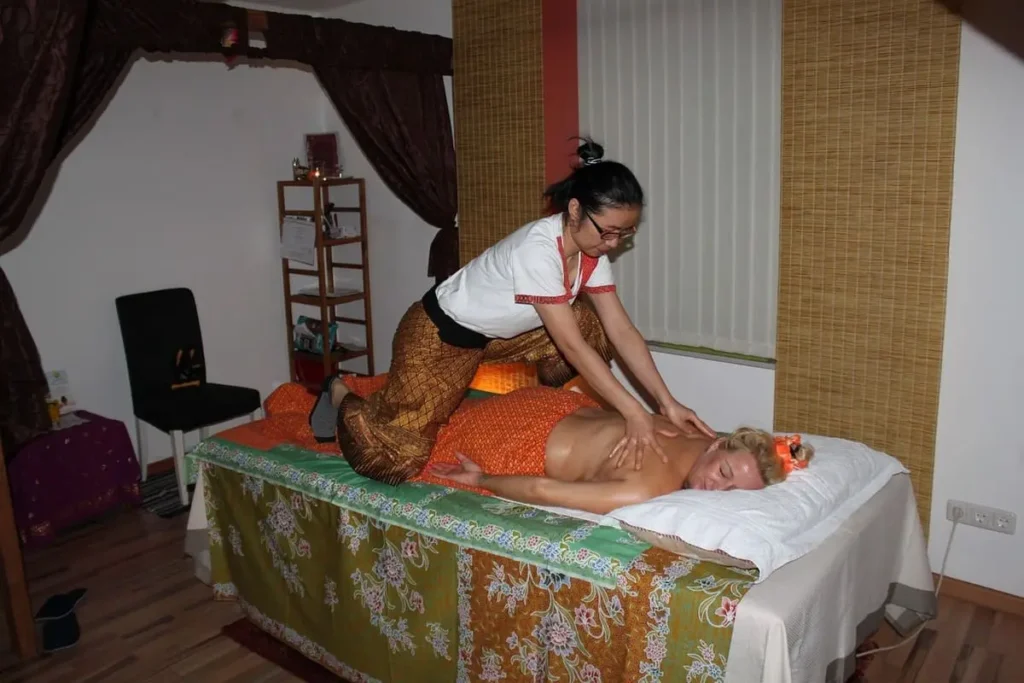 To get a therapeutic massage, it is worth a little work. Firstly, there are not so many such salons, and it will not be easy to find them, and secondly, which follows from the first – there are queues and you will need an appointment. I will give you two in the same location. One I have been to, this salon works in conjunction with an institute for the blind or visually impaired that trains them in therapeutic techniques to provide them with a profession. It also cost 300 ($8.50) baht at the time of writing. To make an appointment you would need to book at least 1 day in advance.

The second salon is also with a similar story. The massage in this salon is usually done by adult men and women, in one room of two or three people. This massage is much more tangible than in salons filled with pretty girls. They massage and squeeze better, and at the moment when you are held from behind by the hands and knee resting in the back – there is a strong feeling that some effect from such therapy will definitely be helpful.
On the downside – this salon is a bit more therapeutic, and therefore instead of pleasant stroking to music there will be heard crunching of bones and their constant negotiations among themselves. The fact that this can distract from the mood is not much of a concern to them.
Also, even after an hour on the massage table, I didn't feel like they squeezed me enough. Perhaps this is due to the fact that they work on some average program, and try to avoid traumatizing especially delicate clients, but given that this is their main and only profession, in my opinion, they should have felt with their hands whether it is possible to press even harder, or perhaps I should have said something.
Tip: Speak out if you require additional massage on your back or arm.
The verdict
In general, after experience and discussion with other clients of salons I have the following verdict – massage in Pattaya do well, high quality, in most cases safe for health. I really like what they do, but expect from 1 session where my back pain did not disappear. Myth: one massage sessions is all you need.
It is worth going more than 1 time as this might help the aches over the body. Do not expect things to pass with just 1 massage session. The prices seem to be great as well because it's a lot cheaper than back in Europe.
Here are some of the massage parlors I've used to write about Thai Massage in Pattaya:
Lanna Health Massage
084 046 8612
https://goo.gl/maps/nuGJQbMwrwkUgrBdA
Green massage pattaya ( 그린 마사지 파타야 )
093 656 5178
https://maps.app.goo.gl/JHqUNT5kX8vLEpEg8
Salon with blind personal
038 251 851
https://goo.gl/maps/aV6cKxuZ3dsMbnns9
Questions about Thai Massage in Pattaya
Is Thai massage in Pattaya different from other countries?
While the basic techniques remain consistent, the experience in Pattaya is unique due to its cultural roots and the expertise of local masseuses.
Are all masseuses in Pattaya dressed in traditional Thai attire?
No, while promotional materials might showcase them in traditional attire, most masseuses wear uniforms during their sessions.
How much does a typical Thai massage cost in Pattaya?
On average, a standard massage costs around 300 baht for an hour, with variations depending on the type and parlor.
Is it easy to find therapeutic massage parlors in Pattaya?
While therapeutic massage parlors exist, they are fewer in number and might require prior appointments.
Are additional services common in Pattaya's massage parlors?
Some parlors might offer additional services, often contingent on factors like the availability of private rooms.
Can I expect a cure for my ailments with just one massage session?
While massages offer numerous benefits, it's unrealistic to expect a complete cure from a single session, especially for chronic ailments.