The Toll in Bali also plays an important role of avoiding heavy traffic or taking a faster shortcut. If you rent a motorbike or car this article can be very handy and safe you some problems if you go around. Tourists sometimes take the toll road by accident, it can happen, but let's prepare for that in this article.
The toll road is built on water, stretching 12.7 kilometers, with special lanes just for motorcycles on both sides and separate for cars and larger vehicles (Heavy trucks are not allowed! due to risk of breaking down). That's the Bali Mandara Toll Road for you. Connecting key spots like the Ngurah Rai Airport, Benoa, and Nusa Dua, it's become a vital part of South Kuta's infrastructure.
But why the name 'Mandara'? It stands for "Maju, Aman, Damai dan Sejahtera" which translates to "Forward, Safe, Peaceful, and Prosperous". Quite a fitting name for a road that promises progress and safety.
TIP: Speaking of safety, ever noticed those wind speed gauges before entering the toll road? They're there for a reason. Since the road is above water, the wind can have a big impact. These gauges help monitor the wind speed to ensure safe travels. It can be scary on the bike when suddenly a strong wind pushes you! (speaking from experience)
With Bali being a hotspot for tourists, the number of vehicles has shot up. The Mandara Toll Road has been a game-changer, making travel smoother and faster. And while there's a fee to use the road, there have been several rate changes I will update any rate change in this post.
Map of the Toll Road in Bali connecting: Ngurah Rai Airport, Benoa, and Nusa Dua.
Some questions you might have about the Toll Road in Bali.
How much is the toll road in Bali Mandara?
For Class I vehicles, which include sedans, jeeps, pickups, small trucks, and buses, the toll fee is 13,000 rupiahs (under 1 euro). For Class VI vehicles, such as scooters and motorcycles, the toll fee is 5,000 rupiahs (like 0.35 euro).
Bali toll road: how to pay?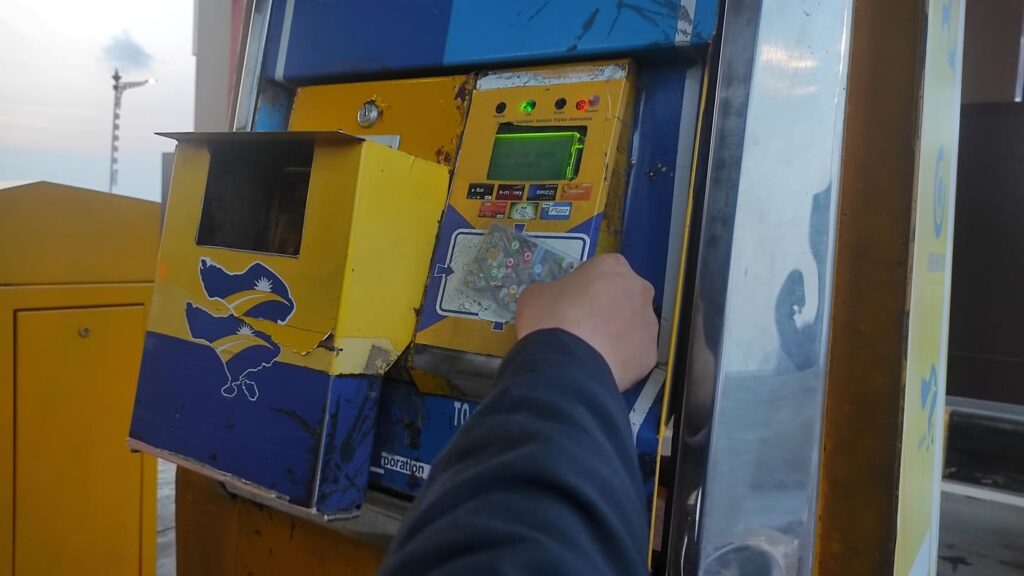 The easiest way is to obtain a toll card from Indomaret (only!). Indomaret stores (not at Alfamart, or other convenient store as some people might claim) nearby the toll road might not have stock, and staff might never even heard of it. Just visit Indomarets during your stay and eventually you will find it. could even be that on your first store you can purchase it. You would need to top it up with money and you can tap your card at the toll to pay.
The card itself cost a bit of money (under 25k IDR), and than you can load it.
How does the toll card look like?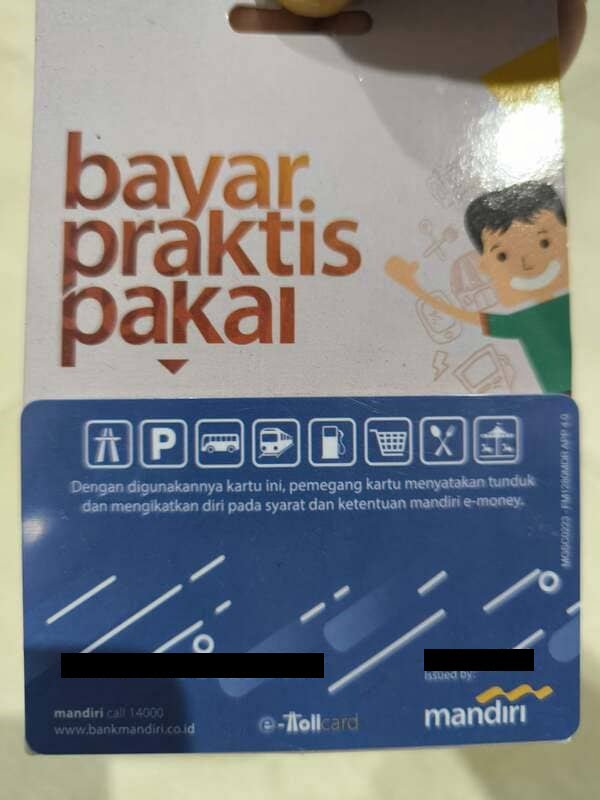 This is an image of the toll card you can purchase at Indomaret. It's automatically without any money on it, so you would need to add some.
How much did the Bali Toll Road construction cost?
An interesting question you might have. Cost approximately Rp 2.48 Trillion (205 million euro) to construct the Bali.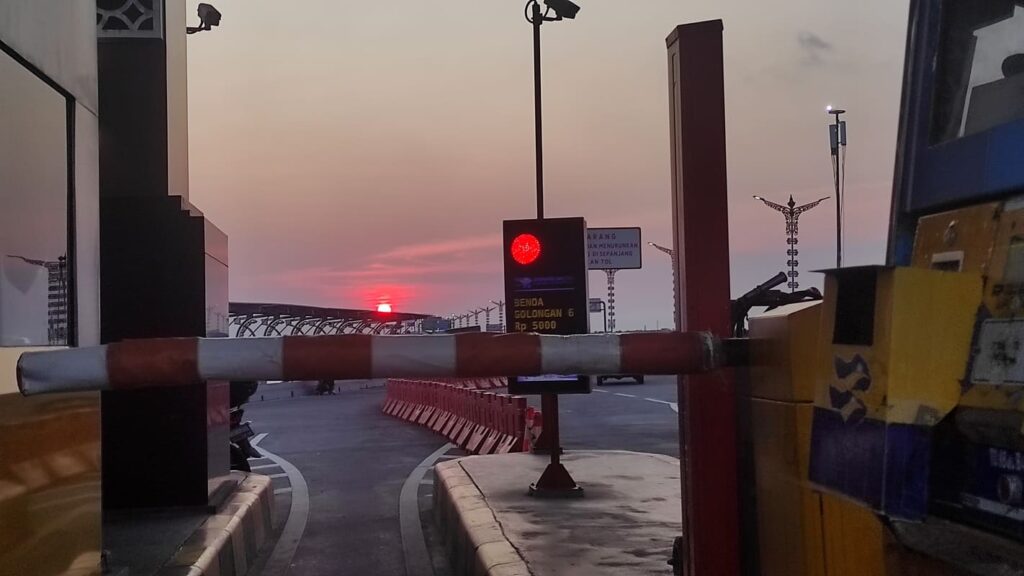 other accepted payments
For those with an Indonesian bank account like Mandiri, BCA, BNI or BRI you can also use your card for the toll road (and other places)
Mandiri e-money: Mandiri e-money is a versatile electronic card offered by Bank Mandiri. It allows users to make transactions without cash. You can top it up at Mandiri ATMs, bank branches, or through mobile banking. When using it, always ensure that the card is kept securely and not shared with others to prevent unauthorized transactions.
BCA-FLAZZ: BCA-FLAZZ is an electronic money card from Bank Central Asia (BCA). It's designed for daily transactions, from toll payments to shopping. You can top it up at BCA ATMs or partner merchants. One unique feature is its generation identification; each card belongs to a specific generation, which might have different benefits or features.
BNI-TAPCASH: BNI-TAPCASH is Bank Negara Indonesia's (BNI) electronic money solution. It's suitable for various transactions, from transportation to entertainment. Topping up is convenient, available at BNI ATMs, and the card is widely accepted at numerous merchants across the country.
BRI – BRIZZI: BRIZZI is Bank Rakyat Indonesia's (BRI) electronic money card. It's designed for a range of transactions, making daily activities more convenient. You can top up your BRIZZI card at BRI ATMs, bank branches, or through selected merchants. It's accepted at a wide range of places, ensuring you can go about your day smoothly.
Is cash accepted?
No cash is not accepted! those coming without a toll card often cause a traffic hold up before the toll. The suggestion from security you get is: Ask the person behind you in line to pay for you. The risk is, that this person might not be able to afford 2 trips on the toll road. So do not come in thinking you can pay with cash!
Experiences on the toll with the motor bike
Some people drive very fast, way above suggested speed limit. It can be scary when they overtake you or when they use the claxon upon approaching you. Drive on the left side of your lane. Even before going on the toll road you will see which road you are supposed to take.
Another thing is it can be windy! very strong winds are possible. I would recommend to avoid this road when it's raining in Bali!
How is it with the car?
With the car it's a very comfortable. No traffic jam, wind is less of an issue. It's a very convenient way of travelling between Kuta, Nusa Dua or Benoa.
Taking the toll road can safe you a lot of time. It has breath taking views from airplanes coming and going, sunsets and the water in the benoa bay. I hope my article has helped you prepare a bit for Bali.

Hi I am Dwi. I am a blogger, travel agent and a mom of a lovely daughter and wife to a supportive husband. I customize and plan tours in Bali and islands nearby for a living and have been doing this for more than 14 years. Get in touch via contact [at] taletravels.com