Hiromi Restaurant and Bar is a restaurant on the roof of Sunrise Aventus in South of Kuta (or you could say Nusa Dua). We choose this location to have a nice view on the Benoa Bay, and see the lights from the Toll Road in Bali. Besides that the restaurant offers a Japanese kind of fushion menu.
We know what we got into when choosing this restaurant because of the locaton and view. The hotel Sunsire Aventus itself is considered a 4-star hotel. You can say it's a bit on the pricier side.
Reservation for Hiromi Restaurant
Easiest way to make a reservation is via their Instagram Channel: @HiromiRestaurantandbar. They have a link in their bio connecting you to the different channels available. We did it via Whatsapp as this is the most convenient way to talk with businesses in Bali.
Getting there / location
The hotel offers the parking space which is underground. There is enough space when we were there considering it was in the late peak season moment of Bali.
Since it is a bit of a more upscale place (4-star hotel and roof top restaurant), upon entry of the Hotel the employees immediatly asked what is our purpose there. We didn't look like hotel guests perhaps (we're locals) and we told we had a reservation under my name. They immediatly called the restaurant to verify, and after it was verifeid we were told were the elevator was to go to the Restaurant. It was all very friendly!
Ambiance and view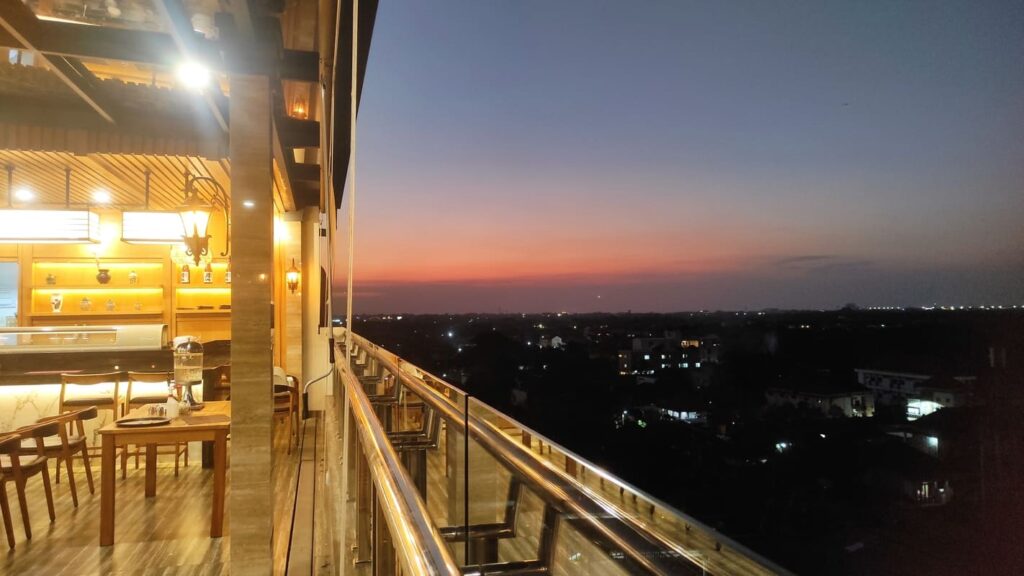 It was a Monday evening that we arrived, and there was 1 group of friends that occupied a table. We choose to sit near the edge to have the view of the toll road, and a bit of the sunset looking at the west. As the other group finished up we we're alone with our family in the restaurant. It's a nice experience having such a restaurant for yourself. This way we had more attention and fully dedicated service from the staff.
Menu & Food at Hiromi Restaurant and Bar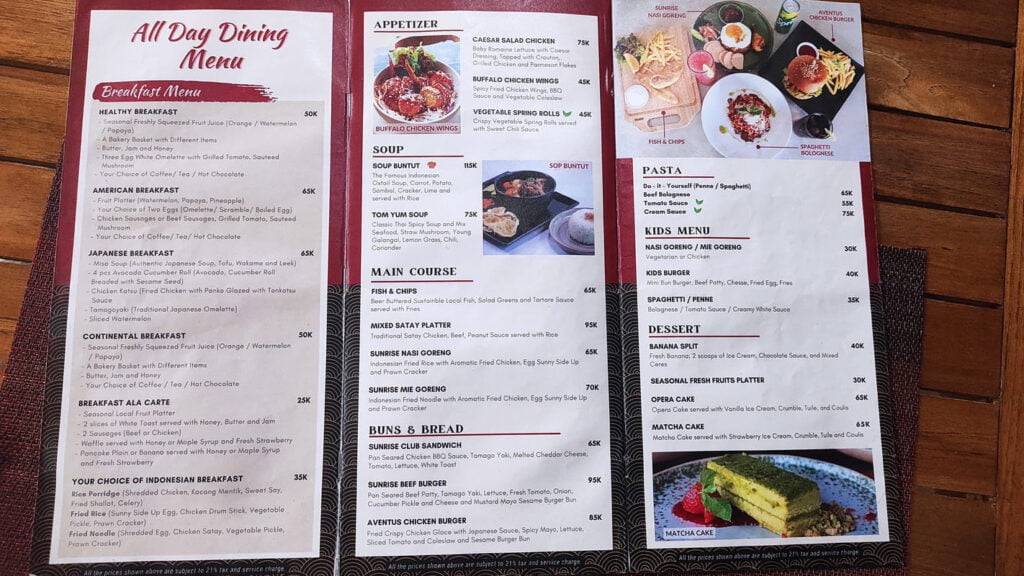 After our usual picture session of the place, we ordered food. You can click or tap the images to enlarge them. The waitress waited patiently for us to take our order.
For the 3 of us, we ordered:
Ramen Soup (95k IDR)
Tuna Donburi (85k IDR)
Kamikaze roll (85k IDR)
Sashimi Salmon (55k IDR)
Kid mie goreng (35k IDR)
Jasmine Tea (20k IDR)
Imunity Booster (37k IDR)
Detox (37k IDR)
Water Melon Jioce (35k)
The prices didn't include the service charge (tip) and tax, so 21% was added on top of that. The tip came down to 48.4k IDR and tax 53,240 IDR Total amount: IDR 585,640.
Everything was delivered within 20 minutes after ordering. That's pretty good I think.
The Ramen Soup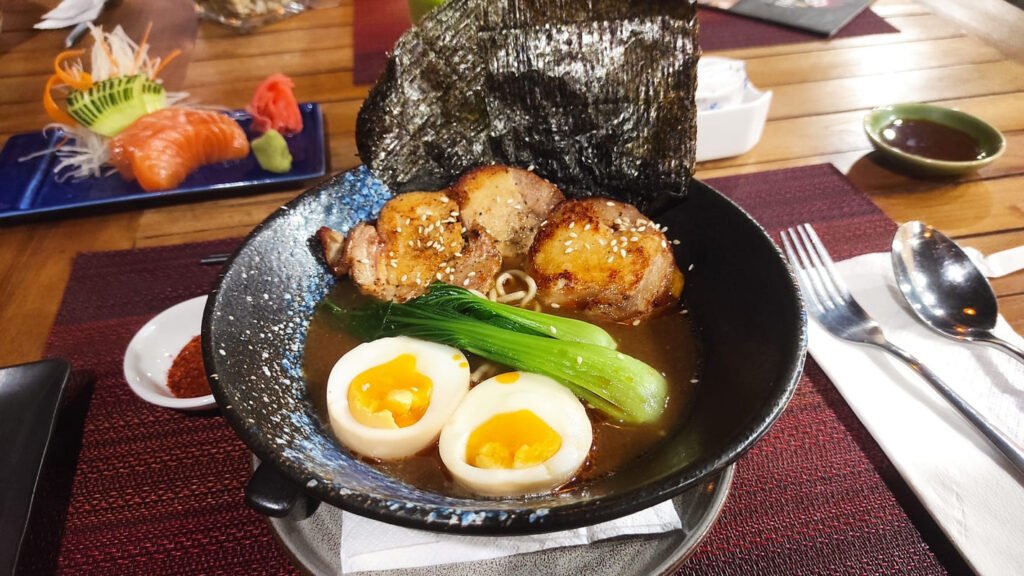 The Ramen soup comes with soft boiled eggs, chicken, some vegetables (baby pok choi), noodles and sea weed. The taste of the broth is absorbed in the noodles. It is definately one of the better Ramen's I've had in Bali. The presentation is nice and attentful.
Tuna Donburi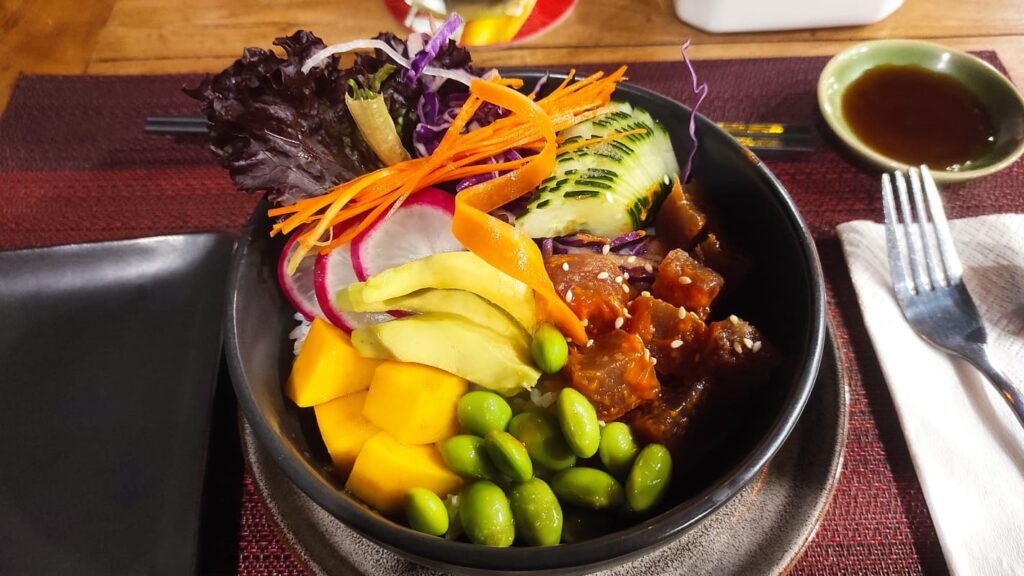 This felt as a healthy dish! The marinated Tuna is accompanied by fresh fruit and vegetables. A Daring combination. The tuna is in cubes. There is a small portion of rice below. Even though the daring combination, I must admit, the flavors blend well with each other so also a good dish!
Kamikaze Roll & Sashimi Salmon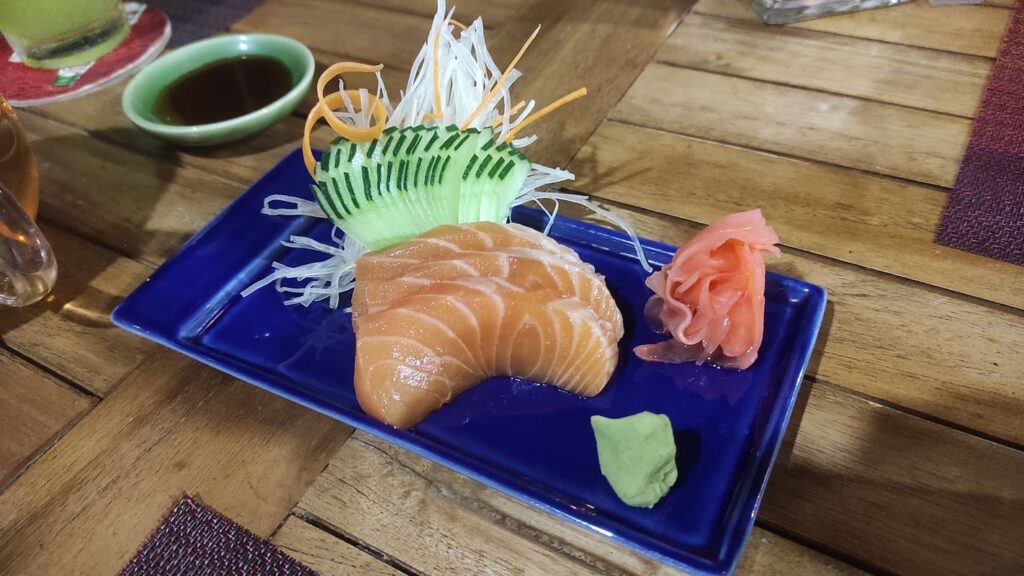 The sashimi had 3 pieces, well decorated and the temperature was good. It might look weird on camera for it's color, but it was good as well as the taste. Other than that it was just Sashimi. The Kamikaze rolls however, tuna with some flavorfull saus on top and insides where a taste explosion in the mouth. It wasn't bad, but I couldn't say wow it was super delicious if you know what I mean.
Kid Mie Goreng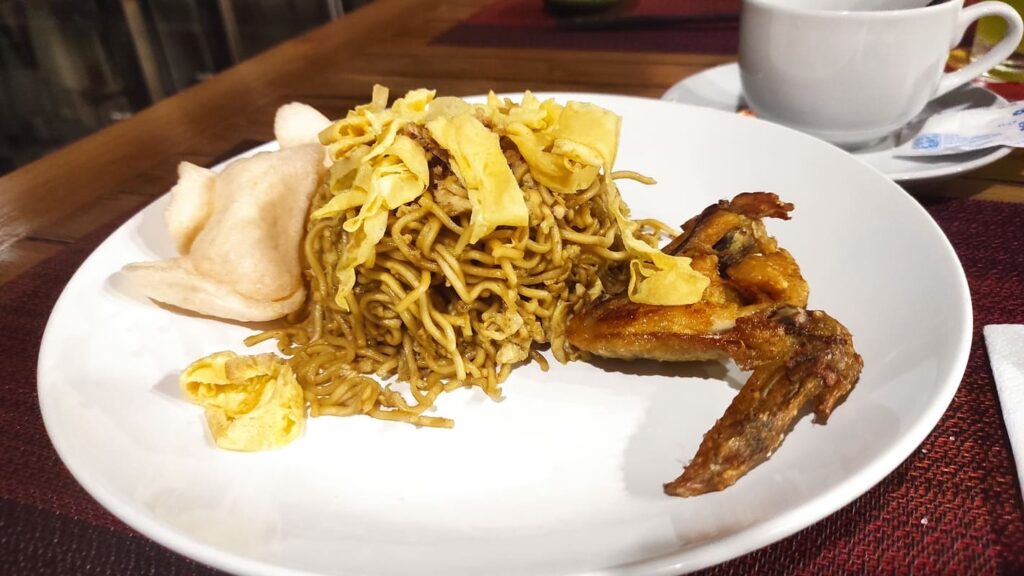 For our kid we took mi goreng from the kids meal. If you are here at Hiromi Restaurant and Bar I do recommend trying their Japanese food. Mi goreng can be bought almost everywhere. Also it wasn't what I would call special.
Drinks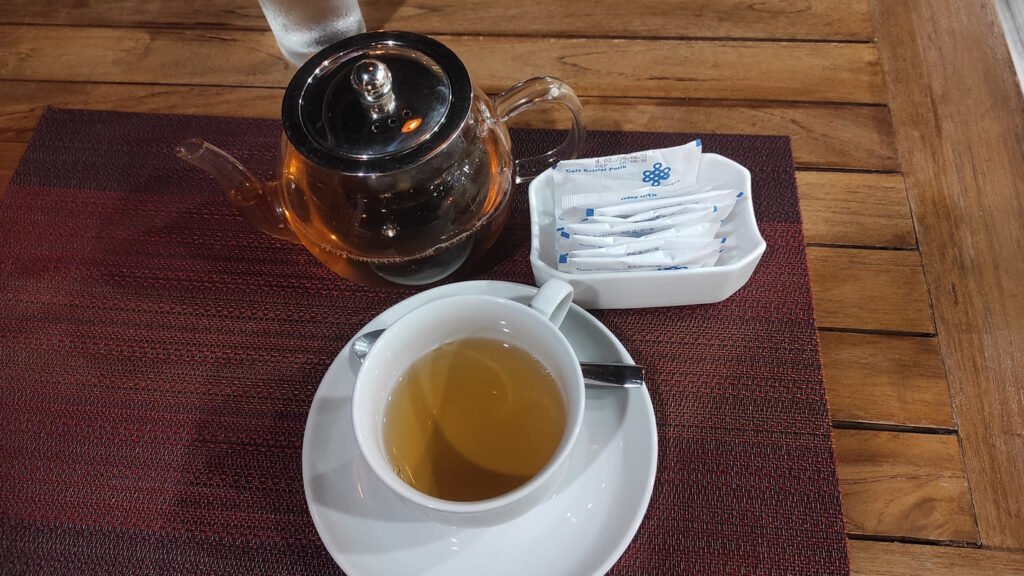 Tea comes with a tea pot, and the detopx or healthy juices were sweetened i had the feeling. Alos the drinks were just fine.
Promos
Keep an eye out on their socials for Promos that definately will safe some money!
Conclusion
Stunning view and ambiance, it's nice to be there when it's not busy (that was a Monday night for us). Service was great, and the japanese food was more than fine. Pretty good! The non-japanese food, well I wouldn't recommend coming here for Indonesian food.
However all the positives, I think eating here for 3 people costing about 500k ++ is on the pricier side. But that was to be expected. We also wanted something nice, and that often comes with more expense.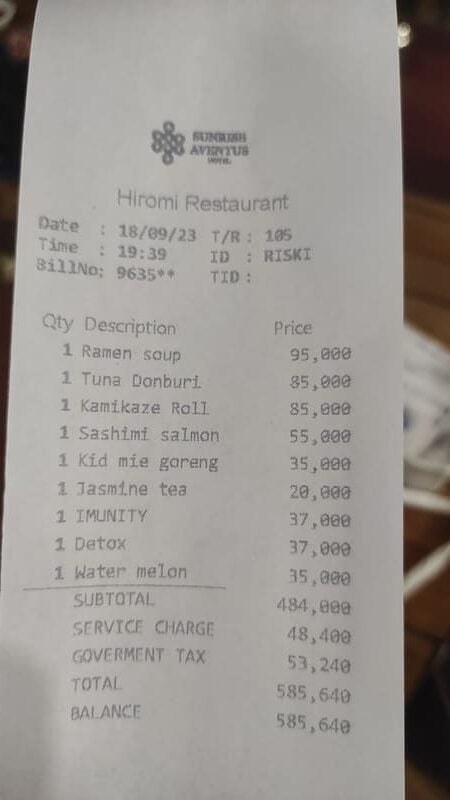 Thanks for coming this far perhaps these reviews might interest you as well: Mapogu (Korean) restaurant and Co-working space in jimbaran.

Hi I am Dwi. I am a blogger, travel agent and a mom of a lovely daughter and wife to a supportive husband. I customize and plan tours in Bali and islands nearby for a living and have been doing this for more than 14 years. Get in touch via contact [at] taletravels.com