The Mount Batur sunrise trek is a popular and rewarding experience in Bali, Indonesia. It offers stunning views of the sunrise and surrounding landscapes. The trek starts from the base of the mountain and takes around 2 to 3 hours to reach the summit.
You'll hike through the dense forest, rugged terrain, and steep slopes to reach the top. Mount Batur is an active volcano, with its peak at 1717 meters. Due to high daytime temperatures, the trekking tours all set off early in the morning, when you'll enjoy the added bonus of catching the sunrise from the top. There are many tour options available, including private tours and group tours, with some including additional activities such as a visit to hot springs or a coffee plantation tour.
When to do the mount batur sunrise hike?
Considering the trek up Mount Batur? Here's what you should know. The dry spell, from April to September, is the best time to do it. This stretch promises minimal rain, ensuring your ascent is more manageable and less slippery. Remember, though, the peak trekking season hits between June and August. It's recommended to book early on if you go through peak season. If you can avoid the high season because it's a very busy and popular trek.
What does the Mount Batur Sunrise hike cost?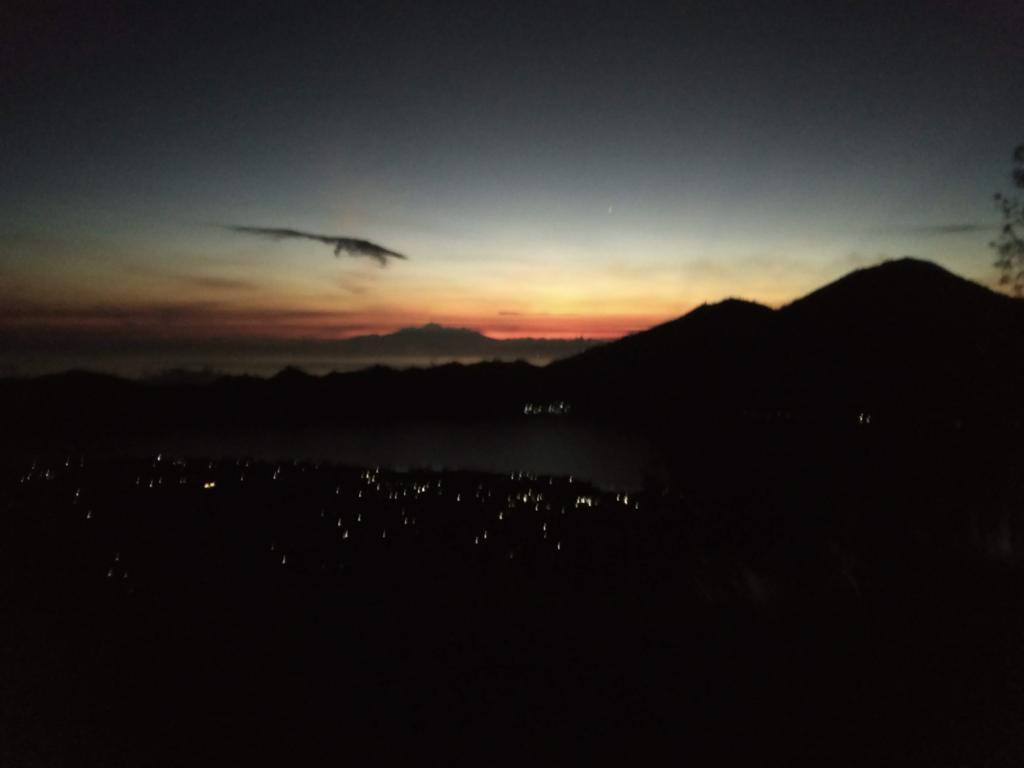 There are several ways to do this. If you are in Ubud you can go to the tourist information center and make a reservation from there, or ask your hotel for help. This should be 350k per person for transportation to the point where you begin and a guide. there are also places. Unfortunately yhis place is permanently closed due to Covid. The sunrise hike costs now IDR 462.000 or up, this includes an early pickup and can be found at Get Your Guide.
This booking gathers you with random people who will be doing the Mount Batur sunrise hike. The advantage is you get to meet new people and won't be alone during the hike.
Another method is that you go there by yourself by bike/car but you would still need to make an appointment with a company because a guide is not optional, it's a must for some safety reasons.
What time does it start?
For the Mount Batur sunrise trek, you depart at 04.00 am from Kintamani, walking (hiking) towards the top. If you are located in Seminyak you will be picked up around 02.00 and you should arrive just slightly before 04.00 at the starting point.
If you stay in Ubud, you should be picked up around 03.00 am. From here it takes about 1 hour to go to the starting point.
Are there any additional costs?
Before 2020, the local collectors typically started their day around 7 am. But when we got there at 3:30 am, they were already up and collecting fees. Foreign visitors are charged 50k IDR, while locals pay 26k IDR. This could still be the case, or the price might have been included already in the IDR 462.000.
Preparation and things you should know about the sunrise trek
At the starting point, you will get half a liter water. I do recommend bringing or buying something yourself as well.
Partying and drinking the night before will make this trek less enjoyable. It's a few hours trekking, so rest well. The view and experience are more enjoyable without a hangover.
The elevation of Mount Batur is 1717 Meters*. The amount of steps going up is around 8500 steps, 4.5KM (according to the step counter of the phone). Other blogs have stated differently, but I just took the information from the smartphone from the guide. Going up and down I already had 17000 steps and 9km before it was even 9 am.
*source: https://en.wikipedia.org/wiki/Mount_Batur
You do get a boiled egg and some sandwiches filled with bananas as food on the top. This is around 7 am. Be sure you have food or something to eat before you start.
Upon arrival, you are offered coffee/tea before you start. This is not free, and money change is very limited. If it's 4 am already it's actually time to leave.
From your guide, you will receive a flashlight. Use this to see where you are walking so you can avoid tripping over roots, stones, and holes.
The clothing you should wear
It is important that you have something comfortable. It starts out cold because it's very early. They rent out jackets. If no rain happens most likely you will take off those jackets 30 minutes in the trek. Your body will generate enough heat by keeping busy.
Make sure you can move your legs freely as at some parts the inclination can be steep. So if your knee cannot move up a lot, wear something else. Some people bring a tripod, heavy camera, which makes your hike a bit more challenging. Think about it before you bring it.
When I went, it was not raining, the guide explained that it was lucky. So when it rains a jacket or appropriate clothes it is handy.
The Mount Batur sunrise trek divided into different phases
The first part is the easiest. There is little inclination (going up). This is the part where you are going past the farmlands of Kintamani. They have Jackfruit trees, tomato plants, and 2 temples.
The second part is when you are in a forested area with pine trees and trees that grow in more colder environments. During the night it is pitch black but you will have flashlights. It is actually pretty cool and nice to walk here.
First checkpoint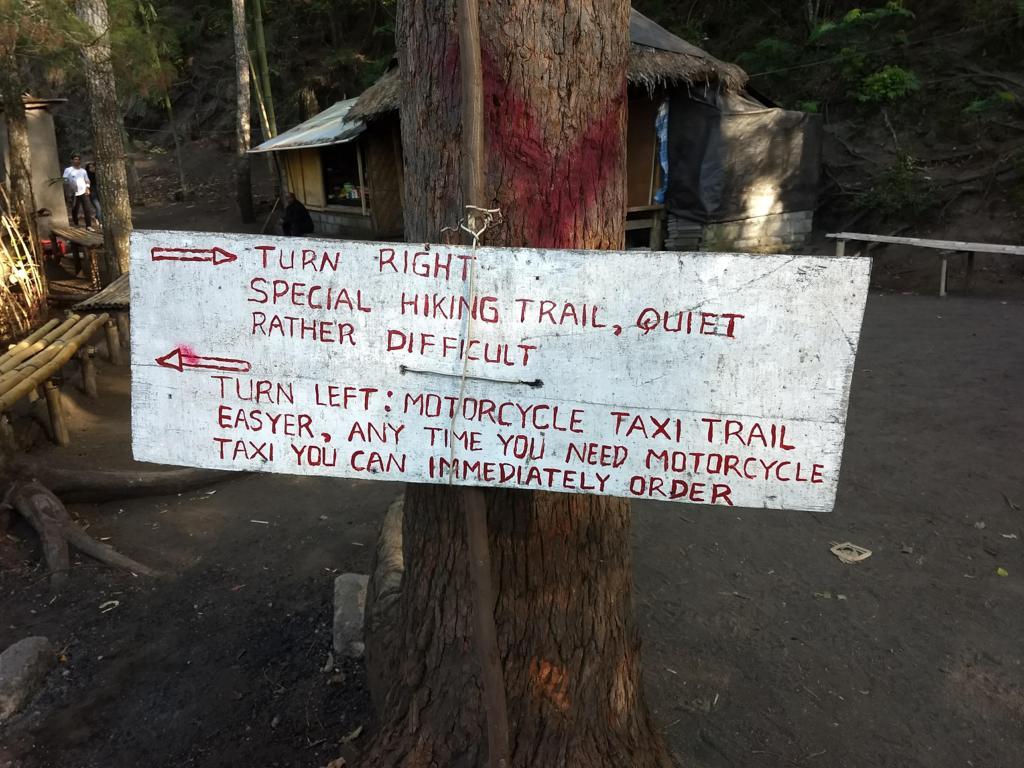 When you reach this point, congratulations, you are about 25% complete of the Mount Batur Sunrise Trek. It's only going to be harder. From this point on they offer a motorbike ride to the second checkpoint for IDR 250.000.
You also have a choice to go to the toilet (for 10k IDR). The second checkpoint also has two toilets. These are just like outhouses. Just so you know that they are available. I haven't used it but I can imagine it's not as clean as the one in the hotels.
From the first checkpoint, you can choose the right trail which is much harder and challenging. If you are an experienced hiker and in good condition and up for it, take the route. The easy way is not that easy but doable.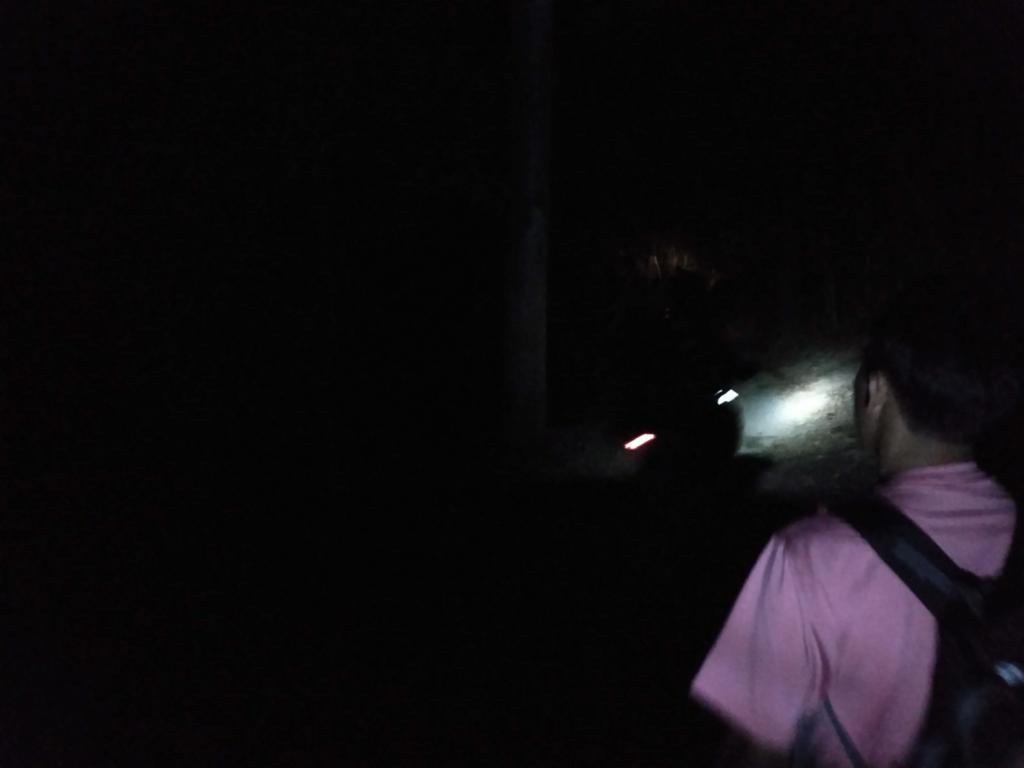 Things I did not like about the motorbike trail: they produce the exhaust and make the air dirty from that and the dust. We're hiking there. These motorbikes passed constantly asking if someone would need a ride. It is like walking through Kuta or Legian: Taxi? It was a bit annoying. Taking the harder route would be a choice because the motorbikes don't come there.
So who takes these motorbikes? If you really can't hike because you don't move at all in your daily life then this is a solution. Some people carrying more weight (camera and equipment) also take this option. The other group that took motorbikes up was Instagrammers. They paid for going up and down with the motorbike… (extra dots)
Moving as a group
The guide will try to keep the group together. So none is left behind. This also means you move as slow as the slowest in the group. Doing a reservation with the Ubud Tourist Center might be a disadvantage if someone is very slow. Having someone very slow in the group can cause you to miss the sunrise at Mount Batur.
When you see no more trees
Keep going, and keep telling that to yourself and the group. You are almost there! The inclination is steep and slippery, because of the small stones and sand there is almost no grip. At this point, you will see many more hikers. Everyone slows down a bit (and this was low season!) The guide explained this was not many hikers.
After the second checkpoint
At the checkpoint, you can buy more drinks and take a rest. From this point, the motorbikes cannot go to the top (thankfully!). I did not want to rest as I wanted to reach the peak before sunrise.
Near the top, the pace slows down as everyone just started to see a little bit since the sun will go up. People start being amazed at the view already and taking a picture. But everyone behind them is waiting to move forward to the top.
At the top of Mount Batur
Congratulations, you are at 1717 Meters high, give or take a few meters. You made it! Now is the time to catch your breath and enjoy the view. Your guide will congratulate you on your achievement!
What I noticed is that there are roughly several hundred people, maybe 400, at the top. I mentioned that this was a lot, and the guide explained that this is not a lot at all (again). You will recognize you are at the top because they have built benches there for people to sit and enjoy the view.
Most people only look at the sunrise coming from behind Mount Agung and Mount Abang. But take a look around, it's amazing everywhere. You can see the villages around and the beautiful landscapes. Watch as some smoke/vapor appear from places on this mountain.
The guide told us to wait around the area where we stood, and he would prepare food. The food that was served: banana sandwich, bananas, and boiled egg. For coffee/tea you would need to pay.
Monkeys at the top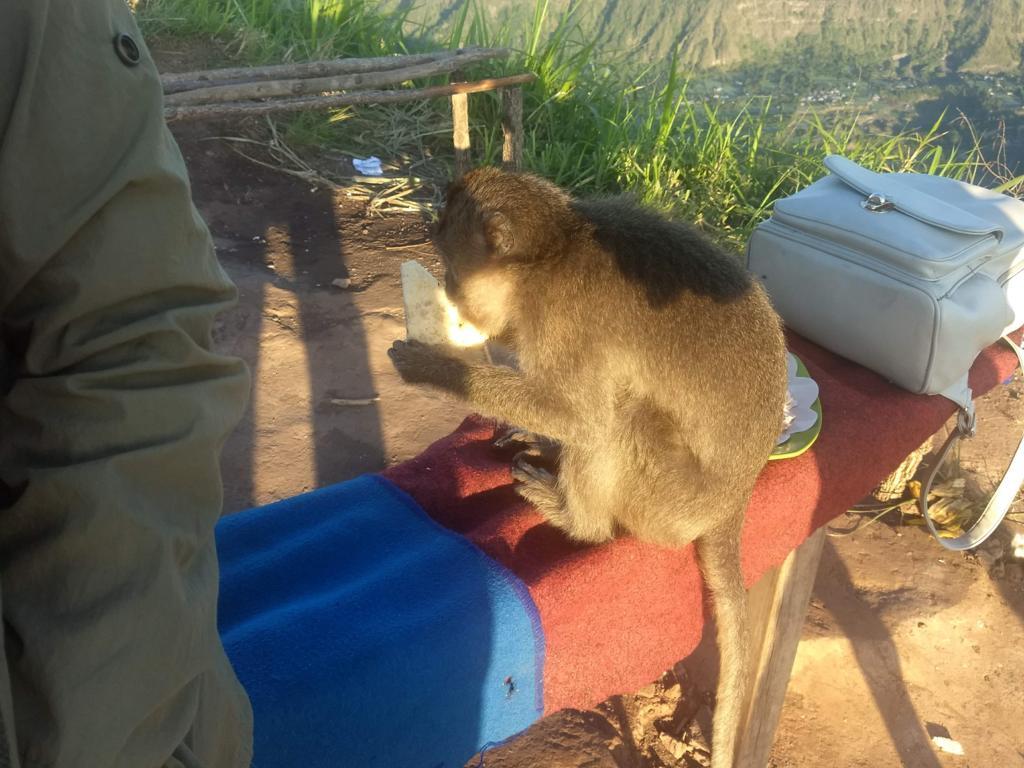 At the top of mount Batur, you can get a surprise visit from monkeys. These monkeys are way friendlier than the ones in the monkey forest / Uluwatu temple.
They are just looking for food and might snatch your banana. Do not be alarmed. One climbed on me for my food which I gave to him. As a result, the monkey sat next to us relaxed and eating his food.
Some tourists were screaming: MONKEY! MONKEY! and would throw stuff. This will only make the monkeys angry, so don't do that.
Internet at the top
I had a decent 4g connection and was able to make a video call to share the view. Plenty of people would share via social media their new achievement and view. It was surprising and did not expect such convenience. I thought it was nice to know for you.
Pictures at the top of Mount Batur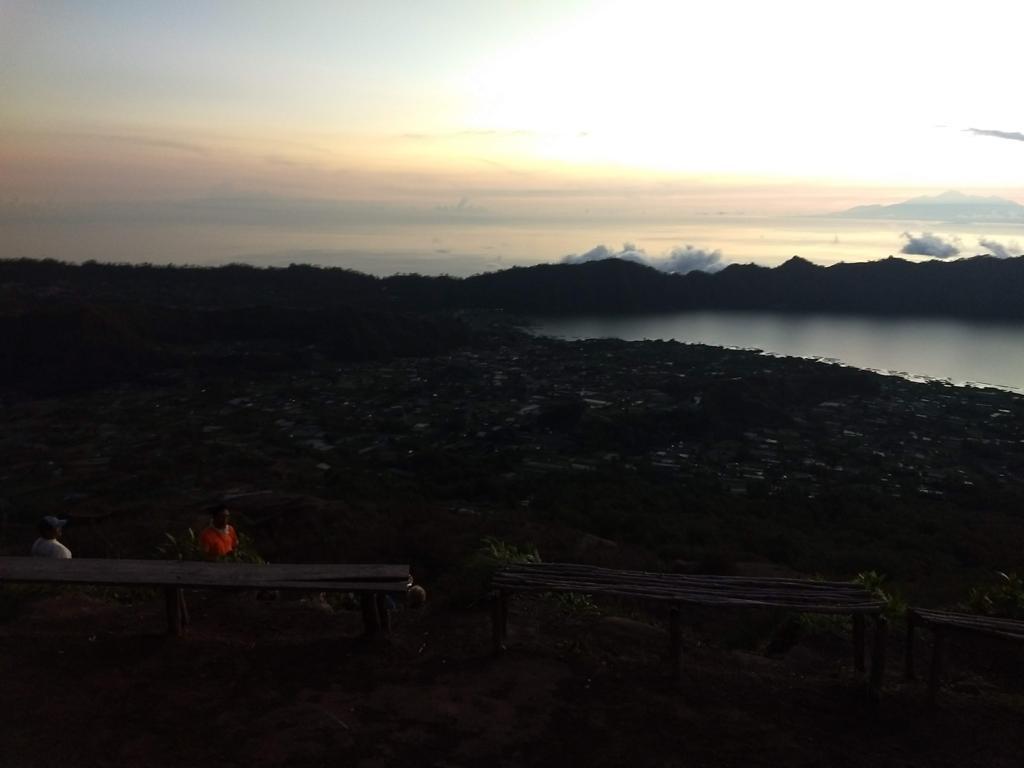 Going down, the Hike Back after Mount Batur Sunrise Trek
After enjoying the view for a while it's time for the descend. This time the visibility is much better as the sun is already up. Going down is a lot faster but it was not easier.
It really depends on the person, but for the glutes and knees, it was heavy. Also because of the many people at the same time going down, it became dusty from all the sand.
Many people with Nordic walking sticks fell because of the slippery route. it wasn't wet, but the inclination and dry sand and small stones make it hard to grip.
In the end
So yeah, there are other people (a lot). But the mountain has a lot of space for all the hikers for you to enjoy the sunrise. And honestly, it's the most stunning sunrise view in Bali. You still are able to take a picture without all the people since it's very spacious on top.
The hike is doable, I have seen elderly and young children at the top who did not take the motorbike to the top. Next time I might go for the harder route where no motorbikes are. But first I will also go for the Mount Abang Trek.
In general, I really liked the trek. Except for the exhaust gasses from the motorbike trail. I do recommend doing this during the dry season and when it is also a low tourist season. This way you can enjoy the most.
But if you're here during high season, still consider doing it. It's not like the opportunity is always there to do this hike.
To some it up The Mount Batur Sunrise trek:
Yes, there are toilets
You can take a motorbike up for 250k IDR
There are other people doing the trek
Everyone can do it, but if you don't move on a daily basis, it's hard
The best departure is from Ubud or Kintamani
The sunrise view is best from Mount Batur
When you stay in Ubud, consider doing the Mount Batur Sunrise Trek
It was an amazing experience in the end
It is romantic for couples to see such a view
Enjoy this short video showing a time-lapse of the Mount Batur Sunrise view.
After the Mount Batur sunrise trek
There are a lot of people who go to the natural hot springs, which is 5 minutes away from basecamp. To relax the muscles and enjoy the warm waters. I did not go to the natural hot springs. I hear it was 300k IDR per person for the entrance fee.
Book the Mount Batur sunrise trek with me
Interested in doing this? Contact me at contact@taletravels.com and I can plan it for you and your group with the travel agency I work for.
Recommended read:

Hi I am Dwi. I am a blogger, travel agent and a mom of a lovely daughter and wife to a supportive husband. I customize and plan tours in Bali and islands nearby for a living and have been doing this for more than 14 years. Get in touch via contact [at] taletravels.com