Bali has a rich cultural heritage and a long history. Most of these are traditions like storytelling, dancing, and artistic creation. The history and culture of the island is preserved in Bali's museums. They educate us about Bali's past by displaying vintage artwork and retelling vintage tales. We can learn more about Bali's distinct culture at these museums. Bali's rich heritage is preserved for now and for the future in these museums.
This is a list of museums you might want to visit for those interested! At the end I will have a map for you with the location of all the museums
Unique Museums to Explore. The Artistic Genius of Bali
Agung Rai Museum of Art (ARMA)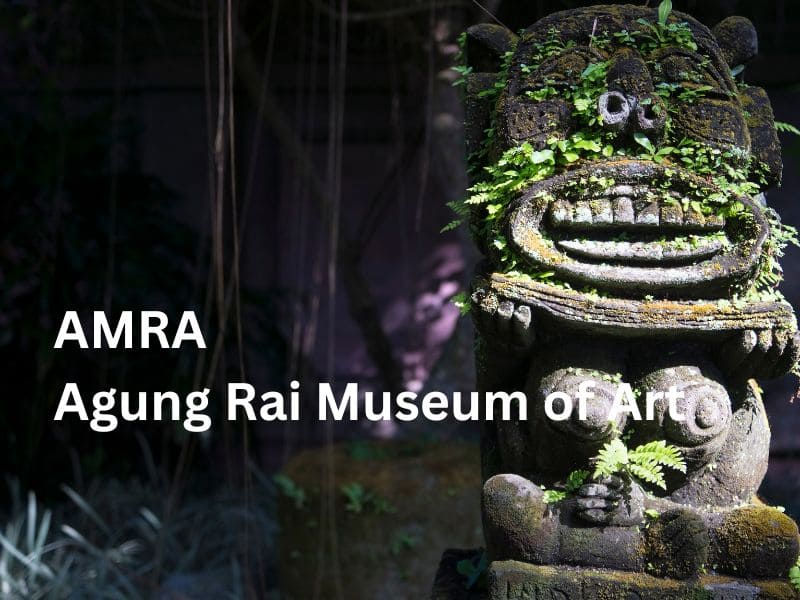 In Ubud, there's a place called the Agung Rai Museum of Art, or ARMA for short. This museum is a place where art, culture, and fun come together. From the moment you walk in, you can see beautiful art and statues. These artworks show Bali's habits and stories.
But ARMA is more than just art on walls. It's filled with culture. There are dance shows, music, and even classes where you can learn. Some nights, you can watch the Kecak dance under the moon. On other nights, there might be a Legong dance. These acts make the art come alive. They show the heart and soul of Bali. Visiting ARMA is like stepping into Bali's rich mix of art and culture. It's a place where the past and present meet.
Jl. Raya Pengosekan Ubud, IDR 100,000 entrance fee
Blanco Renaissance Museum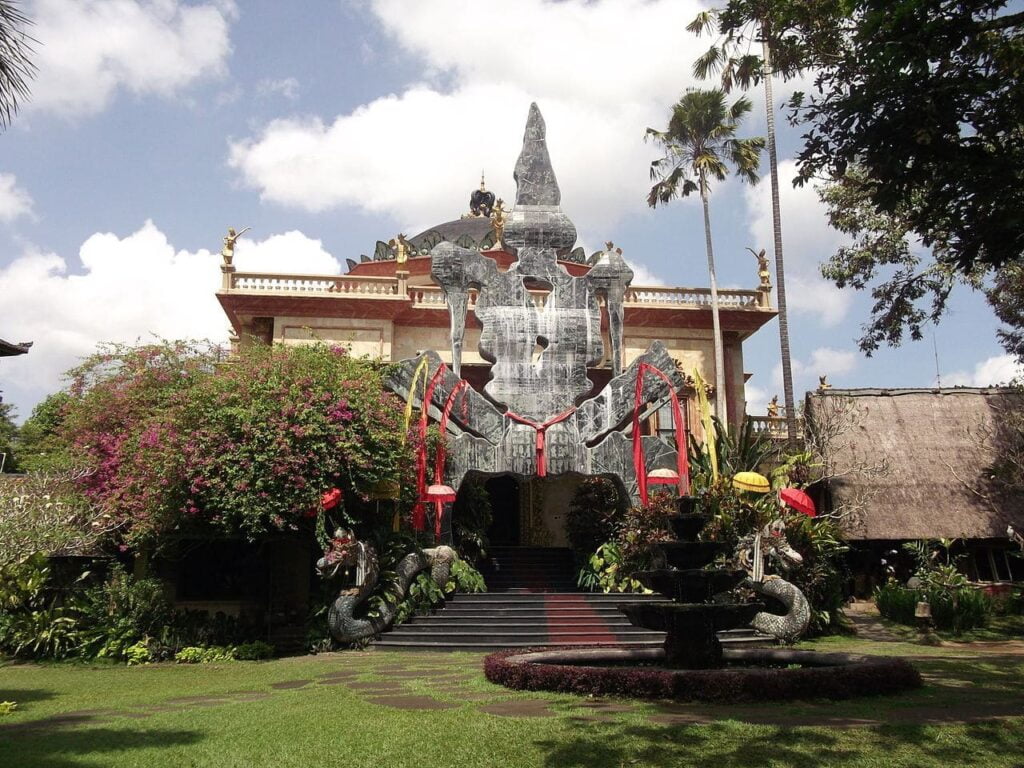 In Ubud, Bali, there's a museum that stands out. It's called the Blanco Renaissance Museum. This museum is all about an artist named Don Antonio Blanco. He came from the Philippines but made Bali his home. The museum was once where he lived and worked.
Don Antonio had a special love for Bali and its people, especially the women. He made many pictures of Balinese women. These drawings show their beauty and spirit. Some of his work even became popular around the world. The museum has many of these works. It also has a bar and a shop. Visitors can see where Don Antonio worked and learn about his life. The Blanco Renaissance Museum is a place where art and history come together. It tells the story of an artist and his love for Bali.
Jl. Raya Campuhan, Ubud, IDR 100,000 entrance fee
Neka Art Museum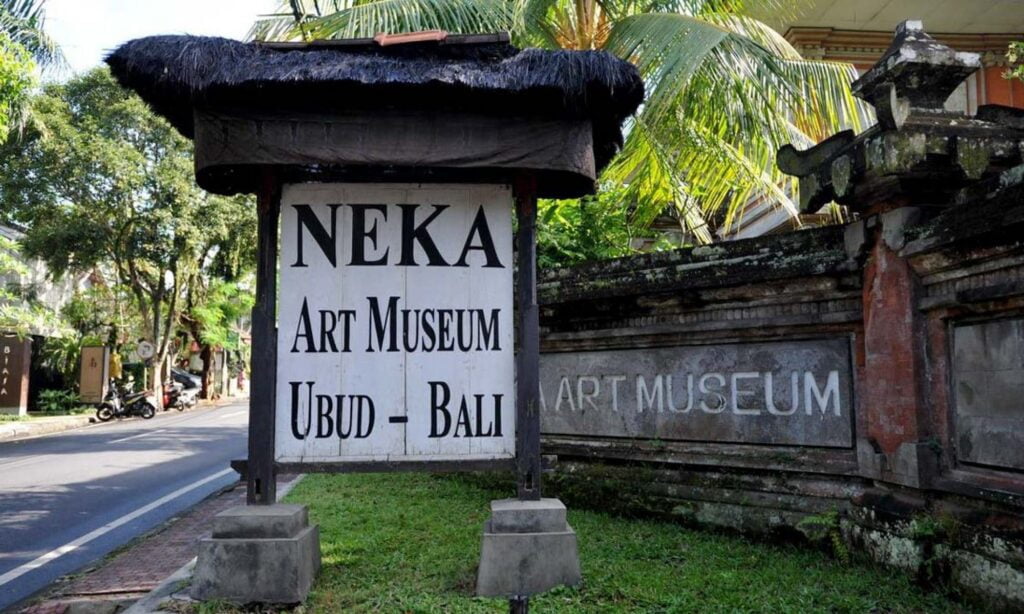 In Kedewatan a village in Ubud, there's a rare site named the Neka Art Museum. It was founded by a person named Wayan Suteja Neka. He loved art and wanted to share it with everyone. So, he created a museum to present the greatest art from Bali and beyond.
The museum includes various rooms, and each area has distinct art. There are paintings that portray Bali's nature, people, and tales. There are also sculptures and other artworks. Some art is old, and some is fresh. But all of it is amazing. Wayan Suteja Neka intended the museum to contain numerous sorts of art. He thought that art conveys stories and brings people together. Today, the Neka Art Museum is a site where tourists may admire Bali's beauty and learn about its culture. It's a place of wonder and exploration.
Jalan Raya Sanggingan Campuhan Ubud, IDR 150,000 entrance fee
Nyoman Gunarsa Museum
In Klungkung, Bali, there's a museum that's a bit different. It's named after a prominent artist, Nyoman Gunarsa. He was one of Bali's greatest painters. The museum is a location to see his magnificent paintings and learn about his life.
Nyoman Gunarsa created several paintings over the years. The museum contains 250 of them! He painted images from Bali, stories from the past, and much more. But he didn't simply paint. He also gathered antique objects from Bali, such sculptures and shadow puppets. The museum exhibits all of this. It's like a giant treasure box of Bali's art and history. Nyoman Gunarsa wanted to share Bali's culture with the world. His museum does that. It's a location where tourists can view the beauty of Bali and feel its soul.
Dream Museum Zone (DMZ) Bali (CLOSED)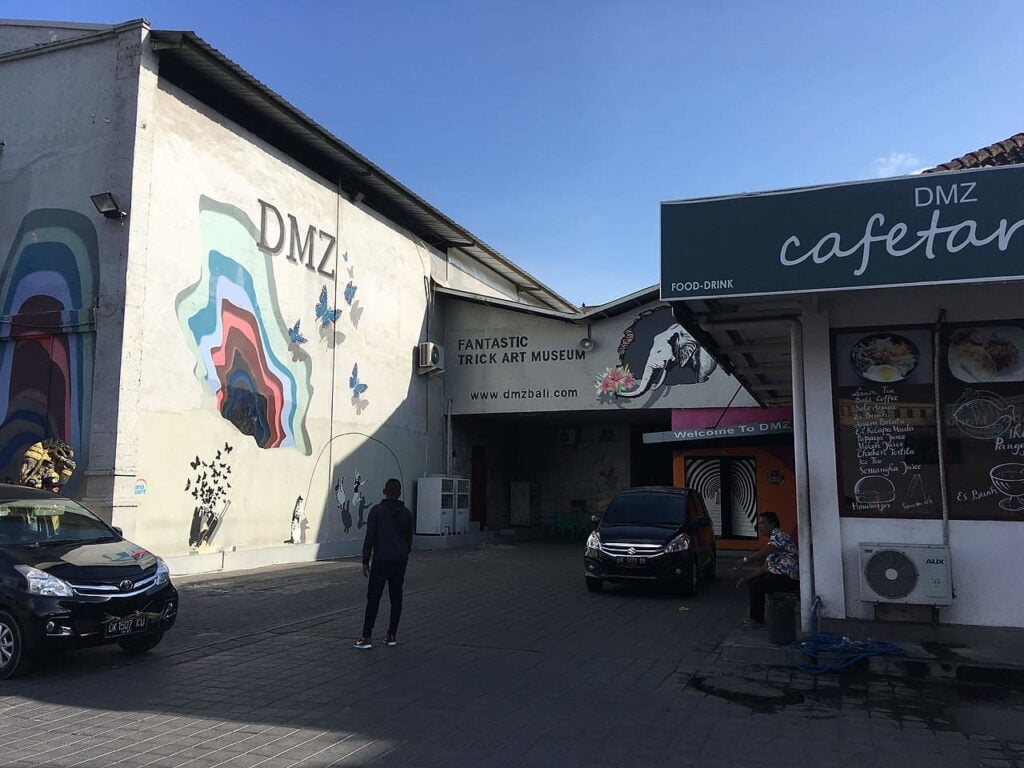 Unfortunately this Museum is permanently closed 🙁
In Kuta, Bali, there's a fantastic spot called the Dream Museum Zone, or DMZ for short. It's not like other museums. DMZ is where art becomes a game. It's full with artworks that play tricks on your sight. When you look at them, you become part of the image!
Imagine standing next to a gigantic zebra or floating in the skies. At DMZ, you can do that! The museum features around 120 artworks that make you feel like you're within them. It's all about having fun and taking amazing images. The best part? The museum employees support you. They show you where to stand and how to posture. They even snap photographs for you. DMZ is a place where art is entertaining for everyone, kids and adults. It's a place to laugh, play, and perceive art in a new way.
Upside Down World Bali
Have you ever wondered what it's like to walk on the ceiling? In Denpasar, Bali, there's a spot where you can find out. It's called Upside Down World. Everything inside is, well, upside down! Chairs, tables, even plants – they're all dangling from the 'floor' above you.
When you go inside, it seems like a delightful dream. Rooms seem like conventional rooms, however they're inverted. It's a location where you may snap funny photographs and laugh with pals. Want to sit on a sofa that's on the ceiling? You can do that! Want to imagine you're climbing the walls? Go for it! The personnel of Upside Down World are available to help. They show you the ideal areas for shots and even assist you snap them. It's a place to experience the world in a fresh, exciting manner. So, if you're in Bali and want a departure from the norm, Upside Down World is a must-visit.
Jl. Bypass Ngurah Rai No.762 IDR 100,000 entrance fee
Museums with Bali's History
Museum containing the rich history of Bali.
Museum Gedong Kirtya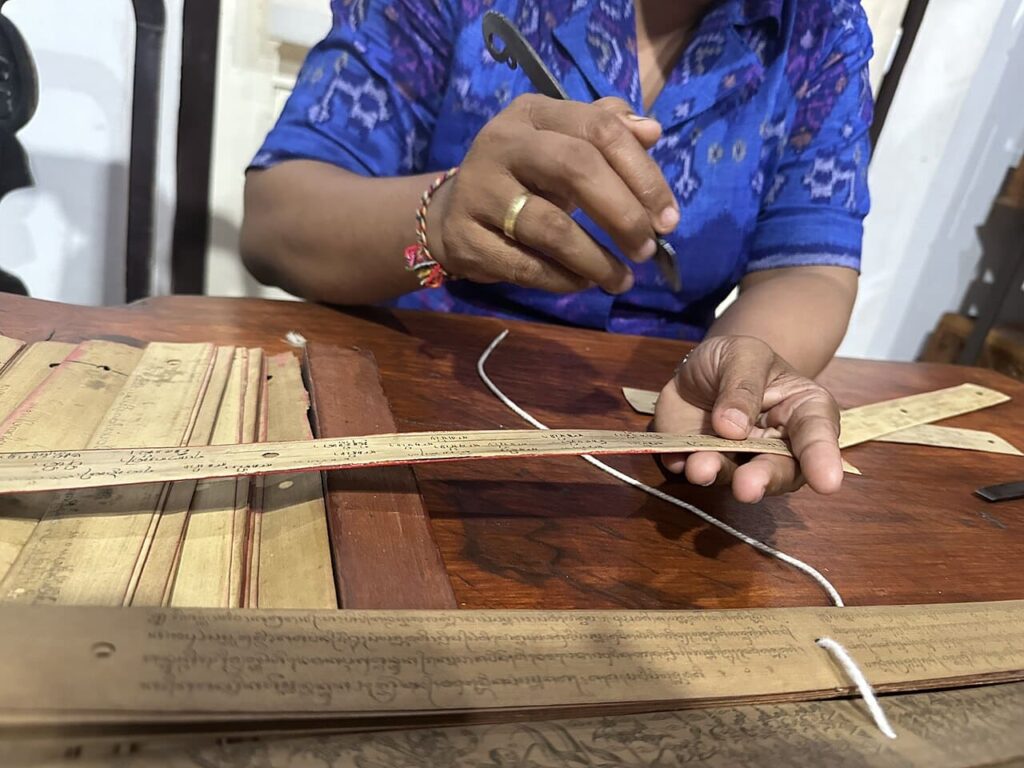 In Singaraja, Bali, there's a unique place called Museum Gedong Kirtya founded by the Dutch. It's not just any museum. It's a home for old stories. These stories are written on lontar, which are palm leaves. These palm leaves are like ancient books, telling tales from long ago.
Museum Gedong Kirtya has thousands of these lontar. They talk about many things: legends, poems, history, and more. Some are about the stars and planets. Others are about heroes and adventures. The museum keeps these lontar safe so that the stories won't be forgotten. By visiting, you can travel back in time and learn about Bali's past. It's like listening to the whispers of ancestors, sharing their wisdom and tales. Museum Gedong Kirtya is a special place where Bali's ancient heart beats, reminding us of the rich tapestry of stories that shape the island's soul.
Jl. Veteran, Paket Agung, Kec. Buleleng
Gedong Arca Archeological Museum
In Gianyar, Bali, there's a remarkable place named the Gedong Arca Archeological Museum. This isn't just a location with old objects. It's a portal to Bali's old days. The museum holds numerous artifacts from long ago. These things convey stories of how humans lived, worked, and played.
Inside, you'll discover tools made of stone, antique sculptures, and even artifacts from the Bronze Age. There's a gigantic drum named the Moon of Pejeng. It's a copy, however the genuine one is quite ancient and essential. The museum also includes other amazing artifacts like inscriptions and sculptures. Each thing has a narrative to tell. By looking at them, you may picture Bali's past and sense its history. The Gedong Arca Museum is like a time machine. It takes you on a voyage to explore Bali's mysteries and treasures from years ago.
F7JV+563, Bedulu, Blahbatuh, Gianyar Regency, Bali
Museum Manusia Purba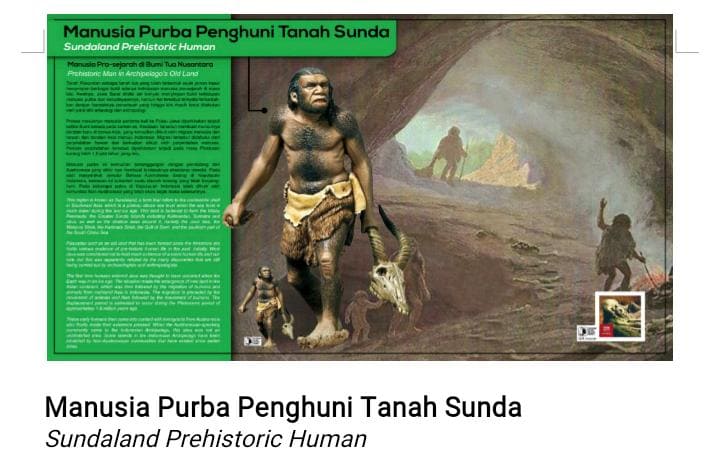 In Gilimanuk, there's a site that tells stories of ancient people. It's named Museum Manusia Purba. This museum is all about the early humans who formerly lived in Bali. It's a site where history comes to life, telling us how our ancestors lived so long ago.
Inside the museum, you'll find magnificent stuff. There are ancient skeletons from the Neolithic and Bronze Ages. These bones contain evidence about humans from the past. There are also tools and bowls that they utilized. Each object tells a tale. By looking at these things, we may learn about Bali's early days. We can envision how they lived, what they did, and what they dreamt about. Museum Manusia Purba is a destination of exploration. It's a voyage into the past, letting us comprehend where we came from.
Celebrating Bali's Rich Traditions
Le Mayeur Museum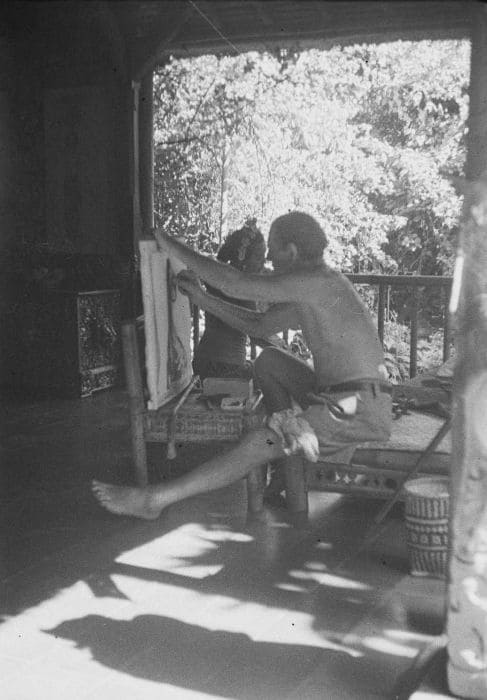 There's a museum called the Le Mayeur Museum in Bali. It's all about a painter named Adrien-Jean Le Mayeur de Merpres. He wasn't from Bali; he came from Brussels. But he fell in love with Bali, its beauty and his wife Ni Pollok. So, he decided to live there and make lots of paintings.
The museum is actually his old home. When you walk inside, you can see where he lived and worked. The rooms are full of his paintings. He painted on wood, paper, and even canvas. His art shows how much he loved Bali and its people.
One special thing about Le Mayeur's art is how he showed Balinese life. He painted dancers, beaches, and everyday scenes. He had a unique style that made his paintings stand out.
Visiting the Le Mayeur Museum is like stepping into the past. You can see how an artist from far away was touched by Bali's magic. It's a quiet place where you can think about art, history, and the beauty of Bali.
87G7+2FV, Jl. Hang Tuah, Sanur Kaja
Museum Puri Lukisan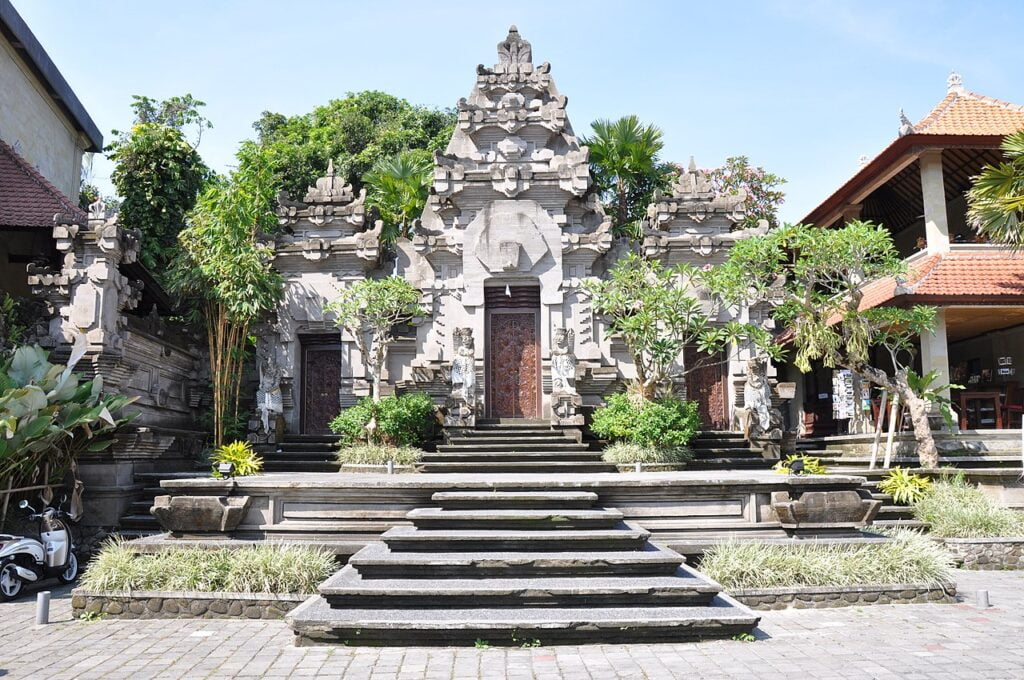 In the heart of Ubud, Bali, there's a wonderful site called Museum Puri Lukisan. This museum is mainly on Bali's traditional art. It's a site where you can view wonderful paintings and woodcarvings done by Balinese artisans. These artworks share stories about Bali's culture, history, and people.
The museum has been around since 1956. That's a long time! Over the years, it has accumulated numerous artworks. Today, there are roughly 150 paintings and 62 woodcarvings on show. Some of the paintings portray scenes from Bali's history. Others feature dances, rituals, and nature. The woodcarvings are intricate and display the talent of the craftsmen.
When you visit Museum Puri Lukisan, you may also learn about the painters. Many prominent Balinese painters have their work here. There's also a particular section that chronicles the story of the museum and its founders. It's a tranquil spot where you may admire art and reflect about Bali's rich culture. If you enjoy art and history, this museum is a must-visit in Bali.
F7V6+W46, Jl. Raya Ubud IDR 50,000 entrance fee
Museum Yadnya
In Bali, there's a location named Museum Yadnya. It's not just any museum. It's a location where you may learn about the spiritual aspect of Bali. The museum illustrates how the people of Bali practice their Hindu beliefs. It's all about rituals, ceremonies, and the profound beliefs they hold.
The museum comprises several parts. Each part is about a specific ceremony. One of the most famous rites is the Panca Yadnya. This ceremony talks about five spiritual aspects. It covers topics like honoring ancestral spirits, yearning for human perfection, and giving homage to saints. There are also displays regarding rites for living beings and the environment. The museum lets visitors comprehend the intimate connection the Balinese have with their faith and nature. It's a place of learning and introspection.
If you visit Bali and want to know more about its essence, Museum Yadnya is a fantastic place to start. You'll depart with a deeper grasp of the island's heart and character. It's a voyage inside the beliefs that make Bali so distinctive.
A Glimpse of the Asia-Pacific Art Scene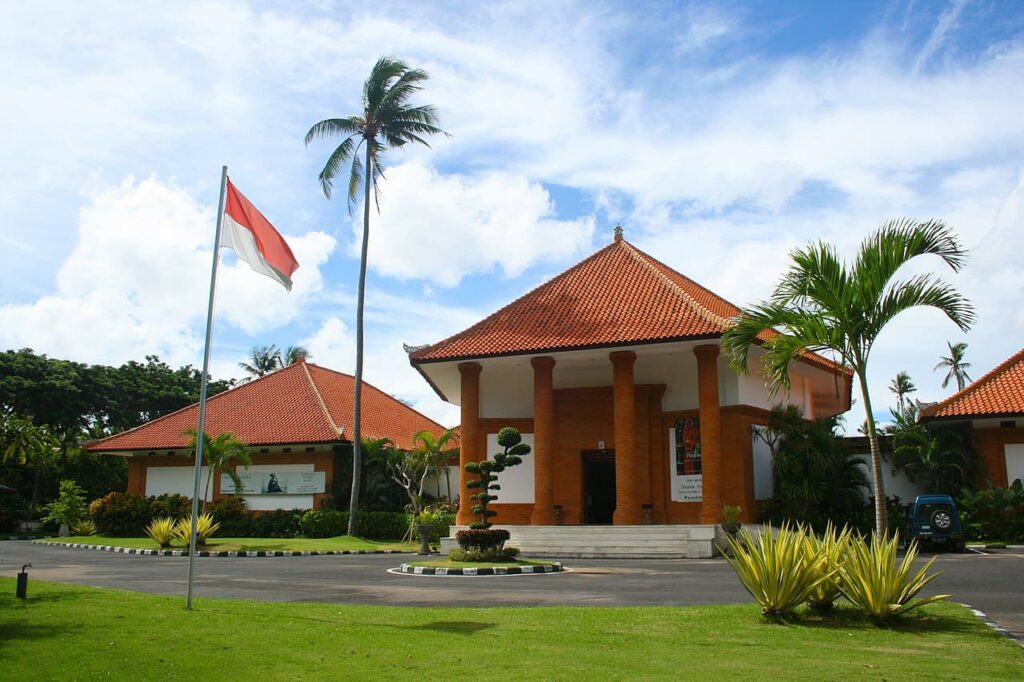 In Nusa Dua, Bali, there's a museum that's a bit odd. It's named Museum Pasifika. This museum doesn't simply feature art from Bali. It displays art from all throughout the Asia-Pacific area. That means you may see artworks from many various places and civilizations, all in one spot.
The museum features artworks from nearly 200 painters. That's a lot of art! There are 350 paintings and 250 more artifacts to gaze at. The art talks about life, culture, and history in the Asia-Pacific area. Some of the art is from prominent painters from Bali and Java. But there's also art from locations like the Philippines, Samoa, and Papua New Guinea. Visiting Museum Pasifika is like taking a vacation throughout the Asia-Pacific without leaving Bali. It's an opportunity to study, travel, and experience the beauty of this area of the globe.
Complex Bali Tourism Development Corporation (BTDC) Area Block P, Benoa IDR 65,000 entrance fee
Tips for those who would love to go to a Bali Museum
If you love museums, Bali is a treat! But to have the best time, it's good to know a few things. First, mornings are great for museum visits. It's cooler and less crowded. This means you can enjoy the art and history without a rush. Plus, you get better photos without many people around.
Now, about tickets. Most museums in Bali have a fee some up to IDR 100,000 at the time of writing, It could become more in the near future. It's good to carry some cash. Some places might offer discounts for kids (if you are with kids) so ask when you get there. Also, wear comfy shoes. Museums have lots to see, and you'll be walking a lot. Lastly, check the museum's days and hours. Some places might close early or be shut on certain days (national holidays, ceremonies in Bali). A quick online check or a call can save you a trip, click the pins on the map below for the most recent number. Remember, museums are where Bali's heart and soul shine. So, take your time, enjoy, and learn as much as you can!
Map of Museums in Bali

Hi I am Dwi. I am a blogger, travel agent and a mom of a lovely daughter and wife to a supportive husband. I customize and plan tours in Bali and islands nearby for a living and have been doing this for more than 14 years. Get in touch via contact [at] taletravels.com