Candidasa Beach is a special spot in Bali. It's tucked away in the east, far from the usual busy tourist life of Bali. If you're dreaming of a quiet beach escape, Candidasa is perfect. The water is clear, making it a treat for those who love to swim or dive. Under the waves, there's a whole world to explore. Colorful fish, unique corals, and more await. But it's not just about the sea. Around Candidasa, there are cozy places to stay. There is accommodation for everyone, whether they want a budget hotel or a luxurious one. The greatest thing, though? Everything is situated in a calm, peaceful setting. Candidasa Beach is the place to go if you're seeking for a combination of beauty, peace of mind, and adventure.
How to get to Candidasa
If you start from Denpasar, Bali's main city, it's a drive of about one to two hours. The journey is simple. Just follow the main road called By-Pass Professor Ida Bagus Mantra. Keep going straight. After a while, you'll enter the Karangasem area. After a short drive, you'll spot signs for Tenganan Village. From there, Candidasa is just 15 minutes away. And guess what? It's near Padang Bai Harbor. This means you can see ships coming and going from the beach. So, whether you're driving or taking a taxi, reaching Candidasa is easy and scenic.
You can go by scooter or car. If you're on the bike, be sure to cover yourself to protect your skin from the sun. 2 hours of direct exposure can cause sunburns. Also take a break from time to time, and if you can a GPS (with your phone) can be very helpful!
The Unique Charm of Candidasa Beach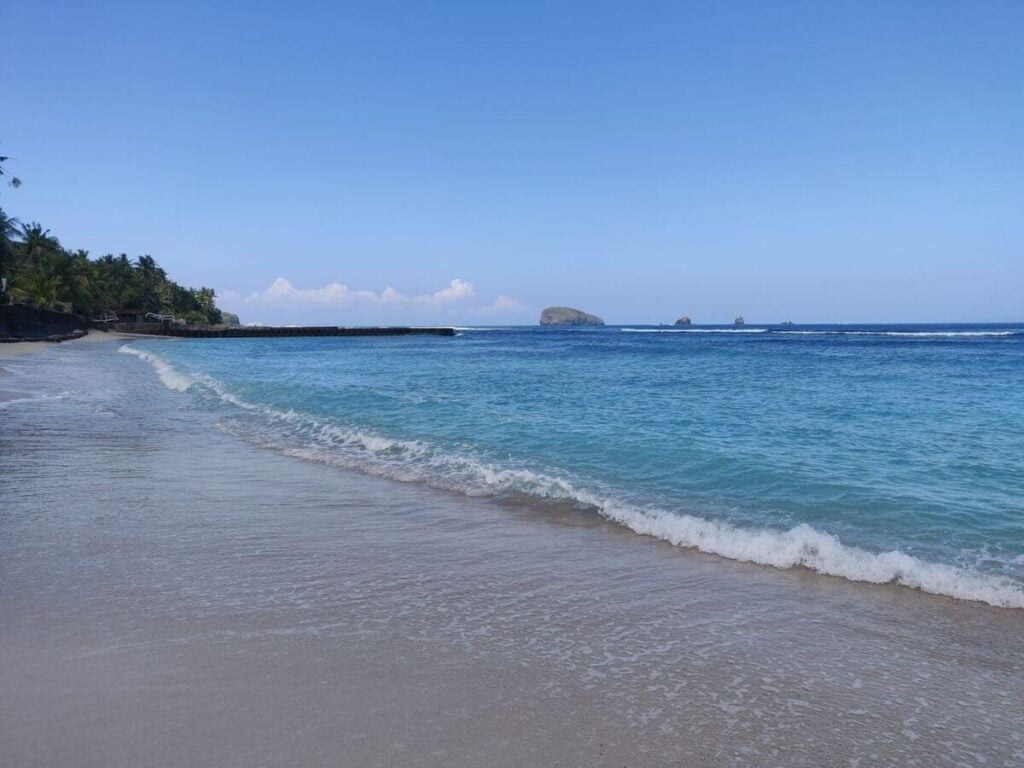 Candidasa Beach is not your usual sandy stretch. It's a mix of colors and textures. Some parts boast soft white sand, perfect for sunbathing. Others have black sand, giving the beach a unique look. But that's not all. There are also areas with coral beds.
Take note of the waves. They come in softly, making a calming noise. The waves aren't too big, thanks to some structures built near the shore. These structures help keep the beach safe from erosion. Plus, they make for great photo spots!
In short, Candidasa Beach is a blend of beauty and calm. It's a place where nature's wonders are on full display.
Fun Times at Candidasa Beach
Candidasa is more than just a pretty view. It's a place for relaxation and unwinding. It's good that there aren't a lot of tourists on the beach. This means you can find a quiet spot just for yourself. Fancy a nap? There are two huts, called Bale Bengong, right on the beach. They're perfect for some rest or reading a book.
If you're up for some adventure, the sea calls! The clear waters of Candidasa are great for diving and snorkeling. Dive in and meet colorful fish and corals. The water is fresh and cool, making every swim a treat.
Hungry after all the fun? No worries. The beach has eateries right on the sand. They serve tasty dishes, from local treats to global favorites. So, whether you're in the mood for action or relaxation, Candidasa has it all.
Tasty Bites by the Beach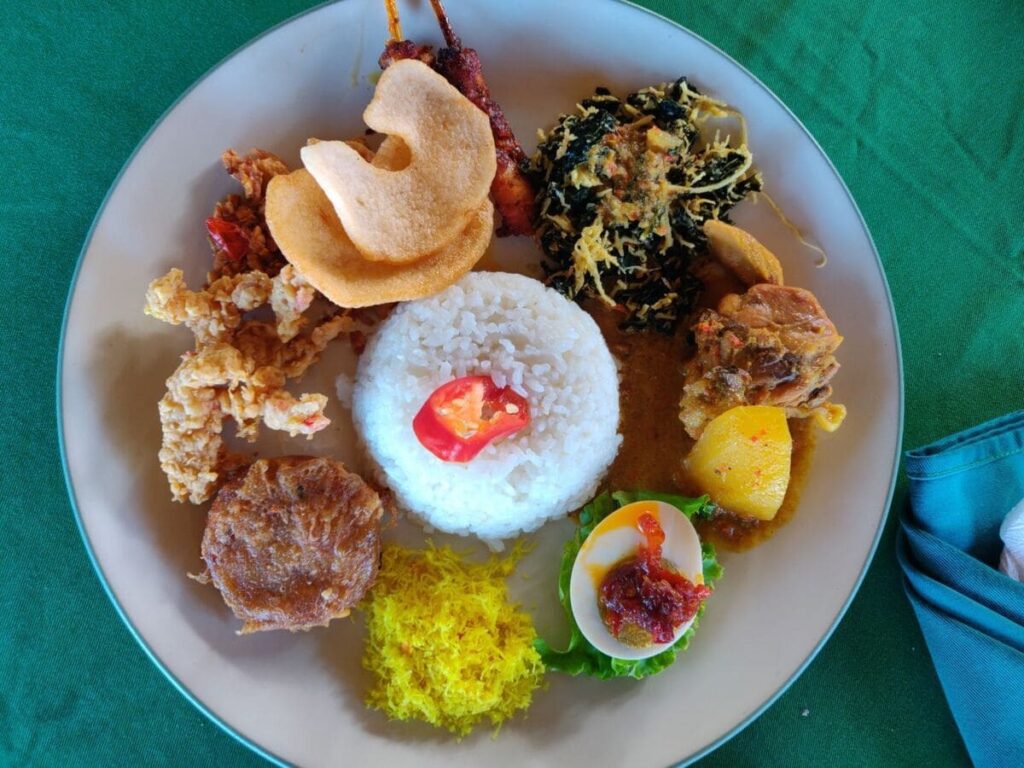 One of the joys of Candidasa is its food. Right by the beach, you'll find a range of restaurants. They offer a feast for your taste buds. From spicy Indonesian dishes to familiar Western meals, there's something for everyone.
Fancy some local food from Bali? Try sate ayam, a skewered chicken dish, or nasi goreng, a flavorful fried rice. Or if you're in the mood for something else, there are burgers, pasta's and other dishes!
As the sun sets, the beach comes alive in a different way. It's a great time for some beachside Bintang sipping. That's a local beer, perfect for a relaxed evening. With the sea breeze and tasty food, dining at Candidasa is an experience in itself.
You could also go to the road and walk to find yourself a cozy place to eat. Candidasa isn't very big.
Comforts Close to the Waves
Candidasa is more than a beach; it's a haven. Whether you're in Bali on a budget or looking for luxury, there's a place for you. Picture this: Waking up to the gentle sound of waves, with the sea just steps away. Many spots offer this dreamy view. From fancy resorts to cozy inns, choices abound.
Feeling peckish? Or in the mood for a drink? You're in luck. Candidasa has a mix of cafes, bars, and eateries. Each offers its own charm. Some have live music, while others promise quiet corners. For everyone something!
And if shopping is on your mind, local art shops dot the area. They're perfect for picking up souvenirs or gifts. In short, Candidasa ensures you have all you need, right at your fingertips.
Sunset at Candidasa Beach: Evening Glow at the Beach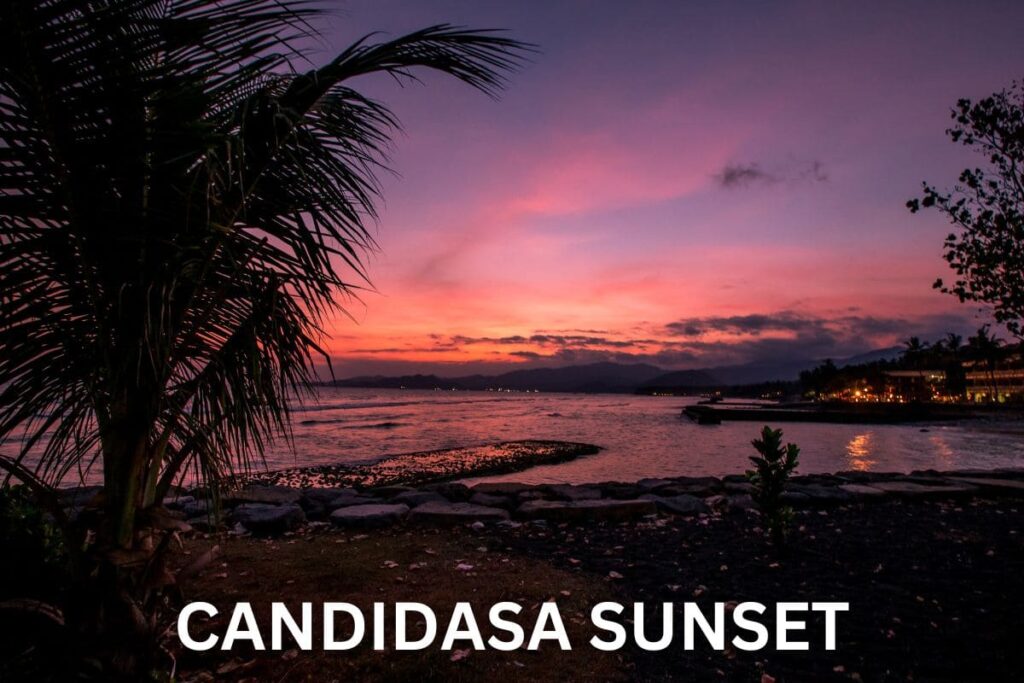 There's something magical about sunsets at Candidasa. As the day winds down, the sky puts on a show. The sun, looking larger than life, begins its descent. It casts a warm, golden light on the waters. Slowly, the hues change. From gold to fiery reds and calm purples, the colors dance on the horizon.
The silhouette of the hills adds to the drama. The reflection on the water makes it twice as beautiful. It's a time many cherish. Some capture it in photos, while others simply sit and soak in the moment.
Whether you're with loved ones or alone, the sunset at Candidasa is a memory to hold onto. It's nature's way of saying goodnight, in the most beautiful way possible.
Tips for your visit to Candidasa
If Candidasa is on your list, here are some tips to make your trip smooth. First, the sun here can be quite strong. So, always have sunscreen on hand. It'll keep your skin safe from the sun's rays.
Thinking of exploring underwater? There are local agencies that can help. They offer diving and snorkeling trips. But remember, prices can differ. It's a good idea to check a few places before deciding. Most hotels, bungalows offer a deal for you. The most convenient way is just to ask them and they'll get you for snorkeling or diving.
Also, some diving spots in Candidasa are for those with experience. If you're new to diving, just let your guide know. They'll ensure you have a safe and fun time.
Lastly, Candidasa is all about relaxation. So, take it slow, enjoy the views, and let the beach's calm wash over you.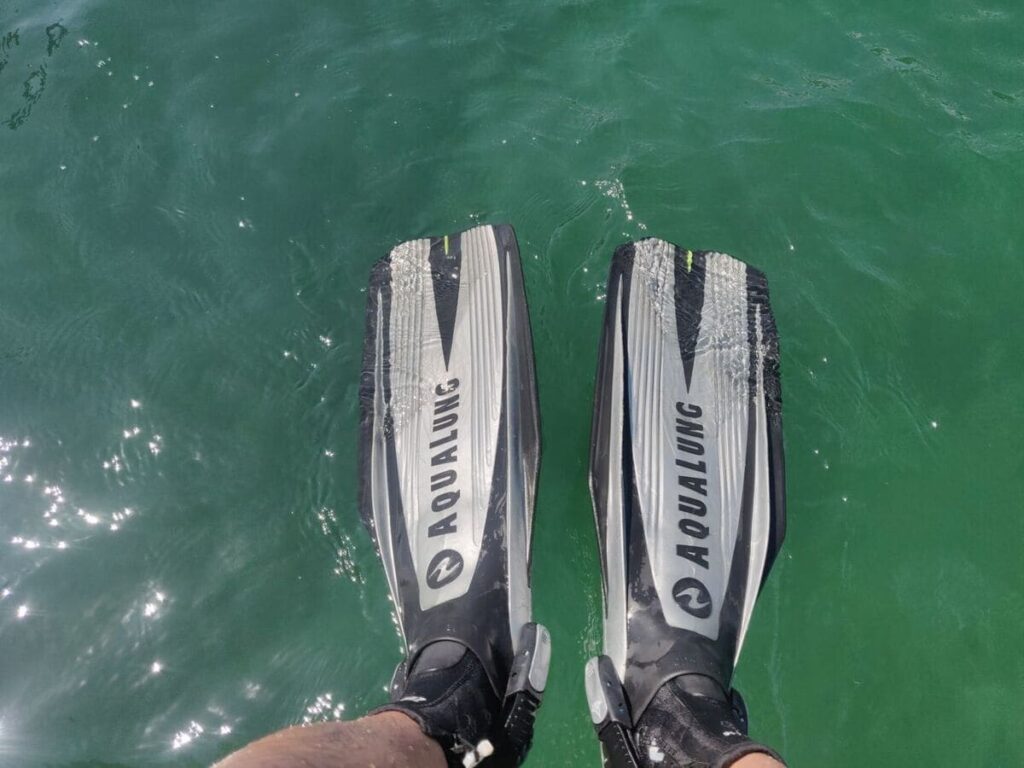 Beyond the Beach: Candidasa's Treasures
Candidasa is a great starting point for adventures. The beach is lovely, but there's more to see nearby. Fancy a trip back in time? Head to Tenganan. It's one of Bali's oldest villages. Here, traditions from centuries ago still live on.
Nature lovers are in for a treat too. There are waterfalls like Tibumala and Tukad Cepung waiting to be explored. Their cool waters and lush surroundings are a joy.
And if you're curious about spirituality, temples dot the area. Lempuyang Temple, for instance, offers both history and stunning views.
In short, Candidasa is more than a beach. It's a gateway to many of East Bali's wonders. So, put on your explorer hat and see what treasures you can find!
Doing a tour around Bali? Make sure your one of your next stops is Amed!
Frequently Asked Questions (FAQ) about Candidasa Beach
Is Candidasa Beach family-friendly?
Yes, its calm atmosphere and gentle waves make it suitable for families. However, always supervise children near the water.
Is there a local market or shopping area near Candidasa Beach?
While Candidasa has some local shops and art stores, for a more extensive market experience, you might need to travel to nearby towns.
How's the mobile network and internet connectivity in Candidasa?
Most parts of Candidasa have good mobile network coverage. Many hotels and restaurants also offer Wi-Fi to guests.
What's the best time of year to visit Candidasa Beach?
Candidasa is lovely year-round, but the dry season, from April to September, is especially popular due to less rainfall.
Are there any health clinics or pharmacies near Candidasa Beach?
There are small clinics and pharmacies in the Candidasa area. For more extensive medical services, you will need to travel to a larger town, Kasih Ibu at the bypass (1 hour drive) is a bigger hospital nearby
Can I arrange day trips or tours from Candidasa to other parts of Bali?
Absolutely! Many tour operators in Candidasa offer day trips to various attractions around Bali. However to experience Candidasa at it's best I suggest to stay 2-3 nights minimum.

Hi I am Dwi. I am a blogger, travel agent and a mom of a lovely daughter and wife to a supportive husband. I customize and plan tours in Bali and islands nearby for a living and have been doing this for more than 14 years. Get in touch via contact [at] taletravels.com