Swasti Eco Cottages is a cozy place in Ubud, Bali. It focuses on being green and supports local farmers. It's a peaceful spot with beautiful gardens. Here, you can enjoy yoga, meditation, and tasty food from their organic cafe. All of this helps to leave a small mark on the planet. This is a great opportunity for eco-tourism in Bali. This place offers a calm break from the daily rush, letting you focus on your health and nature.
The average price is around IDR 1,100,000 per night (€ 66) and is located in Ubud at https://maps.app.goo.gl/ugH6zXKdNgCn9DUa7.
Website: Swasti Eco Cottages
Instagram: @Baliswasta
Eco-friendly and Connection to Nature
Swasti Eco Cottages is a special place in Bali that loves nature. It sits in a green and beautiful area, and everything about it is friendly to the earth. They care a lot about keeping our planet clean and green. From the way the cottages look to the things they do every day, they always think about nature.
Many people who visit notice how the cottages feel like they are a part of the green land around them. This is on purpose. Every choice they make is to help the environment. They save water, use less waste, and pick things that come from nearby places. All of this is to be kind to the earth.
But it's more than just being good to nature. It's about feeling close to it. When you stay at Swasti Eco Cottages, you really feel nature around you. The air is fresh, you can hear birds and trees, and everything feels calm. It reminds us of how pretty our world is and how we should all help to look after it.
Accommodation and Facilities at Swasti Eco Cottages
Staying at Swasti Eco Cottages is a treat. The first thing many people notice is how clean everything is. From the front gate to the insides of the rooms, everything sparkles. It's clear that they take great pride in keeping things tidy. And it's not just about looking good. The rooms and spaces are really comfortable. You can kick back, relax, and truly feel at vacation with the hospitality of home.
Some visitors have even talked about special rooms, like the "Kuta room." Imagine a room where every detail is thought of, where you can relax and forget about the outside world. That's what the Kuta room and others like it offer. It's not just a room; it's an experience.
The facilities at Swasti are top-notch too. Everything is made to help guests feel at ease and close to nature. So, whether you're in your room or exploring the property, you're sure to find spots that make your stay memorable.
Food and Dining from Swasti Eco Cottages
Swasti Eco Cottages offers a dining experience that guests can't stop talking about. Many love how the food is both good and healthy. With a diverse menu, there's always something new and tasty to try. Whether you're a fan of vegetarian dishes or enjoy chicken and fish options, there's a plate for everyone.
Breakfast is a real treat here. Some visitors have highlighted the delightful "small breakfast tapas" that kickstart their day. And if you're looking for variety, the a la carte breakfast is a must-try. Imagine a menu where every choice feels like the best one, filled with excellence in every bite.
The restaurant at Swasti stands out, not just for its flavors but also for its value. Guests find the prices really affordable, which means you can enjoy delicious meals without worrying about the bill. And for those who enjoy a drink or two, the cocktails are a hit. Even raw vegetables and drinks are safe for everyone, making the dining experience worry-free.
It's not just about the food, though. It's about the whole experience. Dining at Swasti Eco Cottages is a journey of flavors, freshness, and joy.
Staff and Hospitality
The first thing that might catch your attention is the warmth of its people. Many guests have shared how the staff makes them feel right at home. They're not just friendly; they're truly exceptional in making sure you have the best time.
You'll notice that they're not just doing their job. They're there to make your stay special. From the way they greet you to the little chats you might have, everything feels personal. The feeling is as if you're among friends who really care about you.
It's not just about the big things. It's the small moments, the kind gestures, and the smiles that make the difference. The team at Swasti goes above and beyond to make sure every guest feels valued and cared for.
Swasti Eco Cottages nearby environment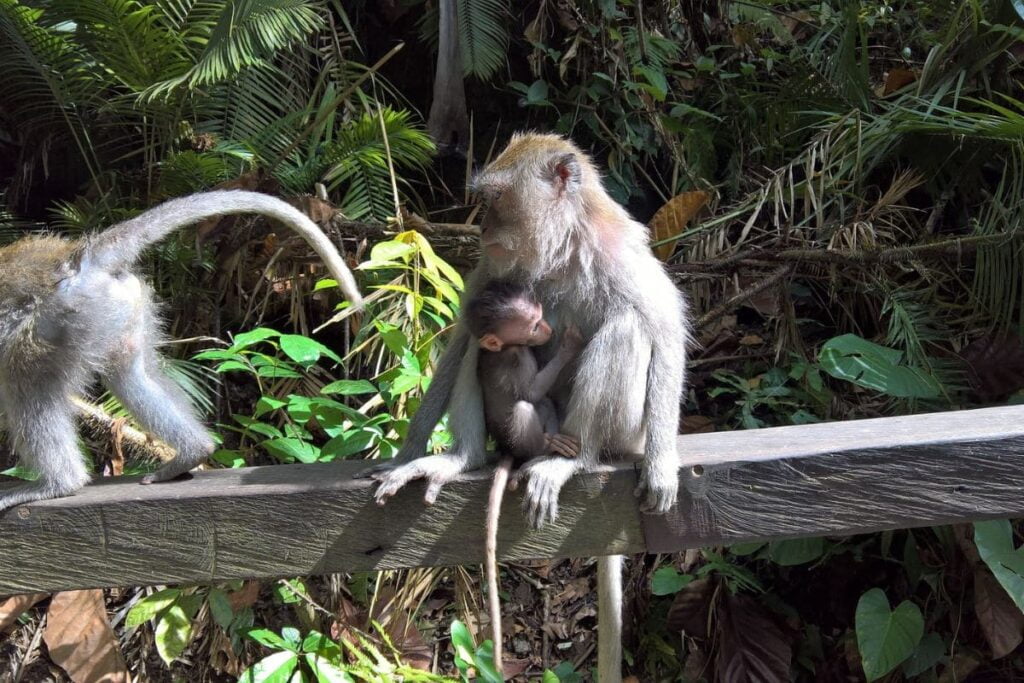 Swasti Eco Cottages is like a green oasis in Bali. But what makes it even better is where it's located. If you're hoping to see some of Bali's famous spots, you're in luck. The Monkey Forest, a place where playful monkeys swing from trees, is just a short walk away. And if you're in the mood for some shopping or local culture, Ubud downtown is nearby. It's the perfect mix of nature and local life.
But there's more to Swasti than just its location. Many guests talk about the farm at the cottages. This isn't just any farm. It's a place where the magic of nature comes alive. You can see how they grow their food, and it's all done with love and care for the earth. The farm isn't just about growing things; it's a sign of Swasti's promise to stay close to nature and be kind to our planet.
Wildlife and Natural Surroundings
Swasti Eco Cottages is a place where you can feel close to nature. It's surrounded by the sounds, sights, and wonders of wildlife. Birds singing, leaves rustling, and maybe even the distant call of a creature in the night. It's a true nature experience.
But, nature has its own rhythm, and sometimes it can be audible. Some guests have mentioned that the sounds of wildlife can be surprising, especially in the quiet of the night. It's all a part of the natural surroundings, but it might catch you off guard.
To make sure everyone sleeps soundly, some visitors have suggested a simple idea: earplugs. Just a small touch, but it can make a big difference. It could be a good idea for the cottages to offer earplugs or maybe even soothing sound machines. This way, guests can choose how they want to enjoy the night, with or without nature's lullaby.
Suitability for Different Travelers
Swasti Eco Cottages offers a peaceful escape that many travelers cherish. From the reviews, it's clear that this place is a haven for those looking for some quiet time. If you're a couple wanting to reconnect, or an individual seeking some solitude, this might be your dream spot. The surroundings, the vibe, everything whispers calm and peace.
But what about families or those with kids? Some guests have shared their thoughts. While the beauty and nature of Swasti are undeniable, it might not always be the first pick for those with lively little ones. It's not that kids won't enjoy it; it's just that the place has a serene feel that might be better suited for adults looking for relaxation.
That said, every traveler is unique. Some families might find it a great place to teach kids about nature and sustainability. But if your kids are the adventurous, high-energy type, they might wish for more activities.
Conclusion
Swasti Eco Cottages is more than just a place to stay; it's a journey into nature and peace. Nestled in the heart of Bali, it offers a blend of comfort, sustainability, and a genuine connection to the environment. Guests have shared tales of the wonderful food, the warm-hearted staff, and the beauty of the surroundings. And let's not forget the wildlife that adds its own natural charm.
But words and reviews only tell part of the story. The real magic is in experiencing it. Feeling the breeze, tasting the fresh meals, and soaking in the serenity. If you've been searching for a place that touches your soul and reminds you of the simple joys of life, Swasti Eco Cottages awaits.
So, why wait? Pack your bags, set your sights on Bali, and let Swasti Eco Cottages be the backdrop to your next unforgettable story.

Hi I am Dwi. I am a blogger, travel agent and a mom of a lovely daughter and wife to a supportive husband. I customize and plan tours in Bali and islands nearby for a living and have been doing this for more than 14 years. Get in touch via contact [at] taletravels.com