This guide will tell you how to get a taxi or cab in Bali in different possible ways. There are many people waiting outside the airport. A lot of people are there to pick someone who made an appointment and some are there to offer a ride. Once you leave the airport as a tourist, it can be overwhelming because there could be plenty of people walking up to you and asking if you need a cab or taxi.
If you have read my post about language in Bali, you could get away with just saying sudah, and be left alone. You would need to repeat this several times. If you are interested in more ways to save money, or spend less, do checkout my Bali Budget article.
4 Ways to get a taxi at Bali Airport
Currently, there are 4 options to take a taxi. I will discuss all of them with you. After collecting your luggage you will be able to walk towards the outside. Before reaching outside you will see some companies lined up, one of them being Bluebird.
1. Inside the airport
You can already buy a ticket for a taxi. The tariffs are decided upon zones. No need to haggle about the price as these are fixed. Are you traveling with children? Then this is the easiest if you did not arrange a pick up from the airport.
Note that when you buy a ticket, that you get a paper receipt of your purchase. With this paper, you can take a taxi. They will tell you where the drivers are awaiting you.
2. Having a private driver / Resort / Hotel pick you up
This is the easiest and most convenient. Before going to Bali when choosing a hotel check if they have pick-up from the airport. Some have this option for an extra fee but at least when you are there you don't need to worry about transportation to the hotel.
Looking for your driver might be a challenge. During high season or busy moments, you can see hundreds of drivers with signs and names written on a paper. So keep a lookout as sometimes the driver is unsure who to look for and only keeps up the name.
3. Negotiating with the Taxi's outside
If you decide to skip the taxi companies when you just arrived, you can also negotiate with the taxi drivers outside. These are going to be unmetered rides.
Just haggle a little bit. I sometimes hear how people are so proud that they save so much money by negotiating for every bit of discount, especially from taxis. Don't haggle too much, these people still need to make a living.
If you are doubting the prices just ask in the comments below and I'll help you out.
4. Walking outside and take a grab/gojek (online taxi)
With heavy luggage or with a family this is not advisable. You would also need a phone with internet access and the app activated. You can buy a sim card with an internet connection at the airport and then download the app.
So let's walk outside the airport then shall we. It takes about 5-10minutes of walking (depending on how fast you walk). If you are alone, or with a friend traveling this is easily doable. But dragging heavy luggage is going to make it harder.
Go to the Digital meeting point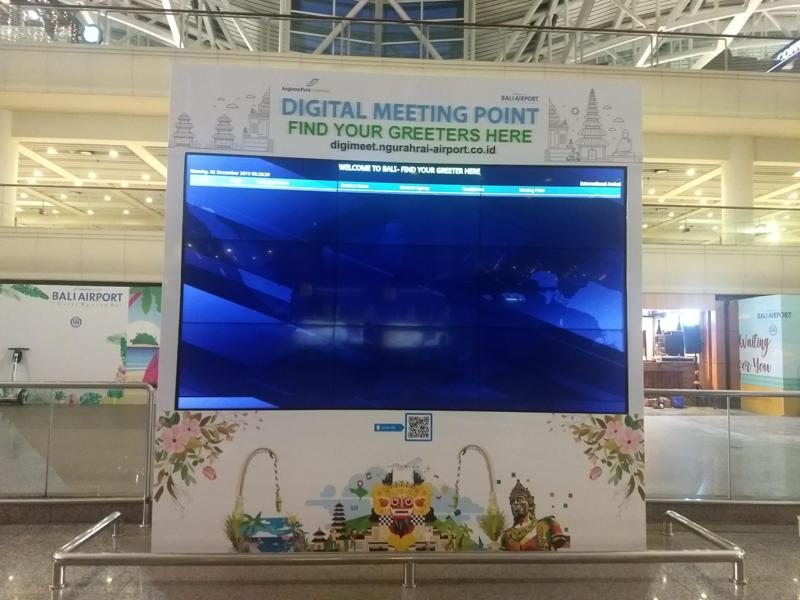 When walking outside of the Bali Ngurah Rai Airport, you are guided to the Digital Meeting point. Actually, when you keep walking forward you might miss this meeting point.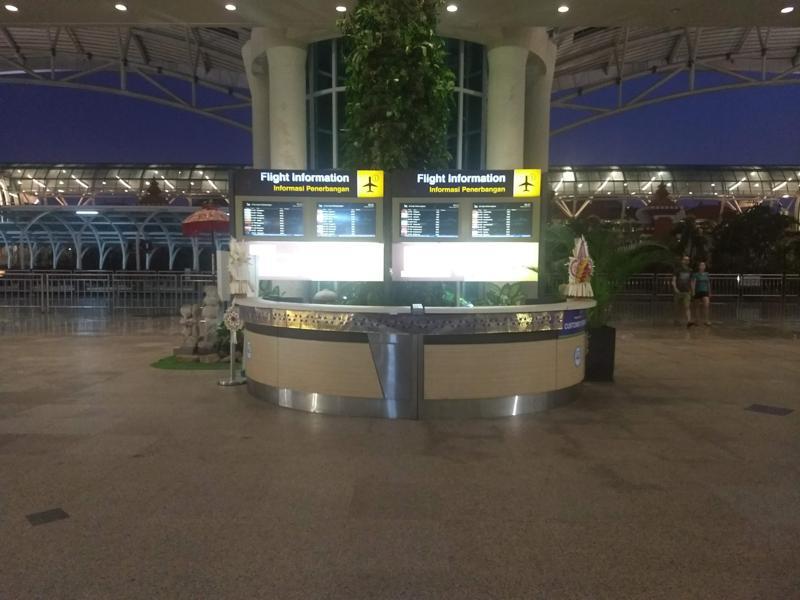 However, when walking out you would definitely pass this and see it if you pay attention to it. This information booth is used for the drivers mostly to see if a flight is delayed, canceled, or already landed. So they can be ready with the name signs.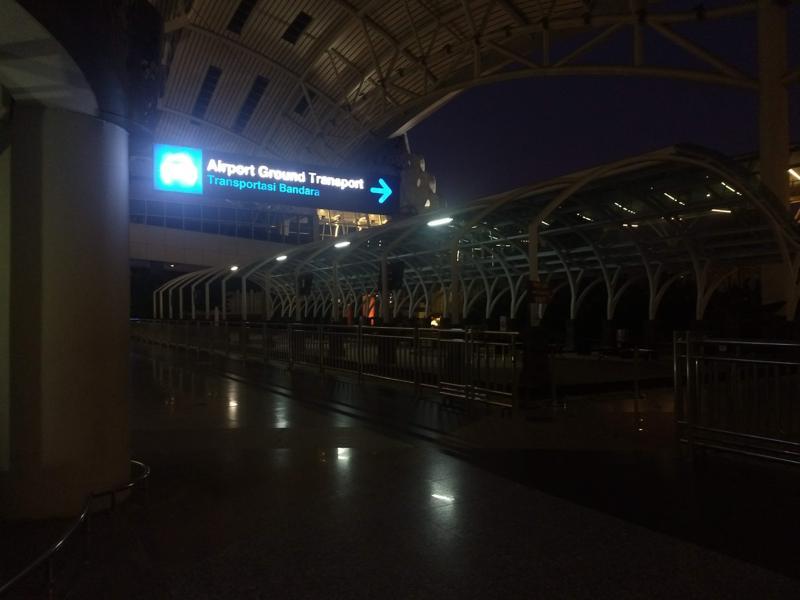 Behind the flight information, you see this sign "Airport Ground Transport". If you have not seen that sign you can see the sign for Parking Building. Follow this arrow into this path: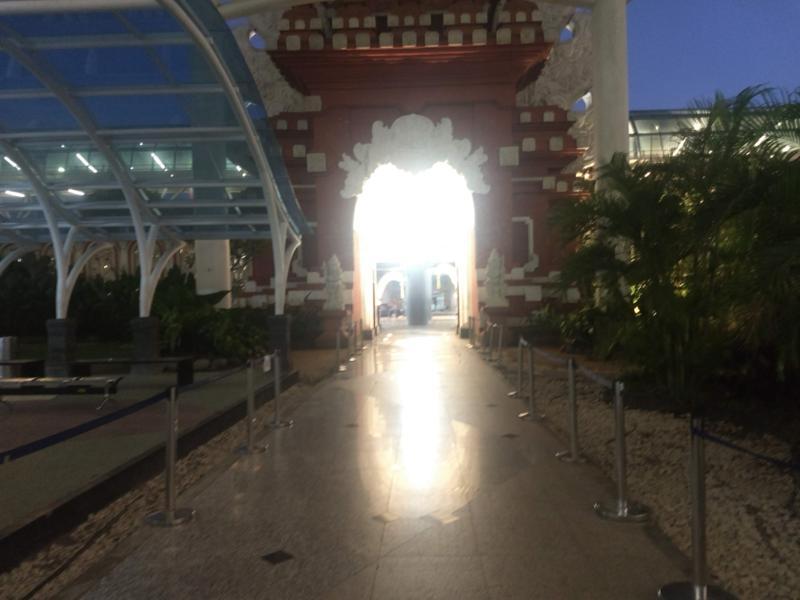 This path leads to the parking garage of cars. If you take an offer from anyone offering taxi services they most likely have their car parked there.
Walk all the pedestrian crossing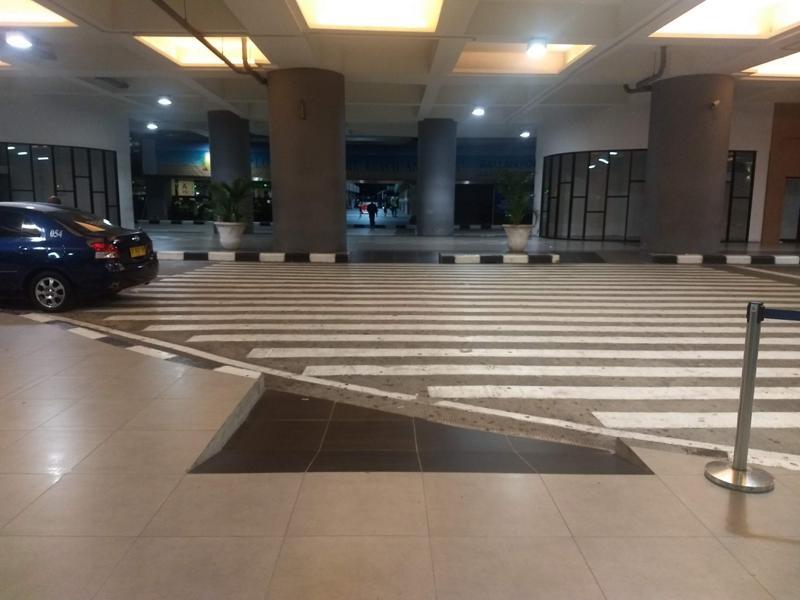 First of many pedestrian crossing areas to walk. So now we're headed to the parking building. There are many of these to cross so pay attention you are in a left-side driving country. Look to the right and left before you cross. Do not assume they will stop because there is a pedestrian crossing area.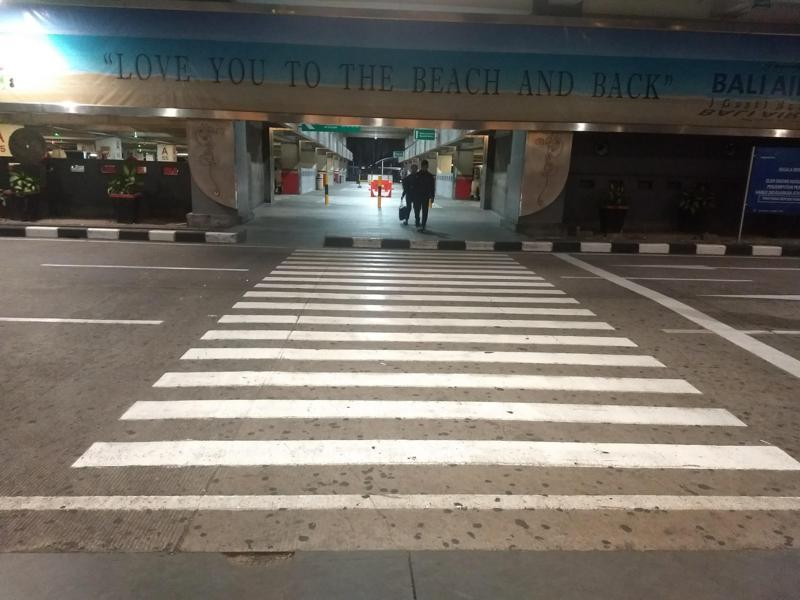 Just keep walking, by now you have walked about 2-3 minutes. If you have a cart with your luggage you will need to get rid of it soon.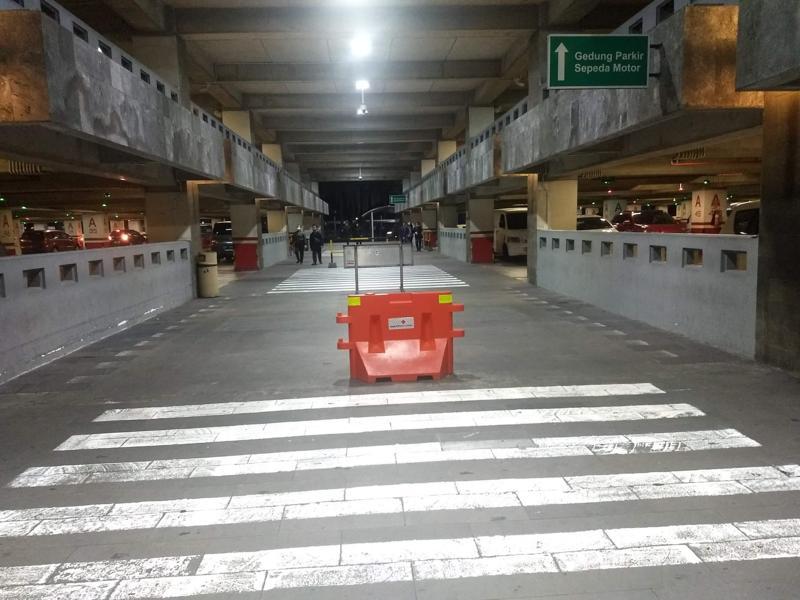 In the next picture, you can't have your pushcart anymore. But it is only 2-3 minutes walking from here to the point where you can order a Taxi online.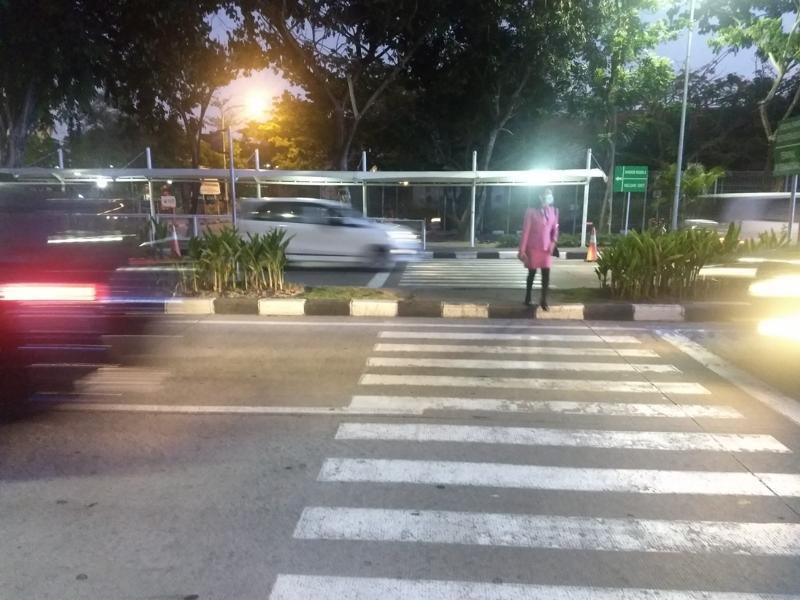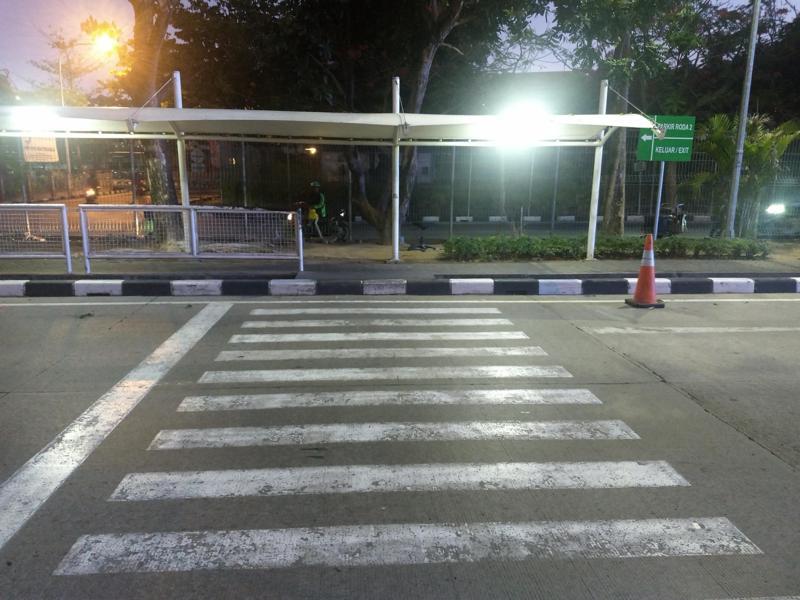 Take a left when you crossed here.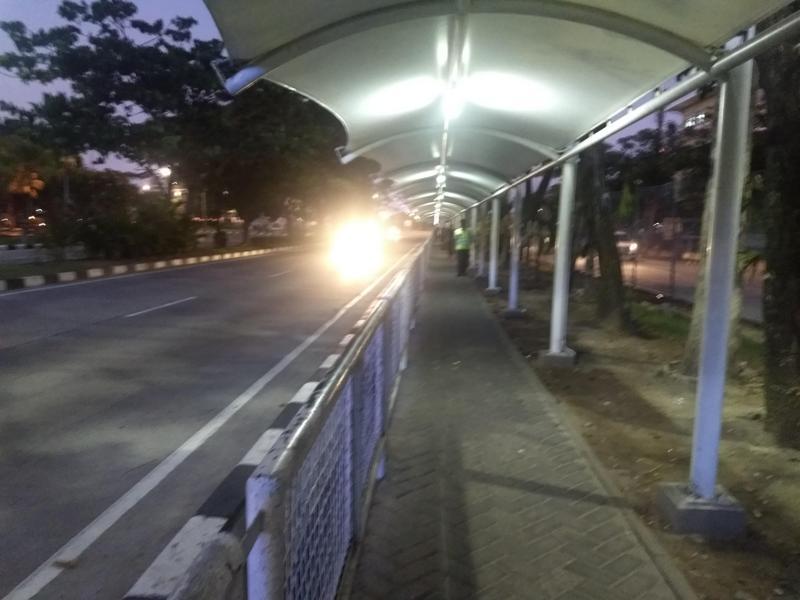 keep walking this route until the first sign you see.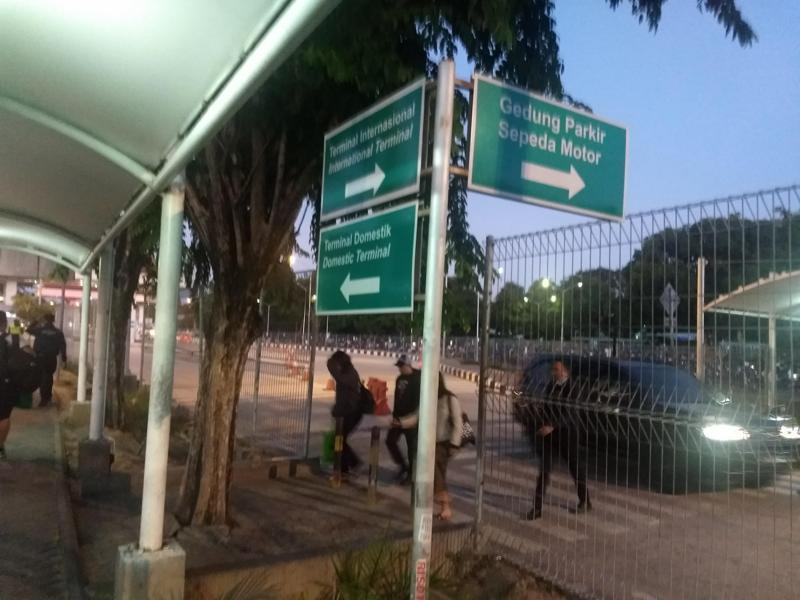 This is the sign you see. Follow Gedung Parkir Sepeda Motor. Cross the last pedestrian crossing.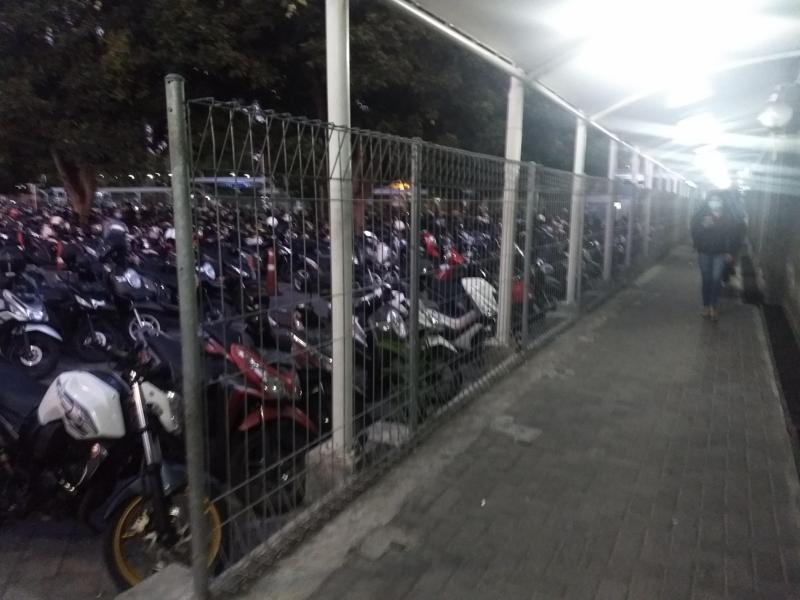 A recognition point, here is where all the scooters parked. But keep following the path for a few hundred meters.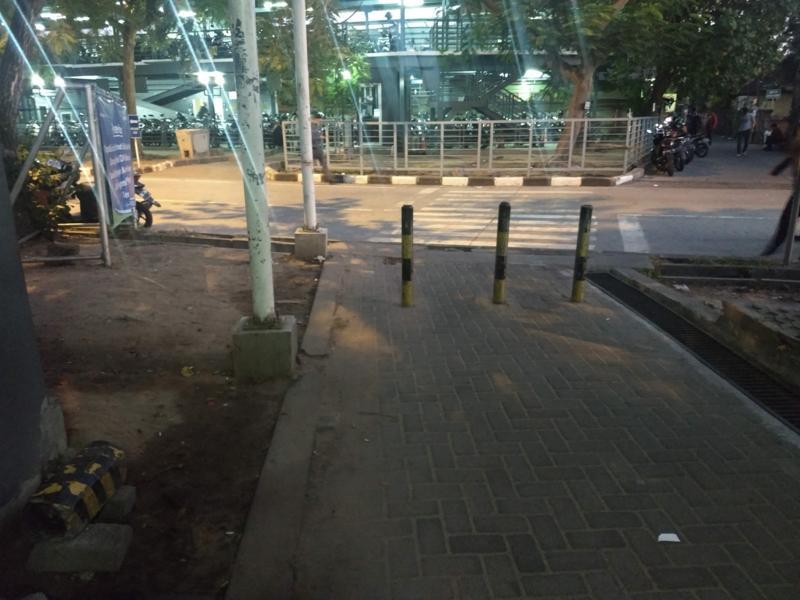 Congratulations, you have made it. Some scooter taxi will offer you a ride or some grab/gojek will do the same. You can just order one yourself via the app, so the price is set. I have been told that the grab/gojek don't come here by the drivers there. But for several years I have been going to this spot because it's the cheapest way to get a taxi at the airport.
So why here? And not the Grab pick up point at the airport?
Since we are now outside the airport, the app calculates the price differently. The apps calculate prices based on your pickup point. If you want the pickup point at the airport, you will be paying a fee which is calculated in the price already. This is because the company also needs to pay a fee for getting a customer there at the airport.
Outside the airport, they don't need to pay that fee. I will soon make another article about the "zones where online taxis won't pick you up in Bali".