GWK stands for "Garuda Wisnu Kencana". It refers to the huge statue that is in the South of Bali. The huge statue shows the Hindu God Vishnu flying on his mount, Garuda. It's one of the tallest statues in the world and stands as an iconic representation of Hindu culture in Indonesia, particularly in Bali. The statue is a symbol of Indonesia's cultural heritage and is an homage to the Hindu influence in the country's history.
The Garuda Wisnu Kencana Cultural Park is located in the southern part of the island, near Uluwatu. It is specifically situated in Ungasan, Badung Regency. It's about 10-15 kilometers from the Ngurah Rai International Airport, making it quite accessible for tourists coming to Bali.
From various higher points in the southern region of Bali, especially around Jimbaran, Uluwatu, and parts of Kuta and Sanur, you might be able to see the statue of Garuda and Vishnu, especially given its elevation and size. You might be able to see it from the airplane when departing or arriving at Bali. However, for a close-up view and to truly appreciate the statue and the cultural park, it's best to visit the GWK park itself.
How to go to GWK
It's very accessible and easy to visit. You can either rent a bike, go with a taxi or even online tax grab. One of the worries might be, how can you go back if you did not come by your own transportation? Well that's solved easily: there is a grab stand at GWK. So you can order a grab at the stand to go back to your hotel or continue a day itinerary you have planned in Bali.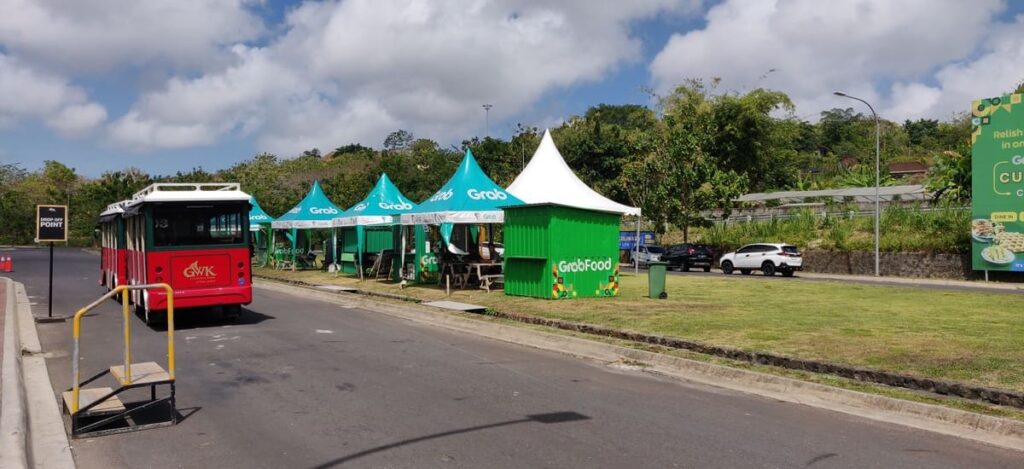 Parking cost
If you come by yourself, you will have to pay a parking fee. For the motorbike or scooter it is 5000 IDR (about $0.35), Car is IDR10,000 and bus is IDR 20,000. I would recommend to try and find a spot that can provide some shade to prevent a hot seat or car.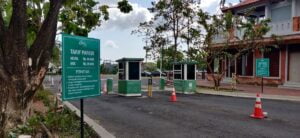 The shuttlebus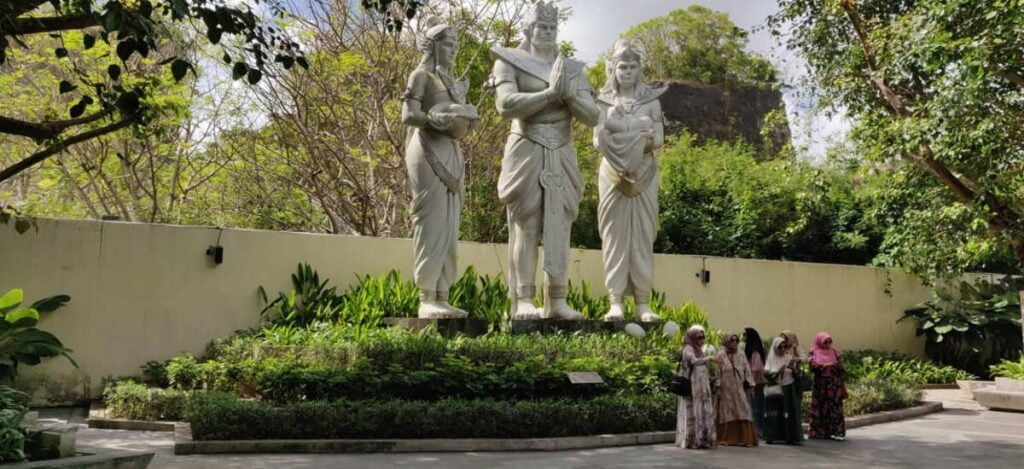 I saw everyone clueless around the parking spot walking in all directions. It wasn't clear where to go after parking. But you have to proceed beyond the parking spot for bikes and cars and find the white tents. This is where the shuttle bus comes. In our situation, we did not see any shuttle bus so many people had no clue where to go. Everyone asked the guys in the booth where to go. It's straight ahead to the right.
How much is the entrance fee for GWK
The shuttle bus can be full, it's airconditioned but it comes every 5 minutes or so. The ride from the parking to the entrance of the park takes about 2-3 minutes. The shuttle bus stops at Plaza Bhagawan, this is where you will buy your tickets if you did not buy your tickets online for GWK. We didn't buy it online, however here are the differences:
Online
Offline
The ticket that gives you access to all
GWK statue tour
IDR 300k
IDR 300k
Regular Ticker
IDR 115K
IDR 125K
Buggy Shuttle Service
IDR 40k
IDR 40k
Online they use the strike trough at the ultimate ticket that includes everything. But here is a picture that they offer that ultimate GWK tour for 300k as well: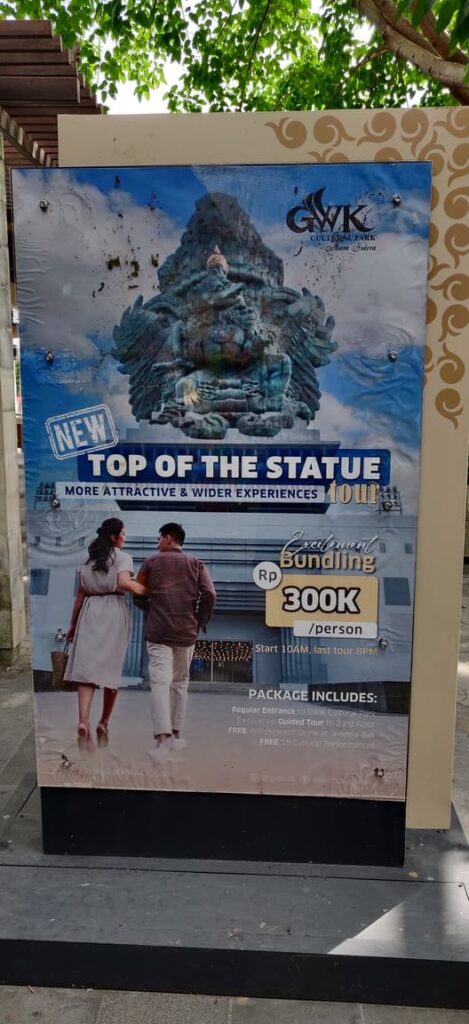 From Bhagawan it's still a 20-minute walk! or a 40k IDR (per person) buggy ride
You are offered a 40k buggy ride. We did this because our daughter wouldn't be able to endure a 20-30 minute walk in the heat. If you can't stand the heat that long or much, just go with the buggy. The rest of the day will also be more comfortable for you if you do that. Prevent a heatstroke and have water with you. There are opportunities to buy water from several places. The walk is slightly inclined so it's extra exhausting during a sunny day.
Tip: Make sure to stay hydrated in the park.
What to do in GWK (Garuda Wisnu Kencana)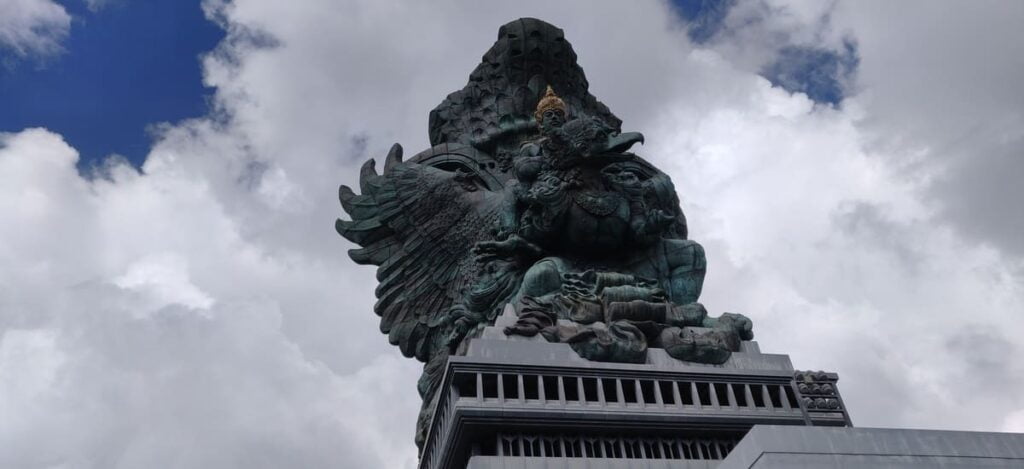 Everyone is visiting of course that huge statue. You can't miss it when you are there and the whole park is for that. Besides that, it's hard to miss it: Garuda Wisnu Kencana (GWK) statue is 122 meters tall! So if you just look up, you can see it 🙂
That's the main attraction, and you can do a tour. If you regret only paying the Regular Entrance at a fee, you can still purchase the tour, inside the statue. Hop in and it's a whopping IDR 250k! Surprise, it's not just the difference in amount. If you paid IDR 125k ($8.20) at the entrance of the park, you now need to pay 250k a total of 375k. A difference of IDR 75k (almost 5 dollars). We were with 3, and eventually caved and paid 15$ extra on top of everything. Not the smartest move, but hey we were interested in sharing the GWK experience.
The GWK Tour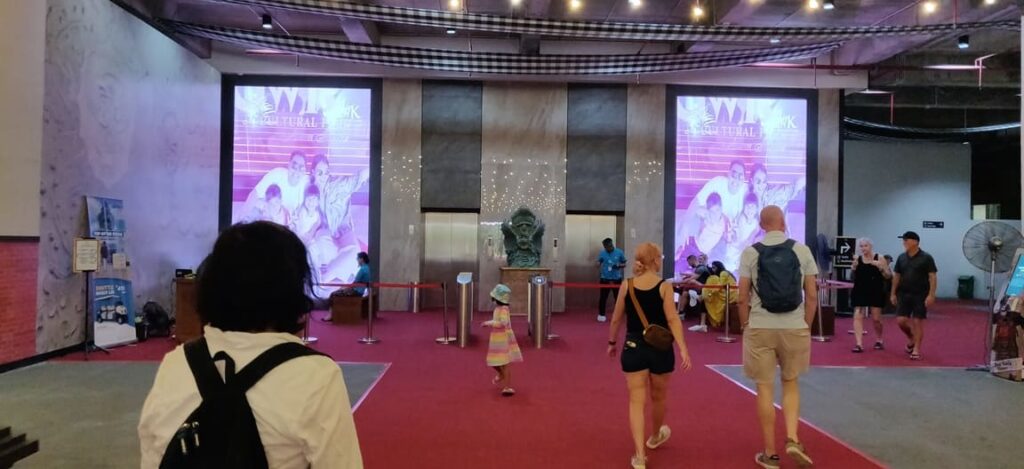 The tour takes about 40 minutes, and if you are lucky your guide knows English. We were in a group with 1 person who did not understand Bahasa Indonesia and he had little luck with the guide. So upfront if you want it in English ask for it! Our tour guide rushed through everything and let us explore for ourselves, but we had a certain schedule to keep. So if we had to go in the elevator, we had to.
Since the tour starts takes 40 minutes, you might be required to also wait for another tour to end before you can start. I believe it was every other 45 minutes that a tour starts (this gives the guide some time).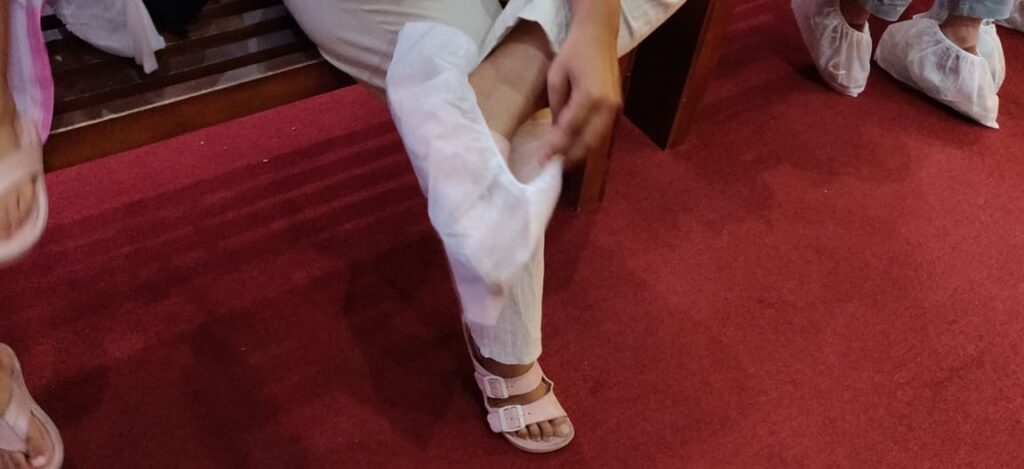 For the tour you will wear special socks over your shoes. This is to keep things easily clean.
9th and 23rd floor
The first elevator stop is on the 9th floor. You start off with an animated introduction movie in Bahasa Indonesia with English subtitles about how Garuda the mount became.
TIP: A similar animated movie is playing in an airconditioned cinema inside the park. This one was more enjoyable to watch however is about 30 minutes or longer. The movie inside the GWK on 9th floor as not very long.
After that, you get an introduction about the making of this architectural marvel. Honestly, the statue is an amazing feat of human engineering. With interactive walls that you can touch for an animation to start, it's pretty nice for the children. (click to enlarge the picture)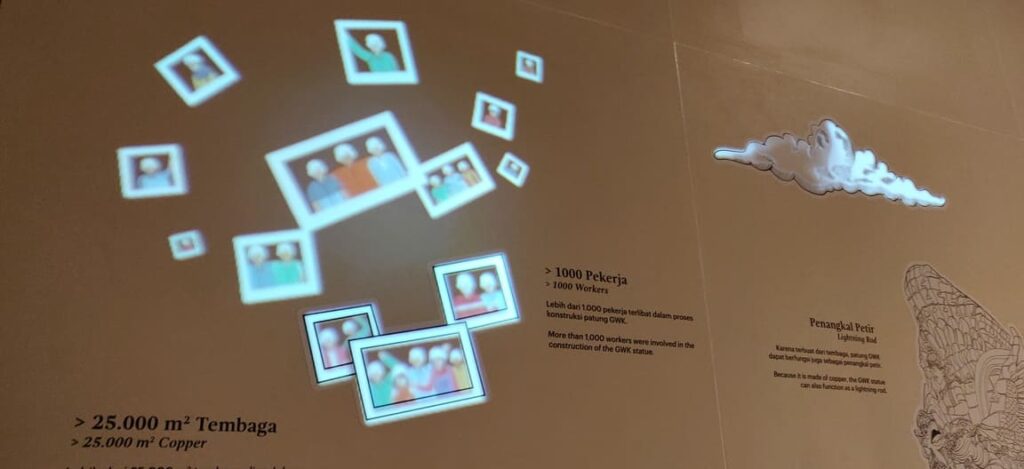 The end of the tour you have another interactive wall that is fun for kids to play with. Besides that you can have a view from the 23rd floor, take an awesome picture on the glass floor, and find interesting facts about the statue and the making of it. There is no stopping in between the floors.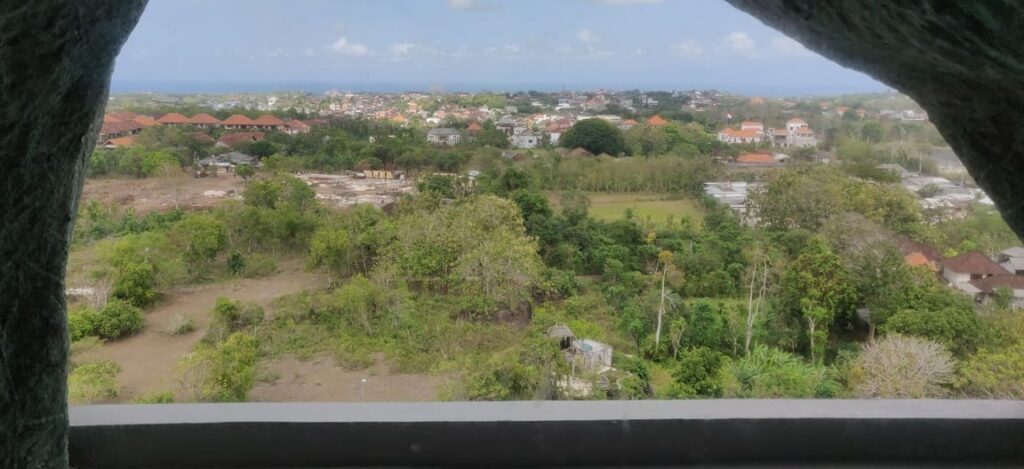 Other statues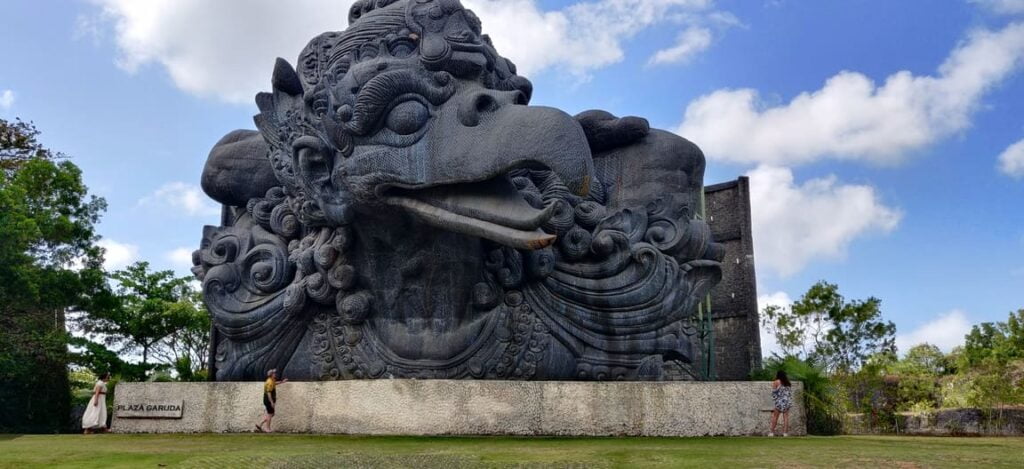 While roaming the park you can find two other huge statues. Not as big as the 122-meter GWK, but still an impressive size. They are good moments to take a picture off, or just rest while you gaze upon these statues.
Holy Water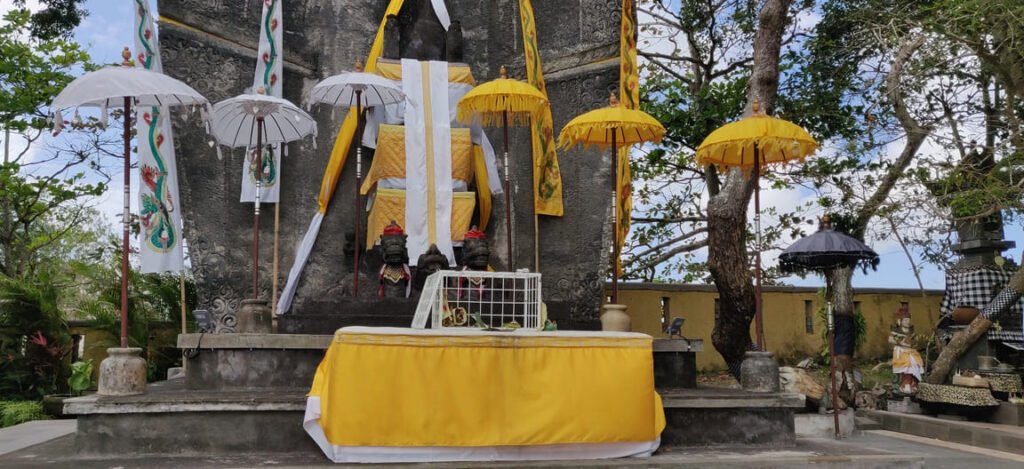 To visit this shrine, you will need a special dress code. The clothes are provided. You get a sarong, traditional clothing that would be required to enter holy places. You are also required to take off your shoes/sandals when entering. Someone will guide you and tell you a short story about the holy water. It appears to be very old!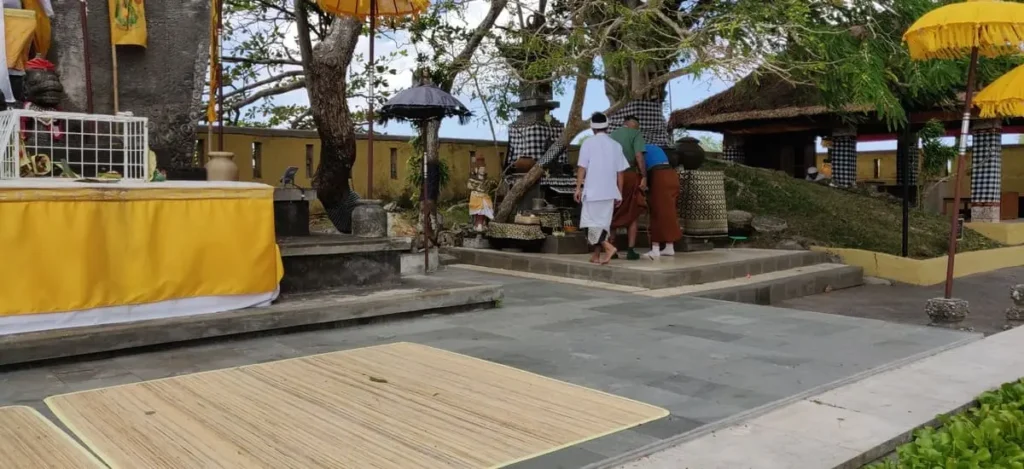 Cinema
This is just a teaser of the movie that is playing in the cinema that can be found in the park. It's great to watch for children. TIP: You don't need to pay any additional fee to enter this cinema, it's free. I found this video better explained and also more entertaining for my little one as the story and animation is more appealing. The schedule that this cartoon shows in the cinema is once every hour starting from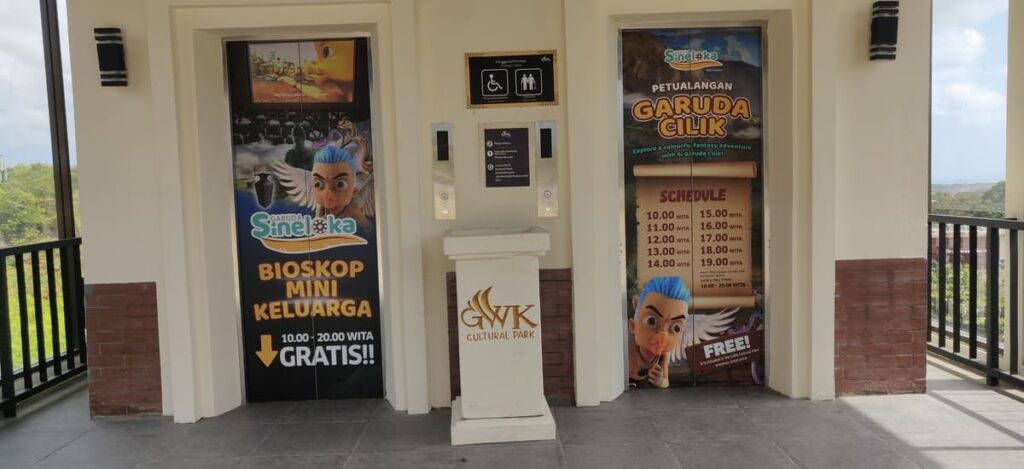 The turtle statues at lotus pond (kura kura)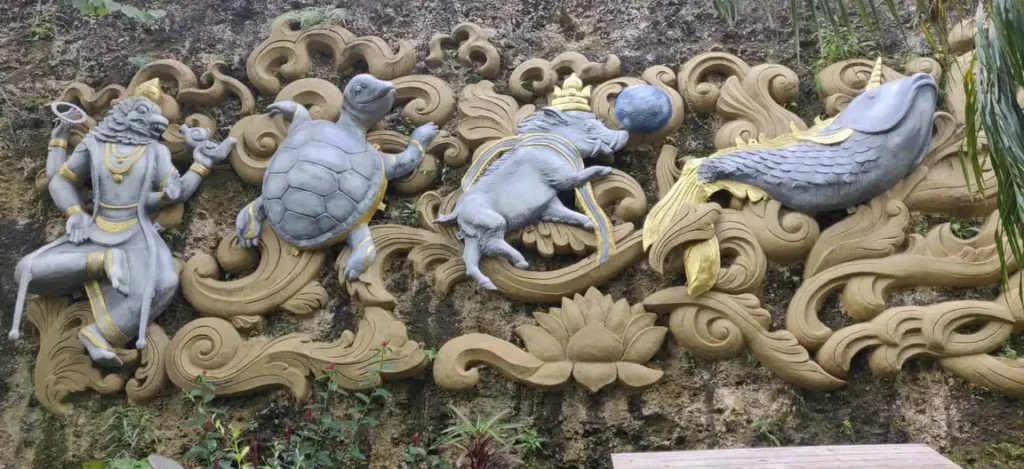 Another great photo op is at the turtle lotus pond/place. There are no real turtles, at least when we were there. But there were a lot of turtle decorations. This place in GWK park is great for taking some photos and resting while having a lot of shade. There is a lot of walking involved at the GWK, so use this place to rest, take some pictures and drink some water you bought along the way.
Cultural performances (kecak, barong)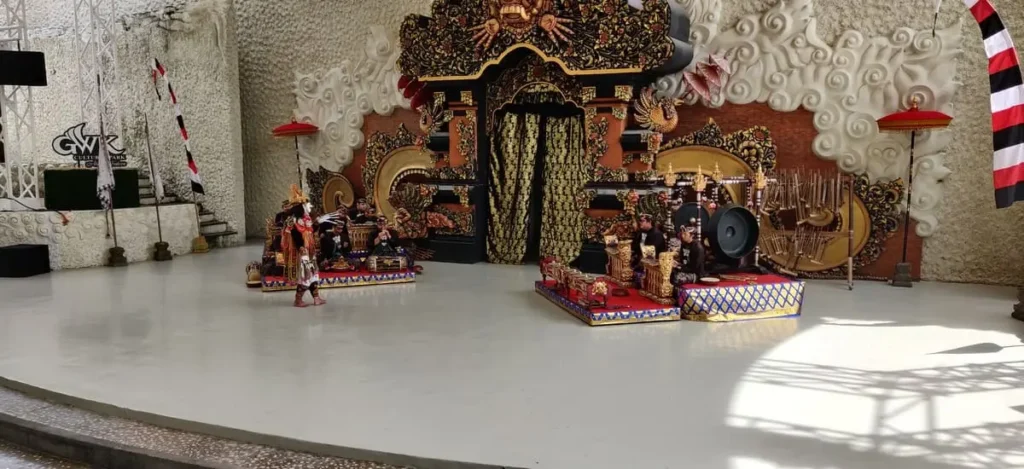 Near the restaurants Jendala and Berande we heard noises. Apparently, there was something going on. We have heard that there are Kecak dance, Barong, and more than a dozen other cultural performances. The audience sits around the stage, it looks like a pandemonium. It looks amazing but you will be sitting on hard concrete. Other than the the sound is very good, we heard it from outside and were lured inside to it.
This is great if you haven't seen any of the performances while you are in Bali. Take an opportunity, sit back and relax!
Restaurant Jendala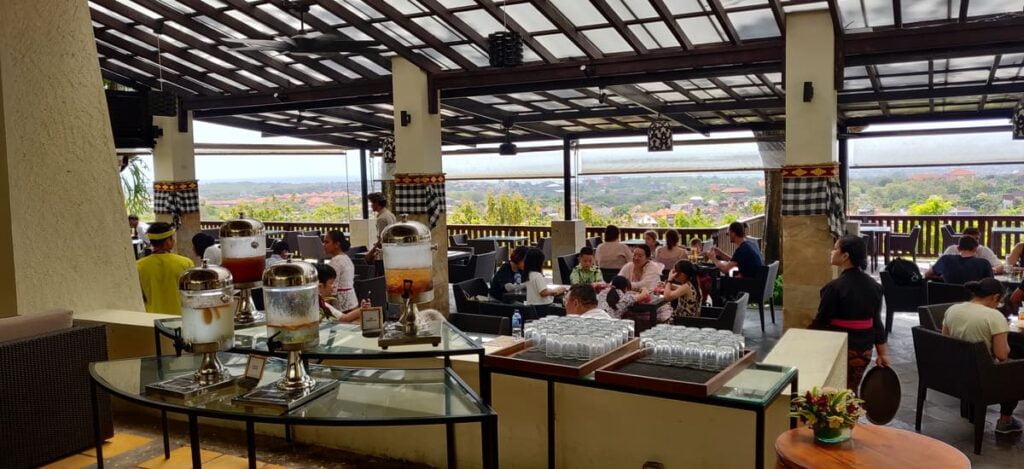 After the end of our day we ended up at Jendala. The ticket we purchased at the entrance also covered the cost for refreshments at Jendala. There is another restaurant nearby called Beranda. It looked rather empty there and way more luxurious. In any case if you have free refreshments at Jendala as well, take a moment to rest after all that walking. Take a spot in the shadow to have it easy here.
The refreshment that was included is either iced tea or infused water. it was nice and cold.
Wedding at GWK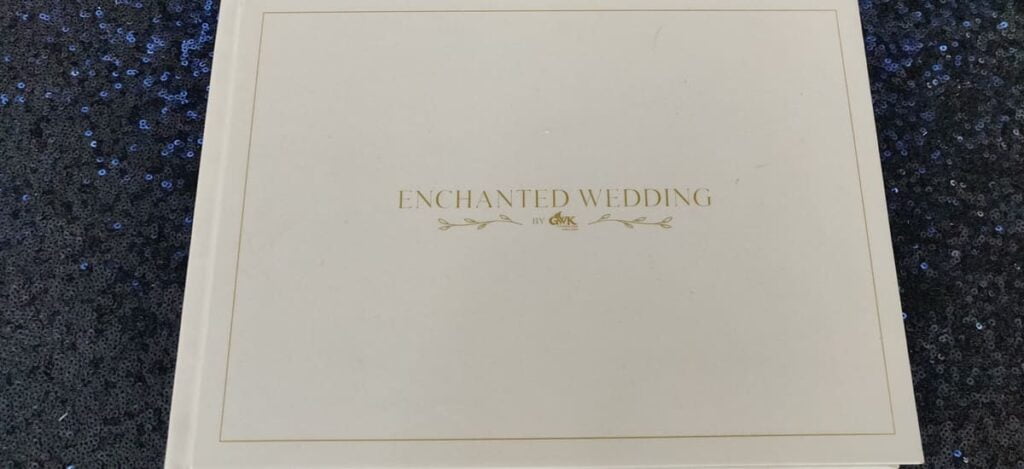 A wedding that will amaze everyone at GWK is possible! I was stunned to see a wedding information booth on our way out of Restaurant Jendala. Although no one was sitting there at that time, It looked beautiful. THere is a book to go through. If you require any more information you can visit the wedding at GWK website or email wedding@gwk-culturalpark.com. You can also reach out via whatsapp: +6289610595452.
Conclusion: Is it worth visiting GWK?
Sure! as a family trip it was great to be here. I have seen the statue come up, in the last 15 years. I just wasn't able to visit it. There was always something coming up. It was great to be there with the family and enjoy a long day of walking and be mesmerized by the views. It's very photo op heavy place, and plenty to see and do. It's not just the big statue. I had the feeling that most people did not do the tour actually. It was a bit of a hefty price, but at least I could write about it, despite being rushed through the tour.
Most asked questions about GWK
How much money should I expect to spend at GWK?
Per person excluding food I would suggest to bring more than IDR 400k. This is because of water you need, the buggy you will want, and you might want to do the tour. take also into account the parking cost, and transportation. Yes you can also do it with the 125k ticket if you are on a tighter budget, but you need some extra. Your bag will be checked upon entrance if you bring outside food and drinks!
How long does it take to explore the whole park?
It took us between 3-4 hours. It was nice to take your time in the park. The only thing where time seems to be on a tight schedule is the GWK tour.
Are there dining options in the park?
You can eat at Restaurant Jendala. There was another one, called Restaurant Beranda, although we did not enter here. The restaurants offer Indonesian cuisine, and safe food. It looks nice and clean.
Is GWK suitable for children?
Absolutely. It's very child-friendly. During the tour, the interactive walls make it interesting for them. Other than that, the cinema cartoon is fun and the lotus pond. The whole park is fun for kids. My little one enjoyed it a lot and kept asking to come back.
Is it accessible to people with disabilities?
Yes, there are ramps for wheelchairs everywhere. All places are easily accessible.
Is there a dress code to visit GWK?
To enter the sacred place where there is the holy water, you need some traditional clothing which is provided on the spot/.