I had a friend visiting from Bali who enjoys playing golf and travels frequently. I've just scheduled a surprise 2-hour appointment with Smash Factor. We've never used a golf simulator indoors, but I must admit that Bali is the perfect place for it. Golf is popular for networking in Bali and is also very expensive. Just playing normally can potentially cost up to 1.2 million IDR per hour. I thought I should relate our experience with indoor golf as it is now more common and convenient. It was at least twice as cheap for two hours!
To Smash Factor we went. It is situated next to Jl Dewi Sri, one of the busiest streets in Kuta/Seminyak. There are many cafés, restaurants, hotels, and limited retail options on this strip. Because it links Kuta and Seminyak, it is at a prime location. For indoor golf, Smash Factor has made a great location choice. It is in a convenient position, and if you are hungry for some authentic Balinese food, it is only a minute away.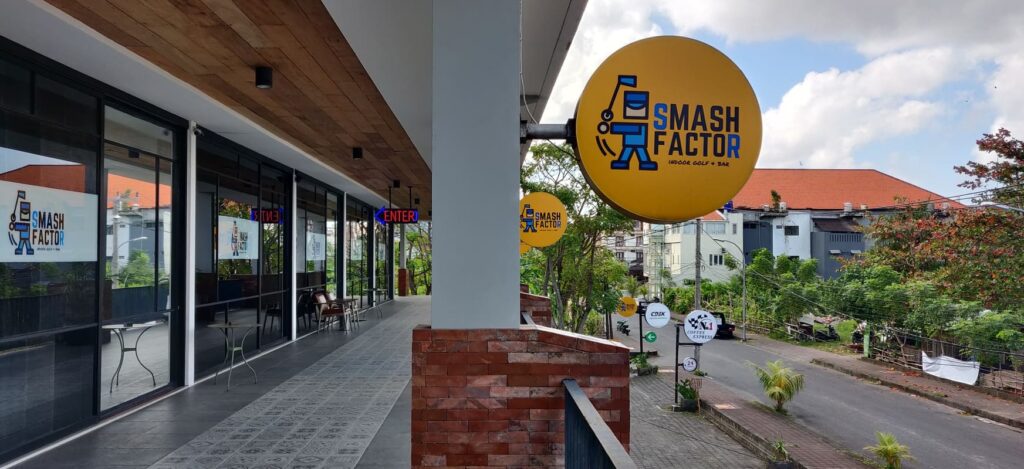 Address: Second Floor, Ruko Dewi Sri Corner Jalan Praja Natha 2
Why did we choose Smash Factor for our indoor golf simulator
Besides its location and price, it seemed the only one open in Bali at that moment. There were some others that were closed already (perhaps due to pandemic). We have found the reviews were solid as well and it would be a great way to start a morning going into the afternoon.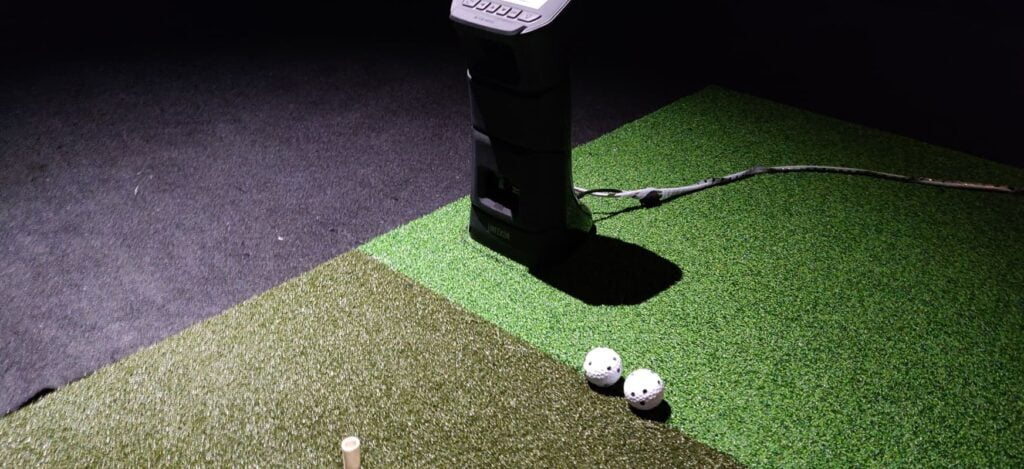 Before going it was also interesting to read about their software and technology on Smash Factor. The simulator uses high-speed cameras (3000 fps) and infrared light wave technology to provide accurate and instant feedback on every shot. You would receive feedback visually and based on this you could improve your (back)swing
Another attractive aspect of Smash Factor is the variety of golf courses (19 of them!) available in the simulator. Tip: Wear your shoes for this, it's better than golfing in flip-flops!
How much does it cost?
For booking online you can choose between an open simulator or a private simulator. The difference is one is behind closed doors, and there are 3 open bays. Here you could observe each other's style of playing, and have a friendly conversation.
The open bay is IDR 150,000 (a bit less than $10) even on Monday through Thursday between 8am and 12pm. It costs IDR 200,000 ($13.50) each hour. Unbeatable prices for the 1.2 Million/hour golfers who play on outdoor courses.
The price of the private bay is 250k IDR, or 200k on Monday through Thursday from 8am to 12pm. Golf instruction costs just 300k IDR per hour. Regular users can access for free for one hour each day from Monday through Thursday from 8am to 12pm by paying 2.2M each month.
Golf club rentals are 50k ($2.70), they provide both left and right-handed golf sets.
Indoor golf simulator vs real golf in Bali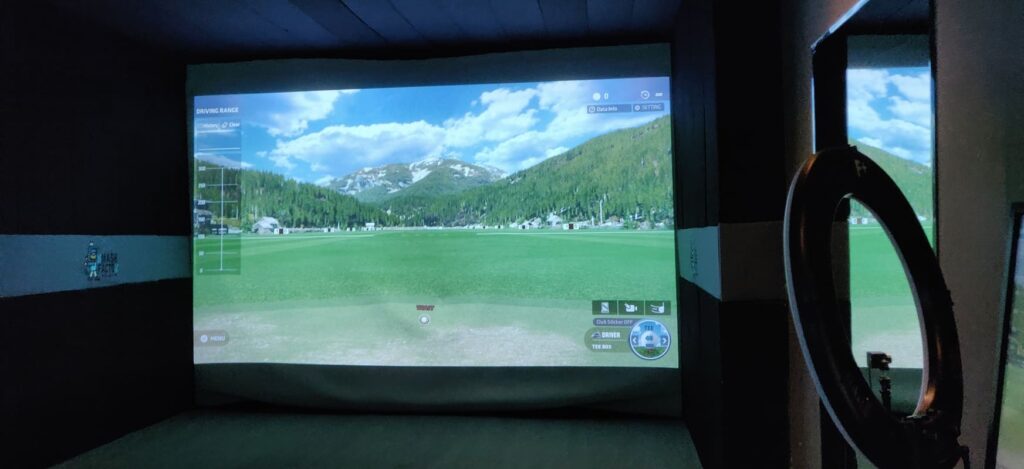 My friend who is a golf enthusiast found it very surprising that there was indoor golf in Bali. Happy to try it out. After 30 minutes on the driving range and then playing 2 golf courses it was with satisfaction to say: Very accurate! When swinging the driver, iron 7 it feels more than satisfactory. Real! How the ball would go, fly and the distance you would cover.
Now here comes a real perk: You don't need to walk in the scorching heat (or rain) to go to your next location. It's a real treat sitting comfortably indoors, and taking turns when golfing. We chose the course in South Korea called Green Leaf and Gold Leaf.
For our bay we gotten 2 Golf balls, it was the right amount. Since it's indoor simulator, it's not that hard to find your ball. it could roll under and beneath the screen but nothing hard to get.
What felt a bit strange was putting. You would need to hit the ball slightly hard enough. I know it sounds strange, but if you had a distance of 3m you would expect a very soft and gentle touch with your putter. and with 12m distance a slightly harder. Well, we didn't get to put very much and got the double bogey announcement plenty of times!
But that was just putting, the rest of the golfing was exceptional. Besides we could order some beverages and relax as well. We took 2 hours and I think this is an ideal time. 1 hour was just too short, and 2 hours was fine.
Facilities and Services are very luxurious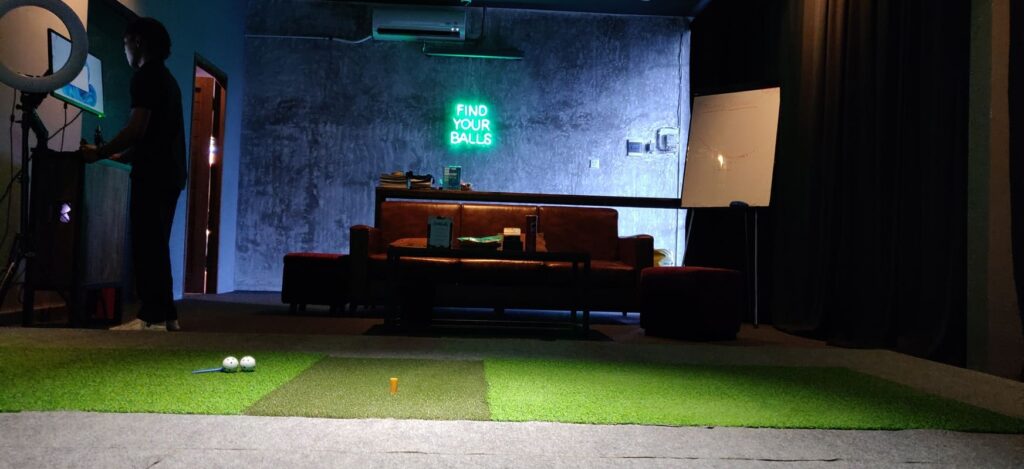 It's noteworthy that there is ample parking space which makes it convenient to come by your own car or bike. It is surprising considering it's located near Jl Dewi Sri that the parking was so empty. The entrance was a bit funny for us. It's a glass slide door that looks like a window, I passed by twice before the door got opened from the inside. Above the door on the ceiling, it would say ENTER, somehow we passed this twice. Perhaps we weren't looking hard enough.
Upon entry inside, you step into an ambiance area, even if it is bright outside, indoors it's a bit darker due to the tinted windows. It makes the ambiance very nice. In the bays, it's lit well enough. Each bay both private and public is equipped with a high-speed camera golf sensor luxury leather sofa, and some stools. It's very nice for a group activity (maybe even team building!). Before we started playing the staff asked if we wanted anything to drink. Because we arrived at 10am food like pizza wasn't available. we settled for some tea. This arrived when we started playing. About 1 hour in, several others came for both public and private bay. I think it's a popular activity. The staff was accessible at any time while we were playing. There were 3 people available, the same amount as the bays. It makes them accessible by 3 groups at the same time.
Tried the golf simulator in Bali and liked it?
Well then you might want to take up some golf lessons. A 5-hour lesson package cost IDR 2,250,000 ($150 rounded up). Five lessons, and you will surely will feel and see the improvement. Other than that there might be some golf events happening for that keep checking their Instagram.
Conclusion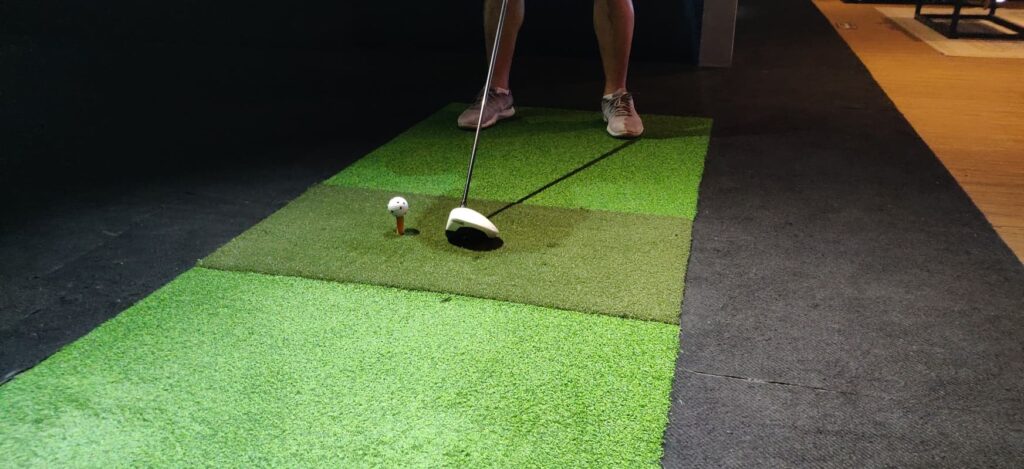 Indoor golf simulators at Smash Factor in Bali provide an innovative twist on the traditional sport of golf. With an excellent location in Seminyak, it offers a comfortable, high-tech, and budget-friendly alternative to traditional golfing.
From its state-of-the-art equipment to the luxurious ambiance and attentive staff. Every aspect is tailored to enhance your golfing session. Whether you're an enthusiast seeking a change of pace, or new to the sport, a visit to Smash Factor is worth adding to your Bali itinerary.
Visit their website at smashfactor.co.id or check out their Instagram @smashfactor.id

Hi I am Dwi. I am a blogger, travel agent and a mom of a lovely daughter and wife to a supportive husband. I customize and plan tours in Bali and islands nearby for a living and have been doing this for more than 14 years. Get in touch via contact [at] taletravels.com