Situated along Thailand's eastern shore, Pattaya stands as a light for tourists worldwide. This lively city, known for its mesmerizing beaches and busy nightlife, offers a unique mix of adventures created for every kind of guest. Whether you're an adventure-seeker eager to dive into exciting adventures, or a peace-lover looking for a quiet oasis, Pattaya promises to cater to your every whim.
As you dig deeper into this article, you'll discover the variety of sights that make Pattaya an Asian paradise. From its busy markets to quiet churches, every part of Pattaya tells a story. So, gear up for an amazing trip and let the magic of Pattaya sweep you off your feet.
Floating Market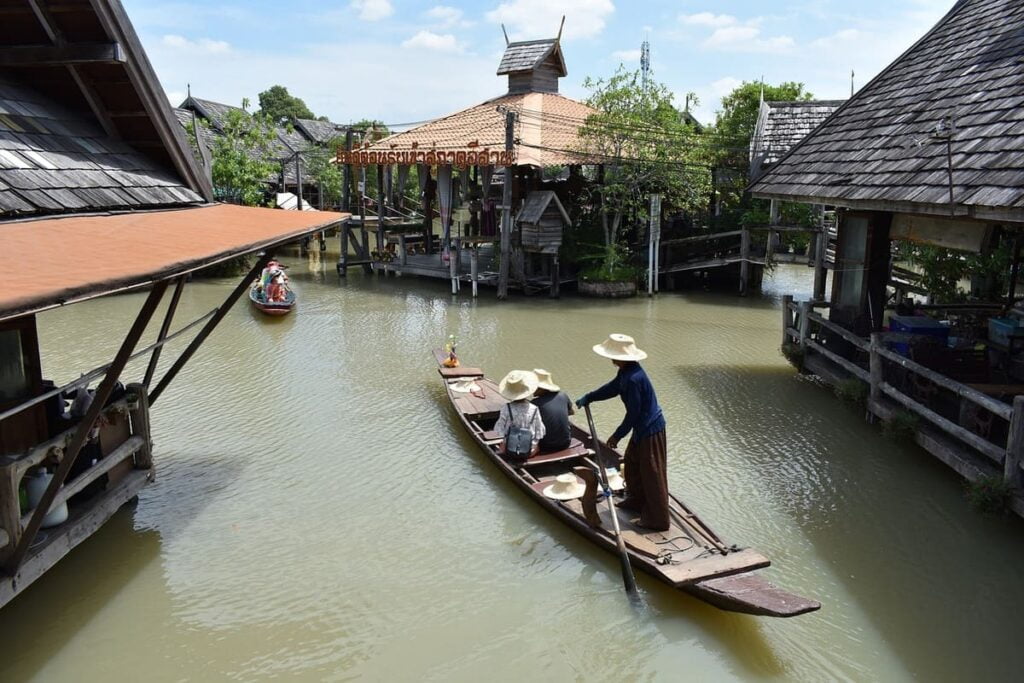 The Floating Market in Pattaya, known as the Floatilla Floating Market, is a tourist site that is a network of wooden platforms and boats that house shops, cafes and restaurants. The market is located on the canals and tourists can travel by boat or on wooden bridges.
The floating market offers a range of goods such as souvenirs, clothing, jewelry, genuine Thai goods and fresh fruit. It is also famous for its extensive gastronomic selection, where you can taste local foods and treats. I got an article about Thai vegetarian food if you're interested.
The Floatil Floating Market not only gives buying options, but also provides a unique atmosphere of traditional Thai life on the water.
https://maps.app.goo.gl/aMia3LUnFT8jhThJ6
Jomtien Beach Waterfront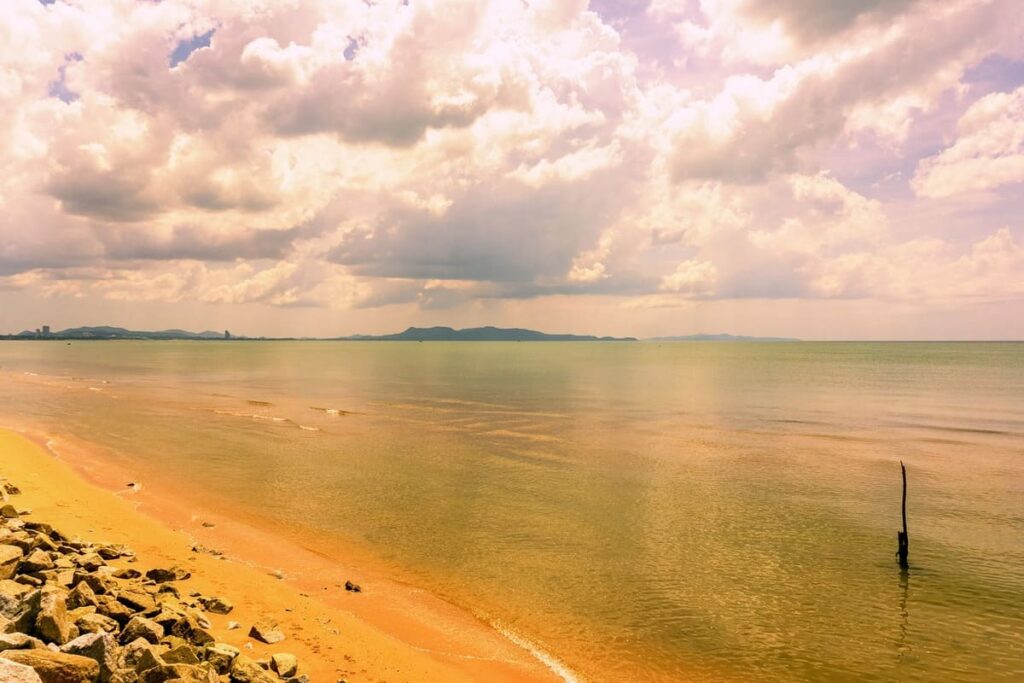 The promenade is so long that it splits into several palm-lined beaches, behind which are shops, bars and other markets. This way you can both grab a bite to eat near the beach and stop for a nice rest if you decide to walk the whole walkway. Jomtien Beach is a very famous area among tourists, so the Thais there know not only English, and some of the languages of the tourist. You can always ask the locals if you have any questions.
https://maps.app.goo.gl/WtLSSrLSSDQoAjTJA
Night shops
If from the end of Jomtien pier, which is closer to the city center, go a little further inland towards Thappraya Road, you can get to the Pratamnak night market. There are mostly offering delicious food and gifts. It is the most foreign speaking market, so much so that you can hear foreign music can often be heard in the square.
Also the most popular are a couple of other markets – Thepprasit Night Market and the market near Central Pattaya – where they mostly sell clothes, gifts and home goods.
The last one, Tree Town Market, is mainly a bar market.
In general, I would call them evening markets – Prattamnak, which is near Jomtien Beach – until 1am, Central Pattaya market – until 11pm, Thepprasit – until 22pm, and only Tree Town Market is open until 2am officially, and then on excitement you can stay there until morning.
Pattaya Night Bazaar: https://maps.app.goo.gl/TBfbeyb78ATXmCKd6
Thepprasit Night Market: https://maps.app.goo.gl/Czif6ApEF91GBXos7
Tree Town NightMarket: https://maps.app.goo.gl/LEvrgpM4xqBp1VRG7
Recommended read: Is pattaya safe?
Khao Pra Bat Pattaya: temple with Big Buddha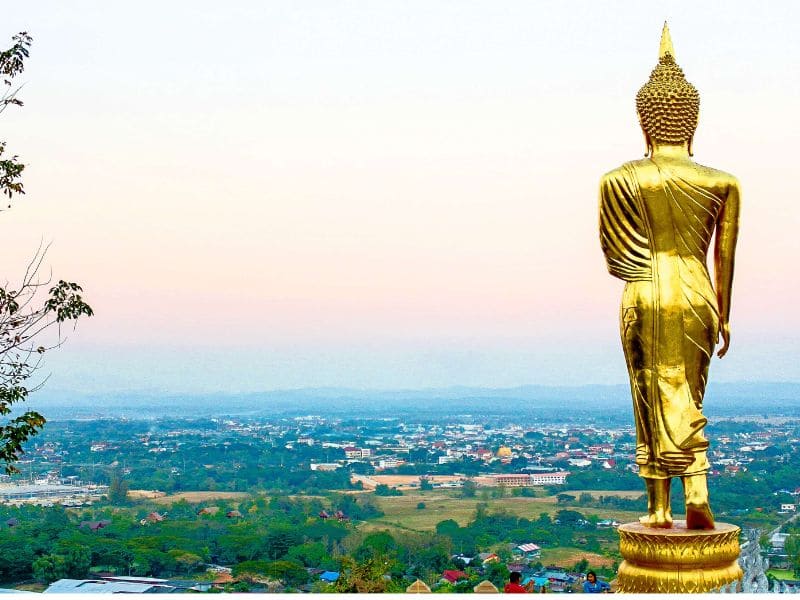 There is a Buddhist temple in Pattaya with a big golden figure of Buddha. It is situated on a mountain in the center of a big park. To learn a little better the tracitions and regilia of Thailand, be sure to go there. And here are the reasons to do so:
Panoramic view: From the top of Khao Phra Bat, you can get a spectacular view of Pattaya, the coast and the ocean. This spot is particularly popular for pictures and selfies, especially in the evening when the sun is setting or the lights of the city begin to sparkle.
Buddha figure: There is a golden figure of a sitting Buddha on a hill. This place has spiritual importance for locals and tourists, and many come here to pray and meditate.
Park and rest: The temple is surrounded by grass and park areas where you can rest, walk and enjoy the atmosphere of nature. Local Thais also often come here to spend time with family and friends.
Lighthouse: Not far from the Buddha figure is the lighthouse, which has also become a sign of Pattaya. The tower lights up the night sky and adds to the mood of the place.
Free Entry: Visiting Khao Phra Bat is free and it is a good place for those looking for a quiet place to relax and enjoy the views of the city.
Khao Phra Bat Pattaya: https://maps.app.goo.gl/tcEAACBaQk6XhVYu9
Pattaya City sign
Moving along the shore we reach the next point. The huge letters Pattaya City are a great place for selfies and also a very famous sight in itself, where you can get a perspective of the city and the waters of the bay. And what sunsets you can encounter there….
https://maps.app.goo.gl/UXTYpo9JhAmVwU4EA
Ko Lan Island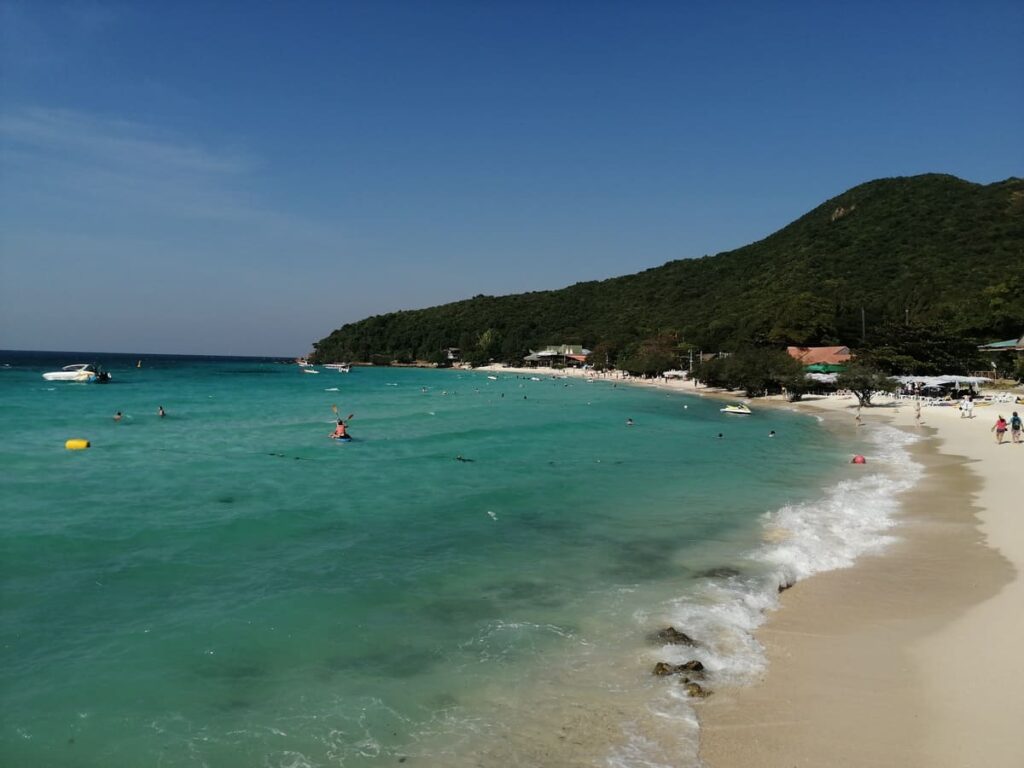 The closest thing that can be clearly visible from up high with "Pattaya city" written on it is the pier from which you can sail to Ko Lan Island.
This can be done in two ways. The first is a speedboat, a fast boat that will take you to the island in less than 20 minutes. Riding on such a boat is already a different event. The wind, the waves on which the boat is tossed up, the noise of the motor – a very exciting feeling! The cost of such a journey is 150 baht per person one way.
The second, slower choice is a ship that goes on a plan about once an hour. Please note – the last ship back leaves at 17-18 hours! So, let's continue. The ship moves at a slow pace, and will take you to the island in about 45 minutes. The ships come to two piers on Ko Lan, but there are a dozen different beaches on the island. You can get to any of them by shuttle cab or by getting a moped for the day for 200 baht.
Clean water, well-maintained beaches and weather – this is the same beach holiday for which people go to hot countries! Koh Lan has it all.
https://maps.app.goo.gl/QCrGbqFz5Ux2pzJR8
Walking Street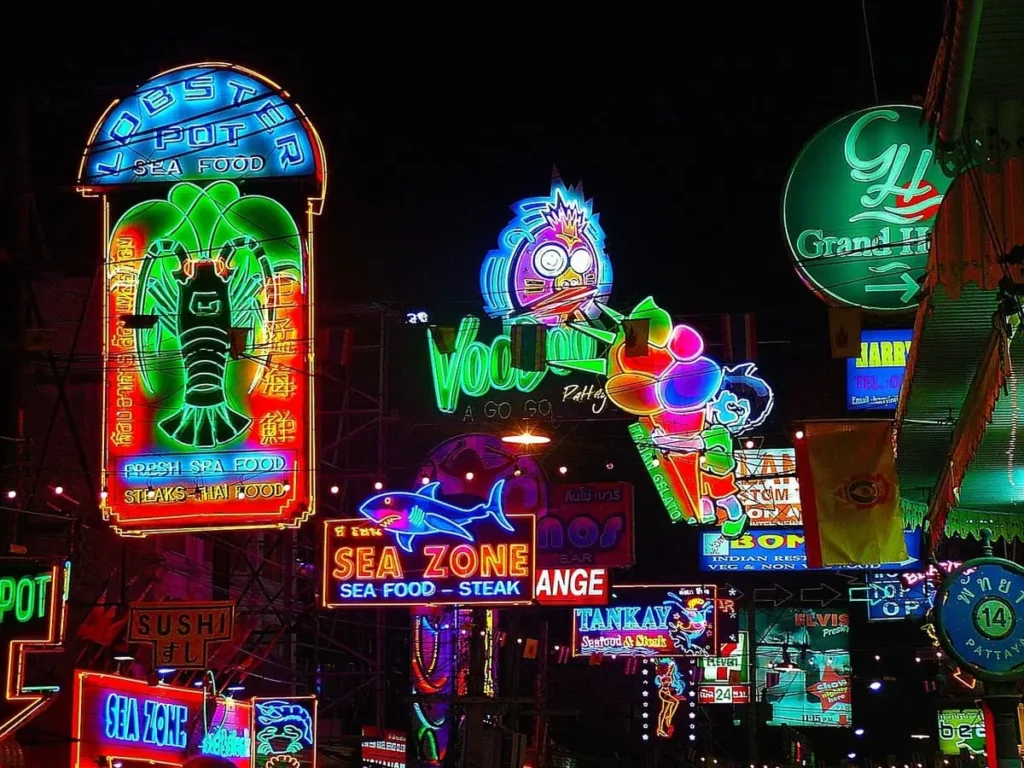 Walking Street is the most popular street in Pattaya. It is one of the symbols of the city and is known for its lively nighttime and entertainment. Walking Street is popular with tourists looking for a range of nightlife, bars, clubs and restaurants. It fills with lights and music after sunset. In the evening, the street becomes pedestrianized and car travel is limited. This provides a chance for tourists to walk freely, look at shop windows and choose places to relax.
Diversity: From standard bars and restaurants to unusual clubs and strip bars, Walking Street has something for everyone. There are places for all tastes and interests – bars, Indian clubs and hookah rooms, Thai and European – in short, this is the nightlife capital of the world.
Despite the fact that Walking Street is mostly linked with nightlife, you can also find stores selling gifts, clothes and other goods.
It is important to know that Walking Street is a place with a lively nightlife. Some people come here to see trans people, some to dance and meet people with similar interests, some to drink and smoke, and so the street may not be ideal for all types of tourists. However, it is a key part of Pattaya's variety and mood.
https://maps.app.goo.gl/kbBoVZEdHZKrdYn47
Beach Road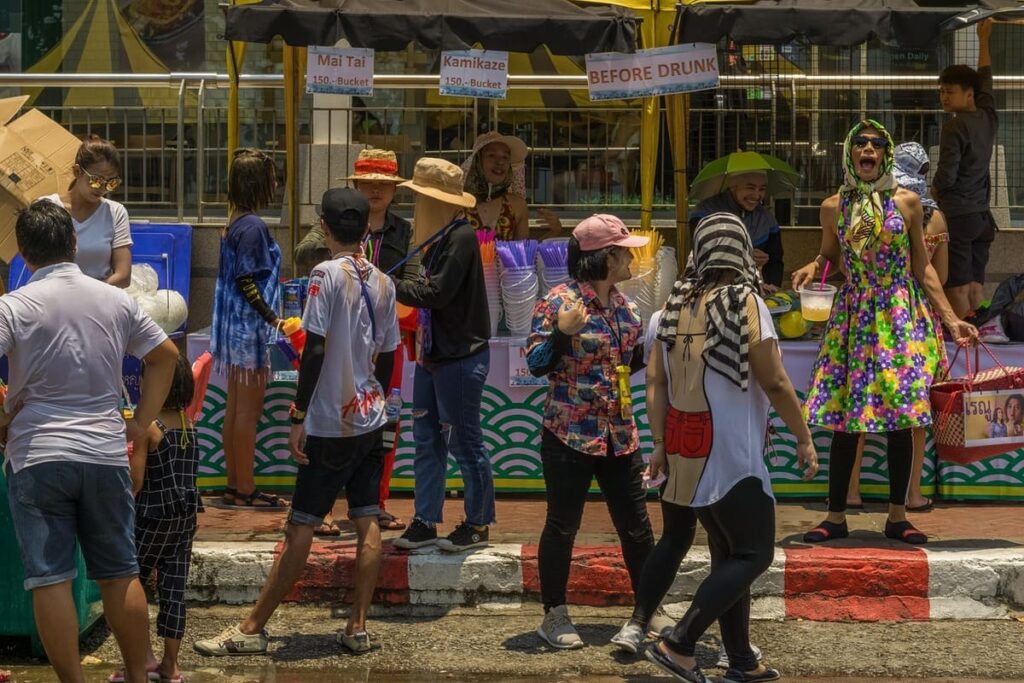 Another very long walkway that starts where Volkin Street stops. This is also a very tourist oriented place as it is in the heart of Pattaya and is very popular with tourists. This beach is also where the locals like to hang out in the evening, with music and drinks, and you'll find lots of loose girls along the boardwalk. It's an echo of Volkin Street, so to speak. Bars, shops, stores are all available here. There are also several shopping centers where you can buy European standard things. Also to relax you could stop by the Tahitian queen, the oldest rock and roll ball in Pattaya. According to the owners' promises, it has been standing here since 1978.
https://maps.app.goo.gl/k8xbkEVKVAxxAfBv5
If you did go into the Central Pattaya shopping area, you may have noticed that the Hilton Hotel sits above it. In the hotel itself, if you go to the highest floor, you can find a restaurant with a panoramic view, where you can see the whole city like in the palm of your hand. Of course, the restaurant in the Hilton will not be defined by fair prices, but it is worth going there once, of course, having signed up in advance.
As an option, I can recommend a cafe in the hotel Siam-Siam, which is located at the end of Beach road, on a parallel street. It turns out that it stands a little further away from the water, but the views from it are also gorgeous.
https://maps.app.goo.gl/7bEYz9gjgBq4jMjy6
https://maps.app.goo.gl/w51bVYF8nnqPboUc9
Among shopping centers, one I would like to name separately is Terminal 21.
Besides the fact that it is one of the biggest malls in the city, which has almost everything you would like to find, from food and world names of clothes to new electronics, and the design of the mall is worth a separate description. First of all, the mall is built in the style of an airport, with matching stairs, gates, and exposition of suitcases on the floor. Secondly, each floor is designed in the way of one or another country. For example, in the French floor there is a model of the Eiffel Tower, the tower of which sits on the ceiling of the shopping center!
But if this doesn't surprise you, there is a real airplane on the street next to the mall! It's not every day you see an airplane on the street. By the way, from time to time, evening events are held near the airplane, drawing many tourists.
https://maps.app.goo.gl/3sVvopjTf8pJdbPXA
Sanctuary of Truth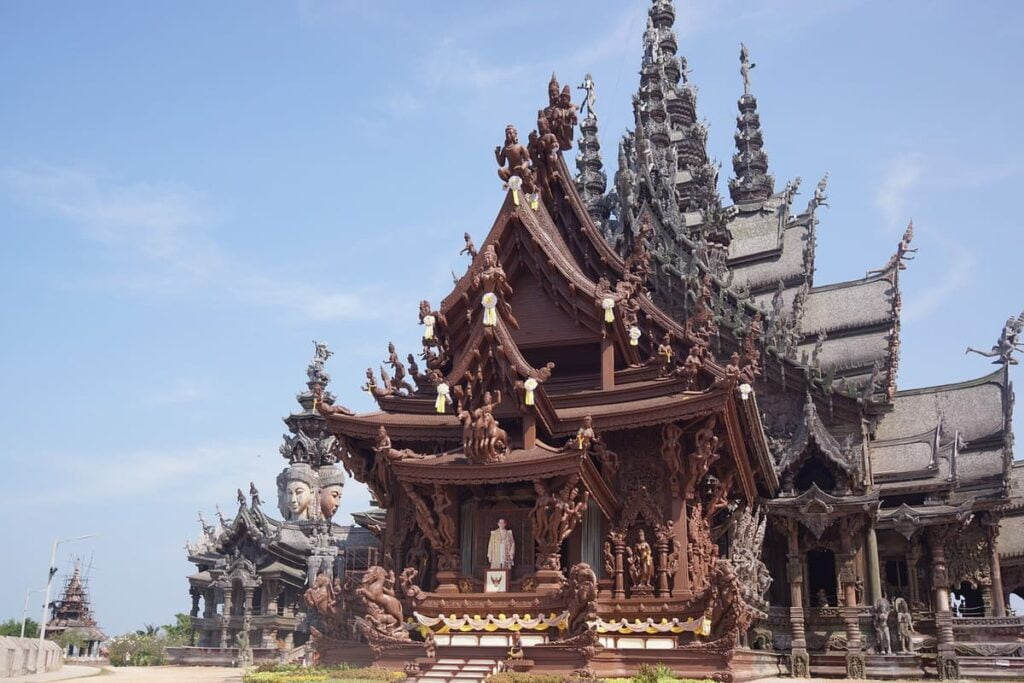 The Sanctuary of Truth is an amazing wooden temple situated in Pattaya, Thailand. The Temple of Truth serves as a sign of respect for religious customs and spiritual ideals. It combines aspects of Thai Buddhism and Hinduism, showing symbols and figures that represent the cosmic order and unity of the world's faiths. This temple is a unique architectural and cultural landmark that blends aspects of Thai and Hindu religious thought.
The Temple of Truth is still unfinished and construction is underway. This makes it in its own way special – every time you visit the temple, you see new features being added to its architecture. Inside the temple, cultural performances including dance, music and other performances are sometimes held to interest tourists in Thai culture and history.
The temple is situated in a lovely spot by the sea, which provides beautiful backdrop panoramic views for pictures.
The Temple of Truth stands out for its breathtaking design and skillful wood carvings. The temple building is decorated with rich carvings, pictures of gods, mythological animals and symbols.
And for those who made it to here, bonus – as the makers say, it's made entirely of wood without the use of nails or metal. So when you go to the Temple, check it out and share your feelings about it.
https://maps.app.goo.gl/yVnEtfUnD53zaGiVA
Heaven and Hell Temple (Wat Saen Suk)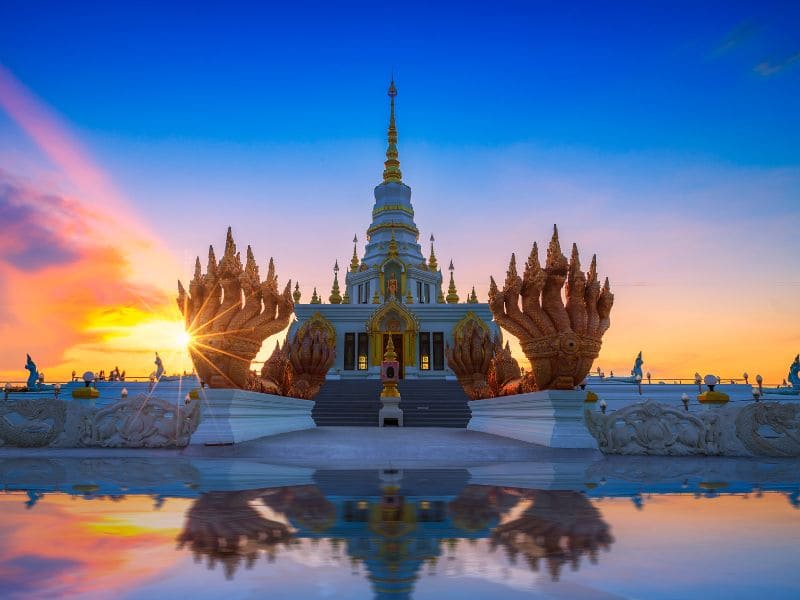 If you feel like venturing out of Pattaya, you may be met by the Hell and Heaven Temple in nearby Chonburi. I'd say it's somewhat the opposite of the normal tourist's idea of churches.
Right at the opening to the Hell and Paradise Park, we are met by a sign that reads "Welcome to Hell!" And for good reason – inside you can see many statues and installations of scenes of the future and torture of sinners.
In Paradise, on the contrary, there are meditative figures and a pond with fish and frogs.
It may seem strange, but in "Paradise", as well as in "Hell", each step is often followed by the need to leave a certain amount of money.
For a picture with a monk or, if you seek to avoid bad luck and disasters, it is suggested to pass the "Hell" area and put in a special hole in the Buddha statue the number of coins corresponding to your age and the last digits of your birth year. And if you don't want to do either, you can always buy food for the abbey cat for 20 baht and feed the fish in the pond.
https://maps.app.goo.gl/garPP7Yybhddb4in8
That's the kind of list I've prepared for Pattaya. These are places that can be viewed with quite an average price. If you are not limited in means, of course, I could add taking a boat to the neighboring islands or a floating casino, but I'm sure you already know about it.
Also, I will not suggest you on zoos with tigers, elephants and other protected animals. I don't want to be a popularizer of such things. Most importantly, wherever you go – take a good mood with you, and then in any place you can easily exchange it for interesting memories. Good luck in visiting Pattaya!
FAQ about Pattaya, Thailand
What is the best time of year to visit Pattaya?
The best time to visit Pattaya is during the cool and dry season between November and February. During these months, the weather is nice and perfect for beach activities and sightseeing.
Is Pattaya family-friendly?
Yes, Pattaya offers a range of family-friendly activities and places such as water parks, amusement parks, and family-friendly beaches. However, certain places, especially the party zones, are aimed at adults.
How far is Pattaya from Bangkok and what's the best way to get there?
Pattaya is approximately 150 km southeast of Bangkok. The most easy way to get there is by road, either by cab, bus, or a rented car. The trip usually takes around 2 hours.
Are there any cultural etiquettes I should be aware of when visiting temples in Pattaya?
Yes, when viewing temples in Pattaya or anywhere in Thailand, it's important to dress properly. This means hiding your shoulders and wearing pants or skirts that go below the knee. It's also usual to remove your shoes before entering temple buildings.
Can I use credit cards in Pattaya or is it better to have local currency?
While many hotels, restaurants, and shops in Pattaya accept credit cards, it's wise to carry some Thai Baht, especially if you plan to shop at local markets, eat at street stalls, or use local transportation.
Is English widely spoken in Pattaya?
Given its fame as a vacation location, English is widely spoken in many places of Pattaya, especially in hotels, restaurants, and tourist sites. However, it's always a good idea to learn a few simple Thai words to improve your trip experience.