Ubud is not only known for its gorgeous rice terraces and rich culture but also for its amazing vegan food. Over time, this quiet town has turned into a choice for those who love vegan meals. From traditional Balinese vegan treats to meals from around the world, there's a lot to taste and enjoy in Ubud.
The streets of Ubud are filled with the smell of fresh, tasty vegan dishes. You'll find cafes in Ubud with tasty vegan breakfasts and other places with lots of vegan lunch and dinner choices. Whether you're a long-time vegan or just giving it a try, Ubud is a top spot for tasty food. I also recommend local food in Bali.
Best Vegan Breakfast Spots in Ubud:
Herb Library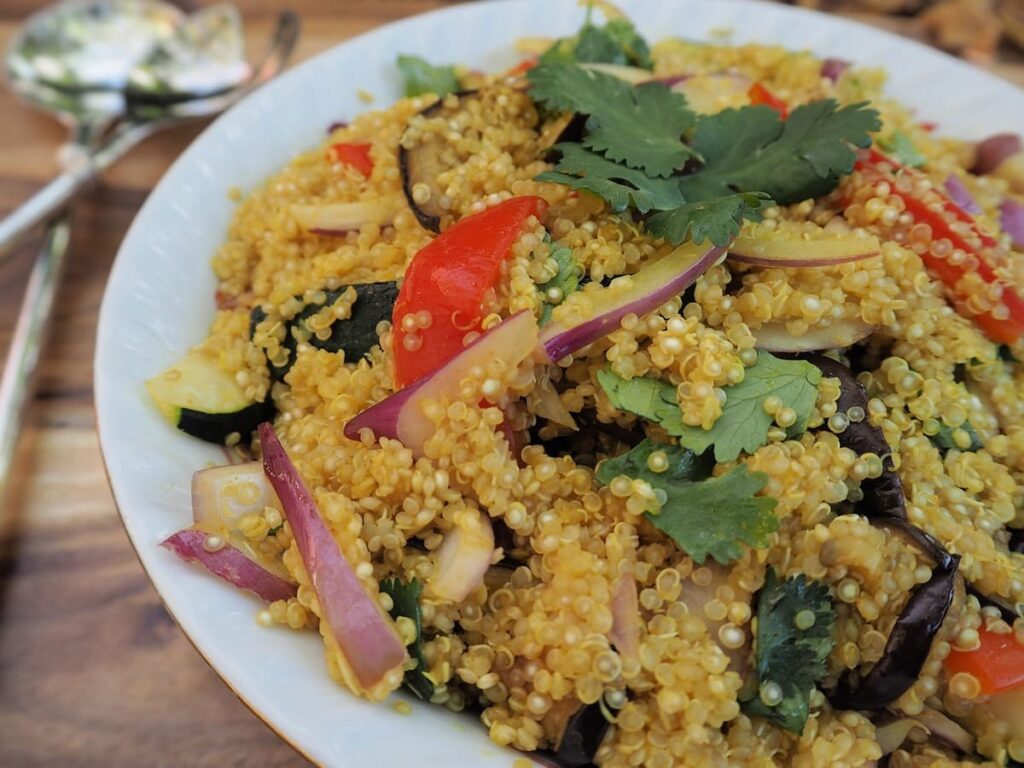 Herb Library is a noteworthy place in Ubud. When you go in, you'll see it's not your usual cafe. The look feels current but also has a hint of luxury. What makes it special is its focus on health. They serve meals that are primarily plant-based, which implies they're made mostly from plants. This is perfect for individuals who want a veggie supper that's both scrumptious and offers them energy. Starting your day here means you're in for a treat. Fresh products are at the center of every dish. It's like a blend of nature's best with a chef's touch. If you're looking for a location that cares about good food and a healthy body, Herb Library is it.
Jl. Jembawan, Ubud phone: 00623619083289 website: https://www.herblibraryubud.com/
Sari Organik Penestanan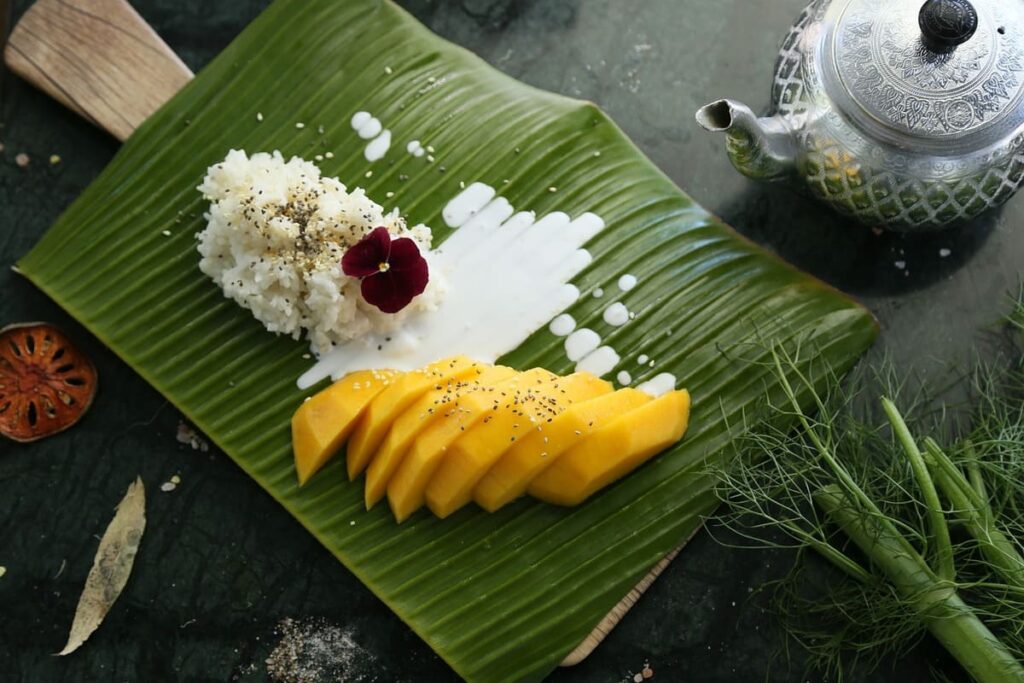 Imagine dining in the middle of nature. That's what Sari Organik Penestanan in Ubud feels like. It's tucked away in a grassy spot, giving it a nice place to spend a meal. But it's not simply the environment that's exceptional. The food here is a big deal. They believe in giving meals that are good for the world. This means lots of vegetarian and healthful alternatives. Every mouthful tastes fresh since they believe in a farm-to-table manner. This means the goods don't move far; they come right from the farm to your plate. If you enjoy nature, fresh food, and a tranquil environment, this place is a must-visit.
F7V3+F92, Sayan, Ubud, phone: 0062 81246552409
Mother Cafe
Mother Cafe in Ubud is all about the heart. It's a restaurant that thinks eating is a method to communicate affection. The meal here is packed with vegetable choices. This makes it a popular selection for both people who reside in Ubud and those just visiting. The setting is pleasant, making you feel just at home. And the smell? It's like a warm hug, with the smell of fresh food filling the air. Whether you're very hungry or just in the mood for a light bite, Mother Cafe has got you covered. Every dish feels like it's created with care. It's a site where food, love, and good times come together.
Jl. Nyuh Bulan Jl. Nyuh Bojog No.24d, Ubud phone: 006281353458049 https://whatabutmymother.business.site/
1. Best Vegan Restaurants in Ubud:
Zest Ubud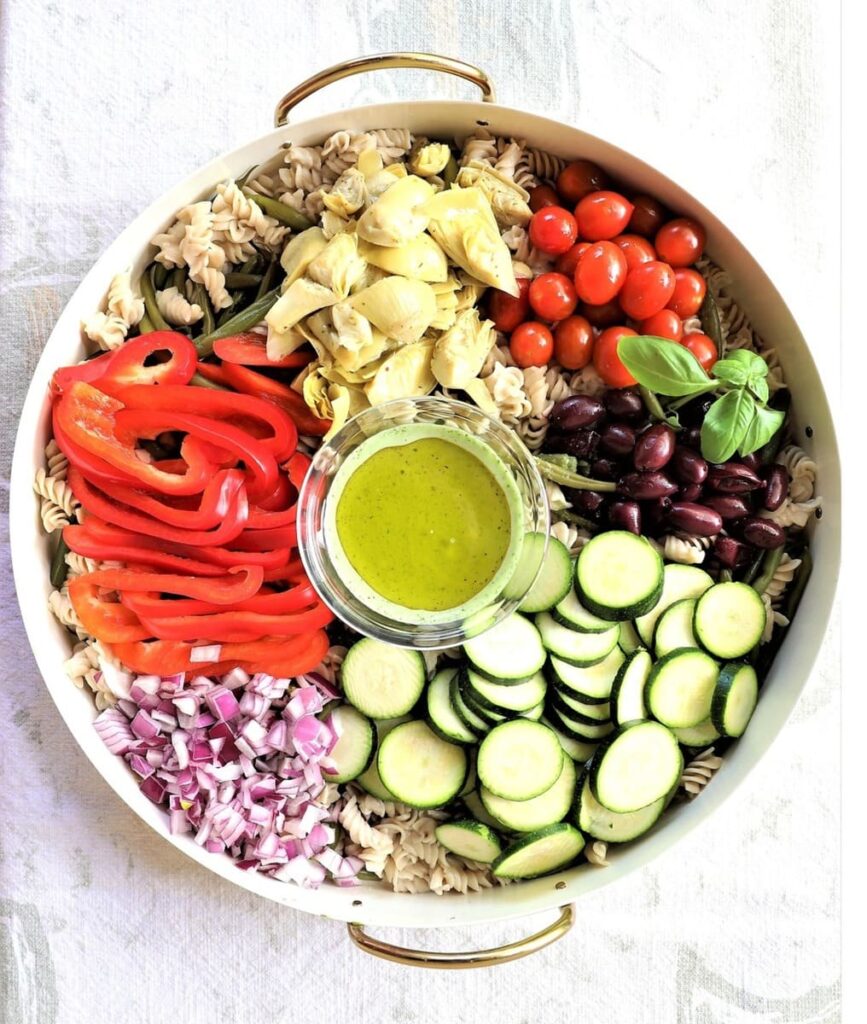 Zest Ubud is a location that adores cuisine in a great way. It's set in Ubud's verdant surroundings, making it feel like a natural vacation. But what's truly unusual is their attitude to eating. They're all about using local items. This ensures the items are fresh and benefit local farmers. Their food is a blend of Bali's traditional flavours with fresh vegetable ideas. It's like a cuisine vacation, merging old with new. And it's not just about eating. Zest believes in bringing people together. The setting is supposed to feel open, connected to nature, and perfect for establishing new acquaintances. If you're searching for a destination that's all about fantastic food and camaraderie, Zest Ubud is where you should head.
Jl. Penestanan No.7, Sayan, Ubud phone: 006282340065048 https://www.zestubud.com/
Alchemy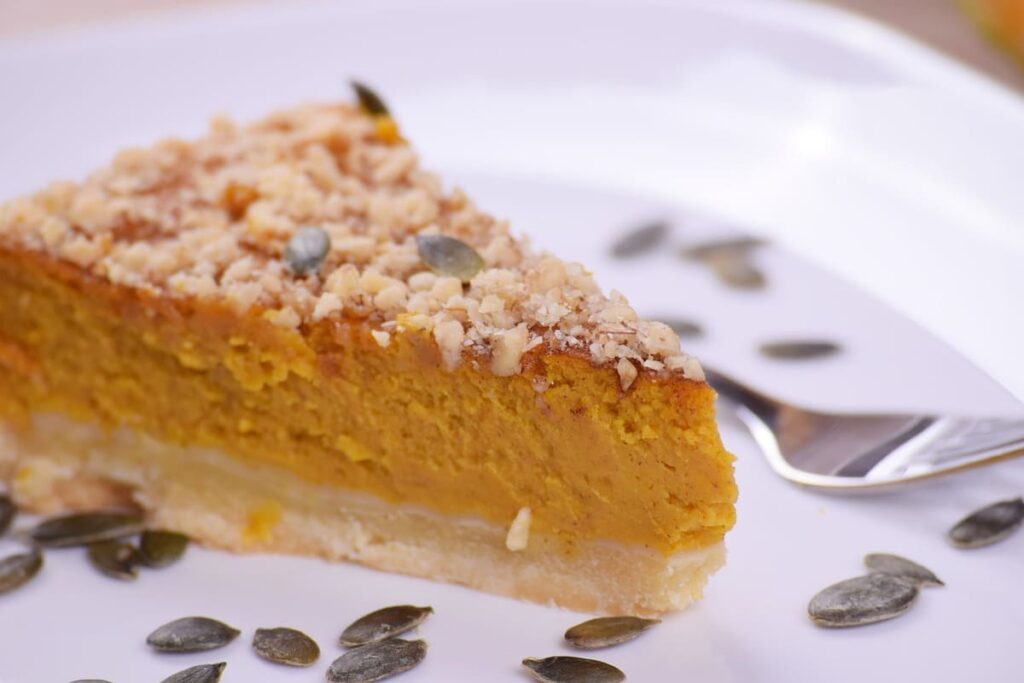 Alchemy is a name many recognize in Bali, especially if you're interested vegan (raw) food. It's smack in the centre of Ubud, making it easy to find. People come here for a full gastronomic experience. The menu is packed with foods that are raw, organic, and vegan. This indicates the food is as close to its original state as possible. Alchemy is heavy on the idea that food can make you feel good and fix you. They produce everything themselves, from fresh meals to delectable candies. The room is active, with a mood that's all about health and good vibrations. If you're intrigued about food that's both tasty and healthful for you, Alchemy is the destination.
Jl. Penestanan Kelod No.75, Sayan, Ubud phone: 006282146908910 http://www.alchemybali.com/
Moksa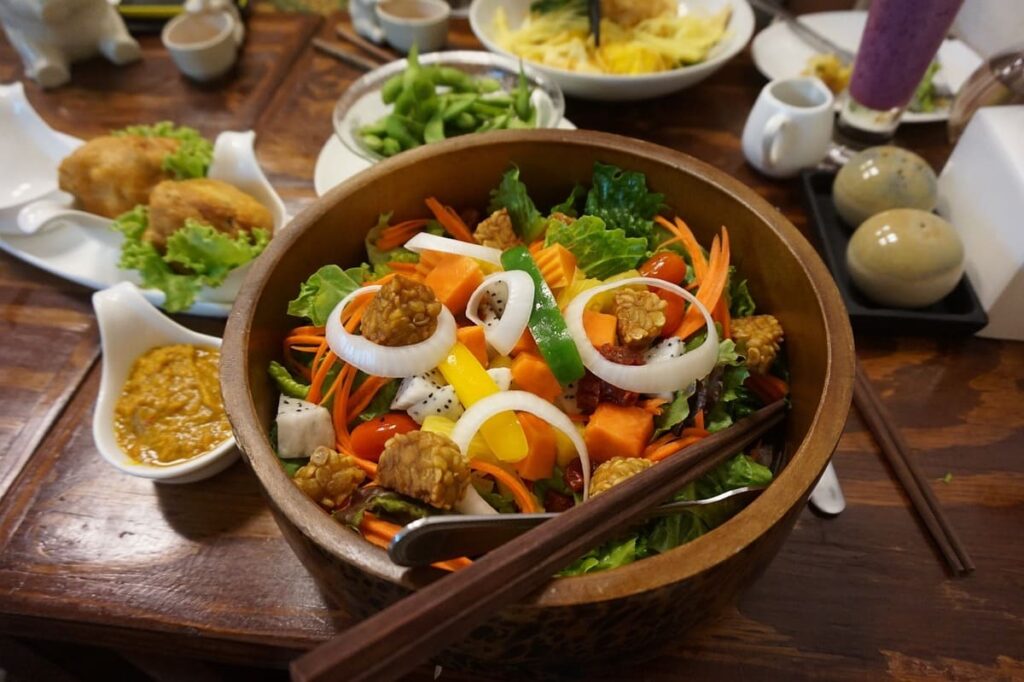 Moksa is like a gastronomic wonderland in Ubud. It's a destination that offers a blend of flavors and sensations. They're strong on using fresh ingredients and believe in getting them right from the farm. This makes every item feel fresh and full of taste. But Moksa is more than just a place to dine. It's about the complete experience. The setting is serene, letting you relax as you dine. They're also big on teaching folks about green life. This implies they care about the earth and do their bit to help. If you're searching for a destination that offers a mix of great meals, a tranquil setting, and a touch of learning, Moksa is it.
Ubud II Kutuh, Jl. Puskesmas, Kecamatan Ubud phone: 006281339774787 https://www.moksaubud.com/
Sayuri Healing Food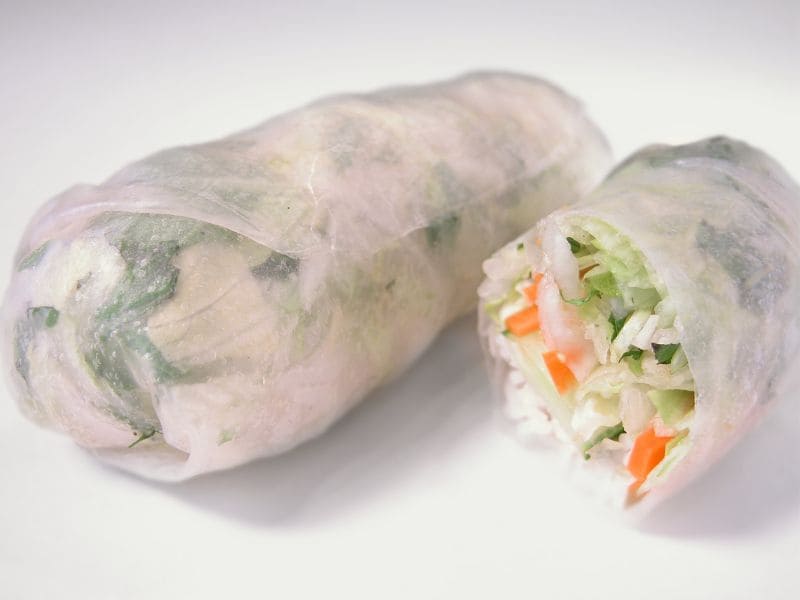 Sayuri Healing Food is a place to feel wonderful as well as a place to eat. It is renowned for serving delicacies that satiate the body and the spirit and is situated in the center of Ubud. They emphasize vegan, raw, and unique therapeutic cuisine. Each meal is prepared with great care to ensure that it is both delicious and nutritious. They think that eating may make you feel better and heal you. Everyone feels at home in this location because of its welcoming atmosphere. It's a popular destination for many because to its extensive cuisine and welcoming atmosphere. Sayuri Healing cuisine is the place to go if you're seeking for cuisine that was prepared with love and good intentions.
Jl. Sukma Kesuma No.2, Peliatan, Ubud 006282240485154 http://www.sayurihealingfood.com/
Seeds of Life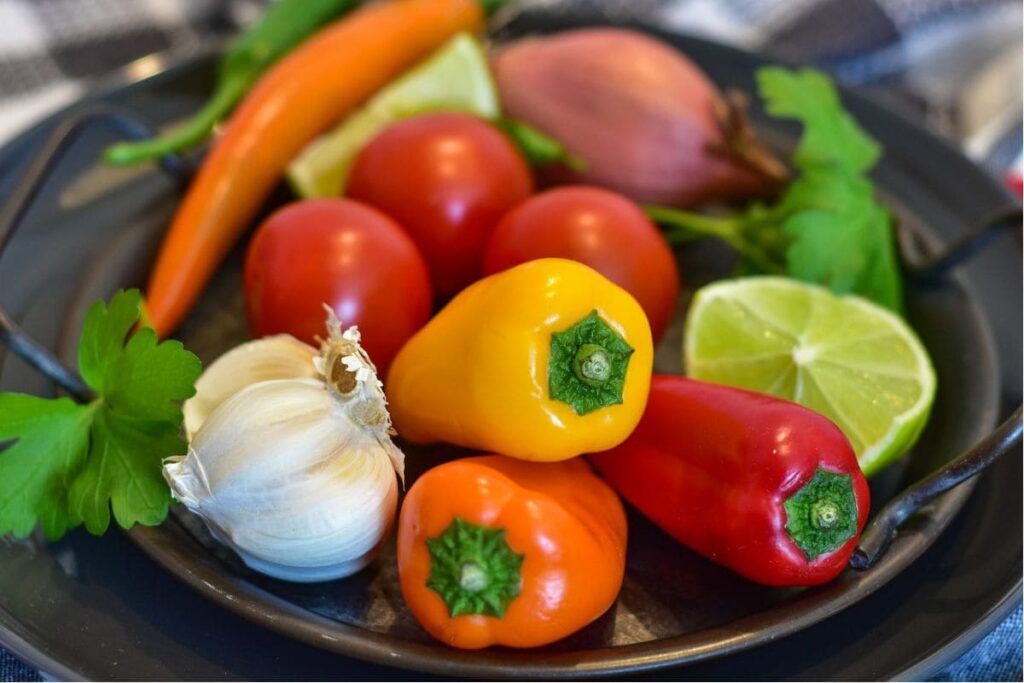 The Seeds of Life Cafe is a special spot in Bali. They serve raw vegan food, which is fresh and healthy. The cafe believes that this kind of food helps people feel great and enjoy life more. They mix fun and flavor in their dishes, and they've been doing it for over 40 years. So, they really know their stuff.
Eating raw food is slowly becoming more popular. People are noticing it can be good for the body and mind. At The Seeds of Life Cafe, it's not just about eating. They also offer yoga and teach about the benefits of their food. They want everyone to eat well, feel good, and have a blast.
Jl. Gootama No.2, Ubud phone: 062361970650 http://theseedsoflifecafe.com/
Sage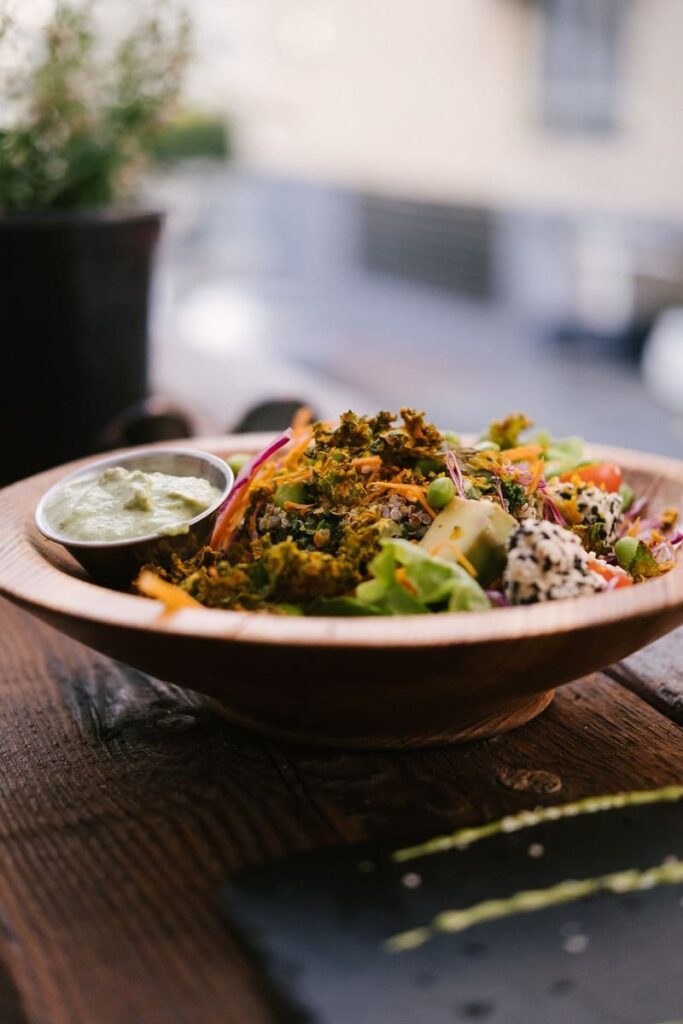 Sage in Ubud is a culinary delight. It is renowned for its variety of foods, particularly those with Mexican influences. They use the freshest ingredients they can locate to ensure that every meal is delicious. They adopt green cooking techniques because they are concerned about the environment. The atmosphere is laid-back and ideal for unwinding and dining. Sage offers something for everyone, whether you're in the mood for a full dinner or simply a snack. It's a spot where enjoyable moments and tasty meals are combined.
Emas, Jl. Nyuh Bulan No.1, MAS, Ubud phone 0062361976528 https://sagebali.com/
Wild Vegan
This is not just any vegan place; it's a spot where food heals. They use local wild plants that are good for your health. Every dish they serve is made to help your body feel better. They use fresh ingredients from the area and make sure everything is tasty and good for you. They even make their own drinks like Ginger Beer and Kombucha. People come to Wild Vegan not just to eat but to feel better and learn about the power of plants.
The story of Wild Vegan started with two: Ariel and Chris. Ariel had a yoga place in Bali, and Chris loved cooking vegan food in Thailand. They met and decided to start a restaurant together. They wanted to show people how wild plants can make you feel good. Their food became famous because it was delicious and made people feel better. They didn't just want to run a restaurant; they wanted to help people. Today, Wild Vegan is a place where food, health, and love come together.
Jl. Sugriwa No.16, Padang Tegal Kaja, Ubud phone: 0062811383882 http://www.wildveganbali.com/
2. Best Vegetarian Restaurants in Ubud:
KAFE Ubud
The essence of Ubud is captured by KAFE Ubud. It is a restaurant that delivers enticing, healthful meals. They serve a variety of foods from Bali and other countries. There is always something fresh to try, therefore. The atmosphere is upbeat, with a focus on delicious cuisine and positive energy. The staff is kind and takes care to make everyone feel at home. KAFE Ubud is a fantastic choice if you're searching for a spot that's enjoyable and delicious.
Jl. Hanoman No.44B, Ubud, Kecamatan Ubud 00628111793455 http://kafe-bali.com/
Bali Buda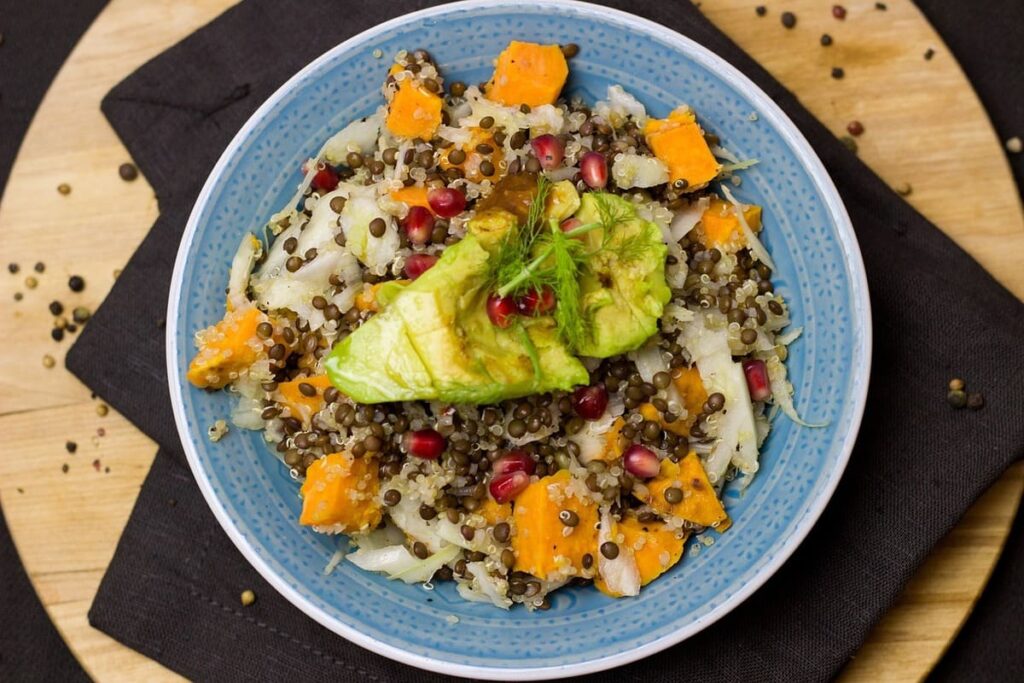 Bali Buda is a unique location in Ubud. It's about the whole experience, not just the food. Their food is created to nourish the body, mind, and spirit. This refers to food that enhances your overall well-being. They provide a variety of options, including vegan and gluten-free options. It has the cozy atmosphere of a home away from home. It is a location where pleasure, health, and cuisine all coexist.
F7R6+PR8, Jalan Raya Ubud phone: 006281138311877 http://www.balibuda.com/
Warung Sopa (closed down)
Unfortunately permanently closed!
This Ubud establishment is a hidden treasure. It is renowned for its affordable, high-quality meals. They feature great vegan choices as well as a dish known as vegetarian nasi campur. The setting is simple yet inviting. Both those who reside in Ubud and those who are simply visiting love it there. Warung Sopa is the place to go if you want to eat well without spending a lot of money.
Jl. Sugriwa No.36, Ubud, Kecamatan Ubud
3. Best Places for Vegan Pizza in Ubud:
PizzaCult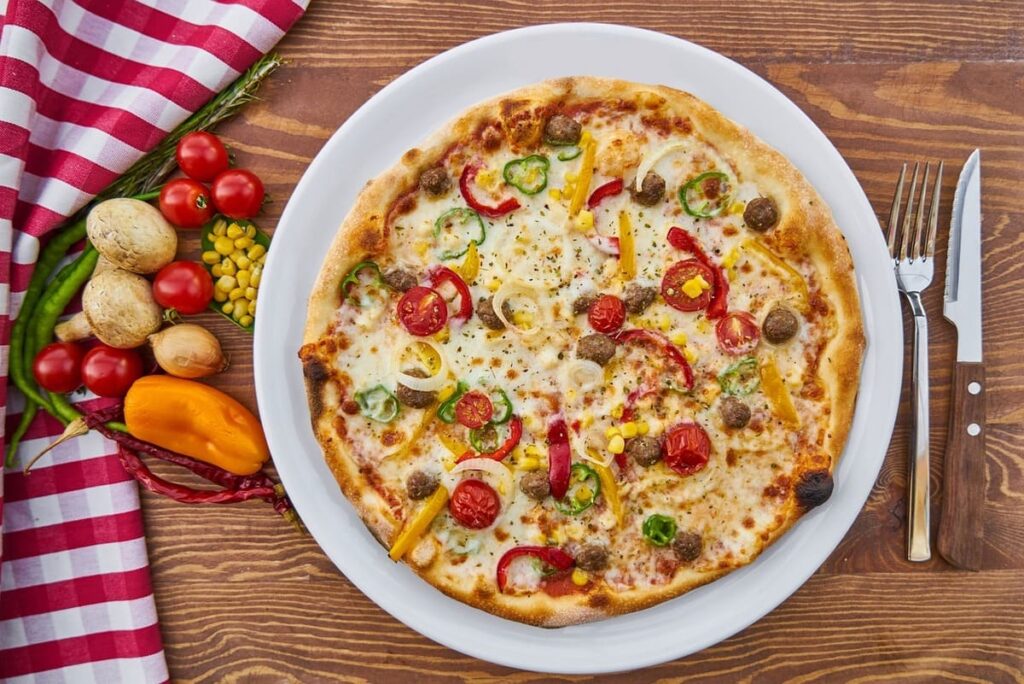 A pizza lover's paradise may be found at PizzaCult in Ubud. They use a unique dough and vegan toppings to give pizza a modern spin. They value a sense of belonging among all members of the PizzaCult family. It's a great place for people in the mood for a slice since the pizzas are wonderful.
Jl. Sri Wedari No.16, Ubud phone: 006281353060788 http://pizzacult.co/
Black Beach (Closed down)
Unfortunately permanently closed!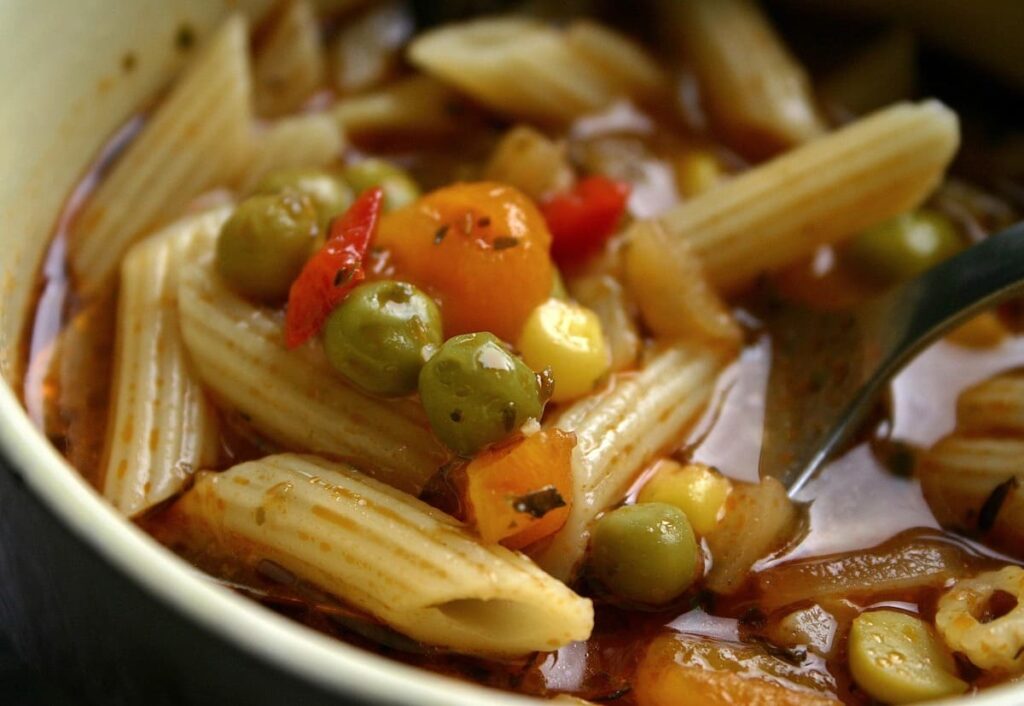 Black Beach introduces an Italian flavor to Ubud. They provide veganized versions of traditional Italian pizzas. It's the ideal environment for a dinner to be enjoyed in peace. With a lot of love and the freshest ingredients they can locate, they prepare their pizzas. Black Beach is the place to go in Ubud if you want a taste of Italy.
Atman Kafe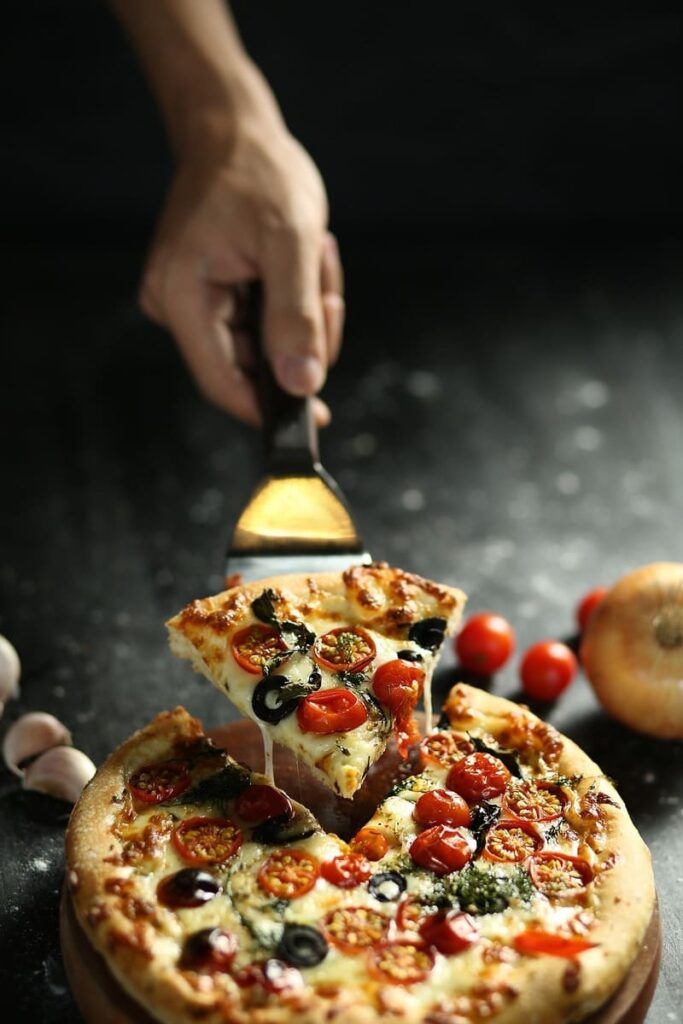 The cuisine scene in Ubud is reflected in Atman Kafe. They provide a menu with options for everyone. There is always something delicious to sample, from pizza to salads. It is a popular location for those searching for vegan food. It's a terrific spot to spend a lunch because of the informal atmosphere.
Jl. Hanoman No.38, Ubud phone: 006285100620505
5. Best Vegan Cooking Classes in Ubud:
Green Kitchen at MOKSA
For foodies, Green Kitchen at MOKSA is a pleasure. You may learn how to prepare delectable vegan foods there. It's an enjoyable and delectable experience with Chef Made as your guide. you could consider it more than simply a course; it's an exploration of the culinary universe.
Ubud II Kutuh, Jl. Puskesmas, Kecamatan Ubud phone: 006281339774787 https://www.moksaubud.com/
Bali Farm Cooking School by Taman Dukuh
Taman Dukuh's Bali Farm Cooking School is a culinary journey. You may learn how to prepare authentic Balinese dishes there. They emphasize vegan and vegetarian cuisine. It's a practical experience, thus it's enjoyable and delicious.
Jl. Raya Banjar Jati, Taro, Kec. Tegallalang phone: 0062085211221669 https://tamandukuh.com/cooking-classes/
Sayuri Healing Food Academy
In Ubud, there is a school called Sayuri Healing Food Academy. They provide vegan cooking classes that educate individuals how to prepare foods that are delicious and healthy. It's a place to develop and learn, not simply a place to eat.
Jl. Sukma Kesuma No.2, Peliatan, Kecamatan Ubud phone: 006282240485154 http://www.sayurihealingfood.com/
Conclusion
Ubud, with its calm scenery and rich cultural tapestry, provides more than simply a visual feast. For the discriminating palette, especially those inclined towards vegans, it's a gourmet heaven waiting to be explored. Each restaurant and café described in this book not only provides exquisite vegan food but also gives an experience that connects with the essence of Ubud. Whether you're a seasoned vegan traveler or someone just starting on this plant-based path, Ubud delivers a gourmet encounter that's both delicious and meaningful. So, the next time you find yourself walking the lovely alleys of Ubud, let your taste buds lead the way!
FAQs about Bali and Vegan:
Is Bali vegan-friendly?
Absolutely! Bali, especially places like Ubud, has seen a surge in vegan and vegetarian restaurants in recent years. Many establishments offer a wide range of plant-based dishes, making it a haven for vegan travelers.
Are traditional Balinese dishes vegan?
While traditional Balinese cuisine includes meat and fish, many local dishes can be made vegan or are naturally vegan. Ingredients like tempeh, tofu, and a variety of vegetables are staples in Balinese cooking.
Is it easy to find vegan ingredients in Bali's local markets?
Yes, Bali's local markets are filled with fresh fruits, vegetables, grains, and other vegan staples. Tempeh and tofu are especially popular and can be found in abundance.
Do restaurants in Bali understand the concept of veganism?
Most restaurants, especially in tourist-heavy areas like Ubud, are familiar with veganism. However, it's always a good idea to specify your dietary preferences to ensure there's no misunderstanding.
Are vegan meals more expensive in Bali compared to non-vegan dishes?
Vegan meals in Bali are generally priced similarly to non-vegan dishes. In some specialized vegan restaurants, prices might be slightly higher, but overall, eating vegan in Bali is quite affordable.
Can I take vegan cooking classes in Bali?
Yes, several establishments in Bali, particularly in Ubud, offer vegan cooking classes. These classes provide a hands-on experience, teaching you to prepare traditional Balinese dishes with a vegan twist.

Hi I am Dwi. I am a blogger, travel agent and a mom of a lovely daughter and wife to a supportive husband. I customize and plan tours in Bali and islands nearby for a living and have been doing this for more than 14 years. Get in touch via contact [at] taletravels.com