Hey there! planning to go to Bali? You might be overwhelmed with choices where and where not to go? This guide for you contains the 20 best places to stay in Bali for honeymooners, vacation goers, and digital nomads. Also do check out preparing for Bali to have a smooth vacation. I hope you enjoy the article.
Nusa Dua: Bali's Glittering Jewel
Nusa Dua in the south of Bali shines as a luxurious resort haven. Picture this: sprawling five-star resorts spread across 350 hectares with over 20 luxury properties to pick from. And the best part? It's just a quick 15-minute drive from Bali's Ngurah Rai International Airport.
If you're daydreaming about a sun-kissed beach getaway, Nusa Dua is your spot. From immersing yourself in cultural escapades to plunging into water adventures. It's a blend of relaxation and thrill. Don't miss the golden sands of Geger Beach, the mesmerizing force of Water Blow. Whether you're a family seeking fun, a couple on a romantic getaway, or simply craving some me-time, Nusa Dua has you covered.
Wondering where to nest? Check out the luxurious embrace of Kayumanis Nusa Dua Private Villa & Spa, an adults-only paradise with villas that promise seclusion and serenity. For a contemporary touch, the MERUSAKA Nusa Dua is a stellar choice. It has chic accommodations and a refreshing outdoor pool. And if you're aiming for sheer extravagance, The St. Regis Bali Resort awaits with its plush suites. Captivating pool villas, and a beachfront residence that's nothing short of royal.
So, ready for some Balinese magic? Nusa Dua is waiting!
Jimbaran: Your Tasty Beach Escape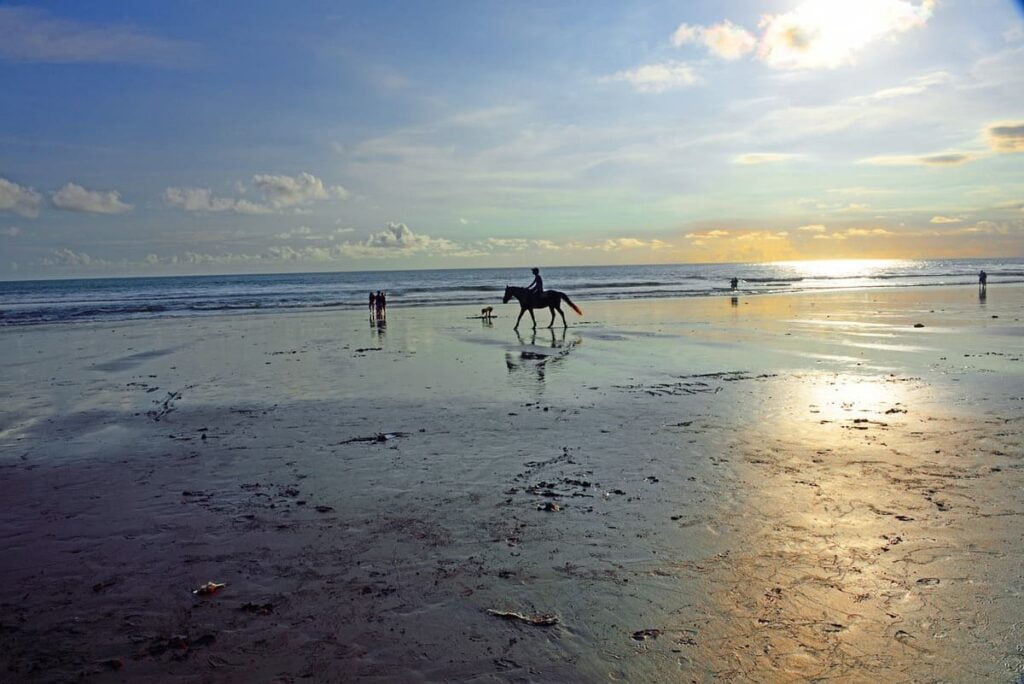 Tucked away in southern Bali is Jimbaran. It used to be a quaint fishing village that has become a trendy tourist hotspot. Just a 10km drive from south of the Airport. Foodies, take note! This place is a gastronomic delight, plenty of stalls that serve up the freshest seafood you can imagine.
Jimbaran is a paradise for families and couples alike. It effortlessly balances a laid-back ambiance with gentle waves. It's perfect for both frolicking kids and loved-up honeymooners.
Picture this: days spent soaking up the sun, taking refreshing dips, and embracing magical sunsets with a cocktail in hand. Pamper yourself with some world class relaxing massages.
Considering a stay? Whether it's a quick 2-4 night break or an indulgent week-long retreat. The luxurious resorts here are the cherry on top, making longer stays irresistibly tempting.
The Four Seasons Resort Bali at Jimbaran Bay is a slice of heaven. Find Balinese villas ideal for a romantic rendezvous. For those seeking grandeur in abundance then the AYANA Resort Bali is for you. It has 90 hectares of green to be mesmerized with. Overlooking the pristine Jimbaran Bay. It's full with luxury at every turn. And if you're traveling with family, RIMBA by AYANA Bali is a treasure trove set amidst nature, promising a dreamlike experience within the expansive AYANA Resort premises.
So, if an enchanting blend of culinary adventures, coastal wonders, and luxe lodgings sounds like your kind of vacation, Jimbaran beckons!
Legian Bali's coastal charm
Legian is a lovely beach spot in Bali, near Kuta, the airport and Seminyak. It's pretty close to Denpasar Airport — only about 4.4 km away! 10-15 minutes perhaps by taxi. If you're someone who dreams of diving, chilling, or just having a blast in the sun, then Legian is your paradise. Picture this: breathtaking sunsets, a welcoming beach, and tons of places to eat and drink. You might want to set aside 3-4 days to soak up everything Legian offers.
Now, here's the cool part. Legian is for everyone! Whether you're on a fun-filled family trip, a romantic honeymoon, or even working while traveling, there's a lot to dive into. Fancy catching a wave? Legian beach is a surfer's delight. If you're into exploring, there's wildlife watching, private and historical tours, day outings, and more. Oh, and for the party enthusiasts? Legian's vibrant clubs host lively DJ nights and serve some super affordable drinks.
Thinking about a cozy place to snooze? There are iconic stays like The Legian Seminyak Bali, Pullman Bali Legian Beach, and Padma Resort Legian. These spots not only offer luxury rooms with fantastic views but also come packed with amenities. Think day spas to relax, stunning lagoon pools for a dip, and fitness centers to break a sweat. All in all, a stay in Legian promises memories that will last a lifetime.
Kuta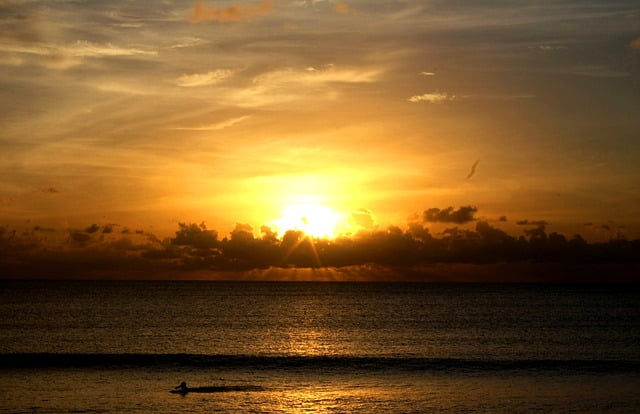 Kuta is a bustling beach hub on Bali's western coast, just a hop down from Legian. Conveniently, it's only about 8-10 km from Denpasar Airport. That's a breezy 20-30 minute car ride! What's Kuta famous for? Gorgeous sandy stretches, mellow waves perfect for surfing, and its lively after-dark scene. If you're planning a visit, give yourself a good 3-4 days to dive into all of Kuta's wonders.
No matter your age or reason for visiting — be it a holiday, honeymoon, or even work — Kuta has something in store. Want to ride the waves? Head straight to Kuta beach. If you're looking to explore, there's no shortage of activities! Dive into nature tours, personal sightseeing adventures, historical outings, and even unique underground trips. Plus, for the young (or young-at-heart), Kuta's dynamic clubs promise epic DJ nights and super budget-friendly drinks.
If you're wondering where to stay, Kuta boasts top-notch spots like The Stones Hotel – Legian Bali and The Vira Bali Boutique Hotel & Suite. These aren't just any hotels — they promise luxury with stunning ocean views or picturesque grounds, right from your private balcony. And for those looking to pamper themselves, these places offer delightful perks: think day spas for relaxation, dreamy lagoon pools, and top-tier fitness centers. All said, Kuta promises an experience you won't easily forget.
Seminyak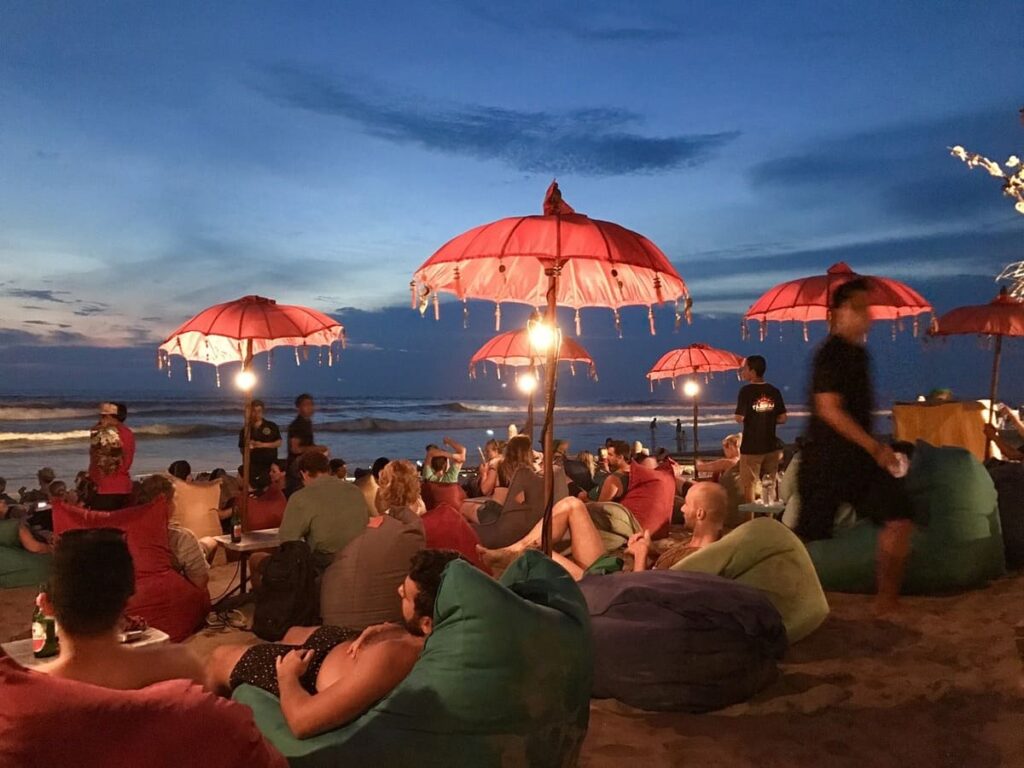 More than just known for it's beach, Seminyak is a stylish enclave on Bali's western coast. It is situated just north of Kuta/Legian. From Denpasar Airport it's about 20-30 minutes. What sets Seminyak apart? Its upscale vibes, marked by chic boutiques, gourmet eateries, and of course, those picture-perfect beaches. To truly savor Seminyak's charm, a stay of 3-4 days comes highly recommended.
No matter your age or reason for visiting — whether it's a sunny holiday, romantic honeymoon, or some remote work with a view — Seminyak has a wealth of experiences. Dive into local culture with a visit to the iconic Tanah Lot temple. Catch some waves at Suluban beach. Or explore the myriad of activities available: from nature trips, intimate sightseeing tours, history dives, unique underground adventures, to athletic events and leisurely strolls.
For those pondering where to rest their heads, Seminyak boasts luxury at every corner. Consider hotels like The Legian Bali, The Oberoi Beach Resort Bali, or The Seminyak Beach Resort & Spa. Here, luxury isn't just a word — it's an experience. Rooms offer splendid views, be it the vast Indian Ocean or artfully landscaped gardens, right from your private balcony. With amenities like rejuvenating day spas, inviting lagoon pools, and state-of-the-art fitness centers, your stay in Seminyak is bound to be etched in memory.
Canggu – the digital hub of Bali
Canggu is a lovely spot between the busy Seminyak and the historic Tanah Lot. From Bali's main airport, it's a 19 km drive. This usually takes 45 to 50 minutes, but might be a bit longer on busy days.
While many people know Kuta and Seminyak, Canggu is becoming just as popular. Here's why: it's perfect for everyone! Surfers, couples, backpackers, or digital nomads – all will find something they love. You can try surfing, relax on the beach, or simply enjoy the sun. In the evening, beach bars offer great deals. Hungry? Canggu's cafes serve both local dishes and modern treats.
Thinking of a three-day trip? That's a good choice. You can explore beaches, cafes, and even learn to surf. If you want more adventure, think about visiting the quiet Gili Meno island. But if you stay in Canggu, there's still lots to see like the famous Tanah Lot Temple and colorful street art.
Need a place to sleep? Canggu has great options. There's the luxury COMO Uma Canggu, the historic Hotel Tugu Bali, and the cozy Ametis Villa. If you're thinking of a private villa, check some Facebook groups for tips. These places promise comfort and even offer extra activities. So, why not plan a trip to Canggu?
Pererenan digital hub 2.0 with rice more paddies
As an alternative to Canggu, also Pererenan is up and coming. Nestled on Bali's southwest coast, just a stone's throw from Canggu, lies the tranquil village of Pererenan. This hidden treasure provides a calm refuge away from the busier tourist hotspots. If you're journeying from Bali's airport, expect a drive of about 20 km, which typically takes between 45 to 50 minutes.
It's a destination that caters to every kind of traveler: whether you're a surfer, a couple on a romantic getaway, a backpacker on an adventure, a digital nomad seeking inspiration, or just someone in need of relaxation. Here, you can immerse yourself in a beachside experience – take a leisurely swim, learn the art of surfing, or simply unwind at beach bars during their inviting happy hours. And if you're a food enthusiast, the local cafes, with their trendy vibes, are sure to please.
Looking for activities? Beyond the sandy shores, Pererenan boasts a myriad of experiences opportunities to network with digital nomads. From surfing at the renowned Echo Beach and wandering through lush rice terraces to understanding the local way of life and paying a visit to the iconic Tanah Lot Temple – there's something for everyone.
Popular types of accommodation in Pererenan are the homestays and villas. Most people coming here are digital nomads, people on a workation.
Umalas Tranquil Between Seminyak and Canggu
Umalas is a calm area placed between busy Seminyak and Canggu. It's special because of the lovely rice fields of Kerobokan around it. If you want some action, both Seminyak and Canggu are just a short 5-10 minute drive from Umalas. Getting to Umalas from Ngurah Rai Airport? It's easy. A taxi or Gojek ride, passing through Kerobokan or Seminyak, usually takes about 40 minutes.
Umalas is perfect if you want peace but stay near lively places. It feels more like a local home than a busy tourist spot. It doesn't have many big attractions, but its quiet charm makes up for it. Here, you can relax by a pool, try a yoga class, or enjoy a spa day. And the views of the rice fields? Simply beautiful. If you want more, Seminyak and Canggu's shops, beaches, and fun are close by.
Need a place to stay? Umalas has great choices. There are many cool villas, big ones for groups or small cozy ones for couples. And many have their own pools! There are also comfortable hotels here that are less pricey than busier areas. Top places to check out are The Santai Umalas, Alam Boutique Villa, and Villa Pulau Rumah Monolocale Resort.
Oberoi the luxury corner nearby Seminyak
Oberoi is a posh spot in Seminyak, Bali. It's only 7 km or a short 10-11 minute taxi ride from Ngurah Rai International Airport, making it super accessible for visitors.
If you're dreaming of a deluxe, calm trip or a romantic honeymoon, Oberoi is for you. Nearby you will find petitenget which is full of boutiques, clubs and bars. The Oberoi Beach Resort, set in 15 acres of green gardens, is a taste of Balinese style luxury. Here, you can watch local dances, listen to traditional music, and see theatre shows. Plus, there are beautiful Balinese art pieces, paintings, and woodwork to buy.
For a place to stay, Oberoi has some of Bali's finest. The Oberoi Beach Resort stands out with its elegant design inspired by local culture. It has a pool facing the sea and offers free WiFi everywhere. Other top spots include The Elysian Spa and the Nia Cooking Class. Staying here isn't just about comfort; it's about making memories that will last a lifetime.
Kerobokan
Kerobokan is a calm spot in North Kuta, Bali. Just 10.6 km from Ngurah Rai International Airport, it's a can be a 45-minute taxi ride away. The location itself is between and nearby Umalas, Canggu and Seminyak. The roads for scooter alone (not cars) have shortcuts to Canggu and Seminyak. Having lived here myself, it's pretty convenient location wise.
Finding a place to stay in Kerobokan is easy, with choices to suit any budget. Be it a lavish villa or a cozy hotel, it's here. Top picks include The Santai Umalas, Alam Boutique Villa, and Villa Pulau Rumah Monolocale Resort. These aren't just places to sleep; they promise memorable experiences that will make your Kerobokan trip special.
Ubud heart of culture & art filled with lush green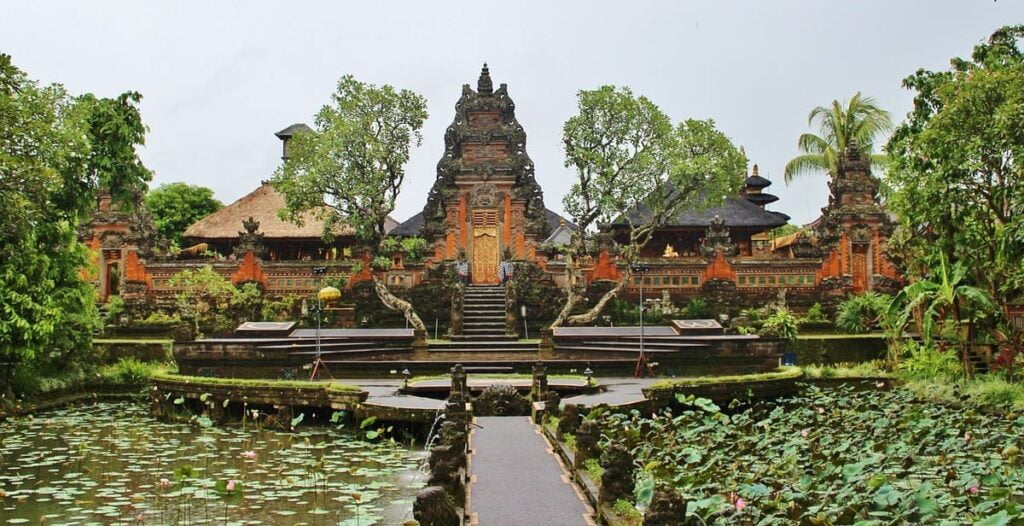 Ubud is a charming town in Bali, nestled among rice fields and deep valleys in the central area of the Gianyar region. Recognized as a hub for arts and culture, it has become a favorite spot for tourists. Besides that Yoga is immensely popular. A part of Ubud, nearby the monkey forest, you can see the small monkeys roaming around free. (watch your things!). Just 35 km from Denpasar Airport, 1 hour (plus) drive gets you to Ubud.
To truly soak in all that Ubud offers, many suggest staying for at least three days. It's a treasure trove of experiences, from historic temples and traditional Balinese art displays to cultural dance shows. Wellness enthusiasts can enjoy yoga sessions, while art lovers can immerse themselves in the local art scene. Besides this, this is another destination for digital nomads to be and get inspired.
Accommodation in Ubud caters to various tastes. Padma Resort Ubud, tucked away in the untouched Payangan highlands, offers stunning jungle views. Jani's Place Cottage by Purely blends an outdoor pool, sun terrace, and traditional Balinese designs. Meanwhile, Alaya Resort Ubud is nestled among rice fields and boasts an outdoor pool and a fitness center.
Sanur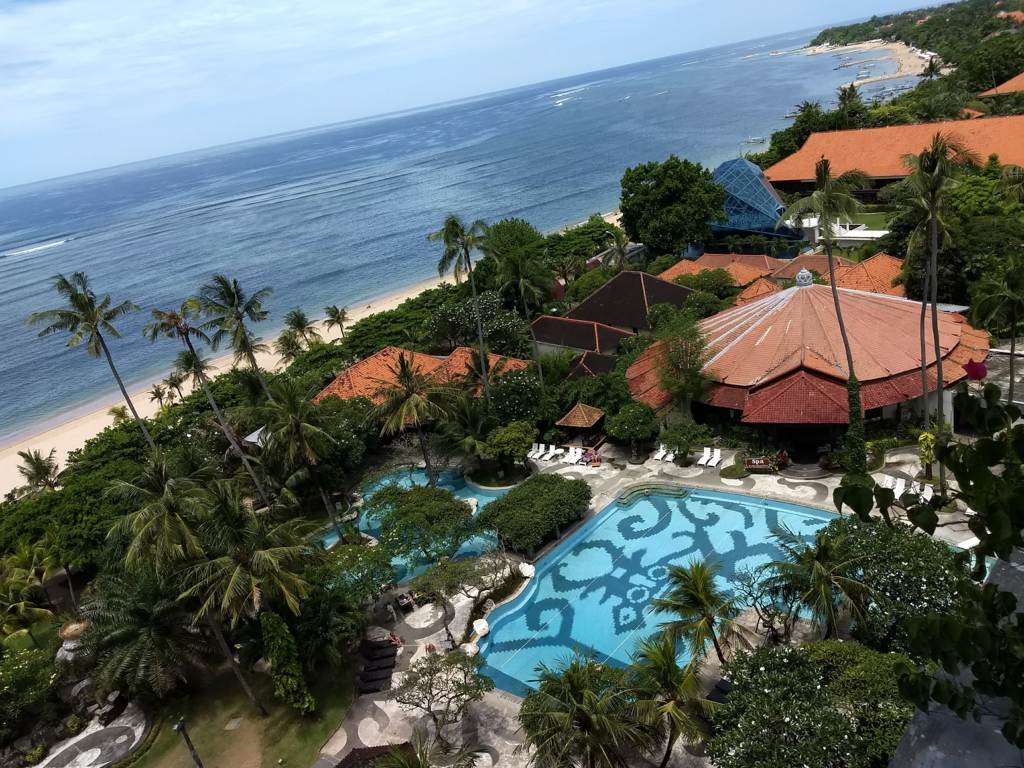 Sanur, a beautiful coastal area in southeast Bali, is just a short 30-minute ride from Ngurah Rai International Airport. This place stands out for its calm atmosphere and scenic views. It's especially loved by families and older expats in Bali who enjoy the peaceful vibes of this quiet fishing village. Many visitors suggest a minimum of three days in Sanur to truly appreciate its charm and local culture. The area offers a mix of activities from water sports and spa treatments to sampling street foods and leisurely beach walks. It's a haven for those who are drawn to cultural experiences, art, nature, and wellness.
Looking for a place to stay? There are many renowned options. The InterContinental Bali Resort Sanur, an IHG Hotel, offers both luxury hotel rooms and exquisite villas. Villas Oasis is another favorite, surrounded by lush tropical gardens and providing access to a semi-private beach. For those wanting a blend of nature and modern amenities, the Hyatt Regency Bali, nestled amongst rice fields, provides an outdoor pool and a fitness center.
Candidasa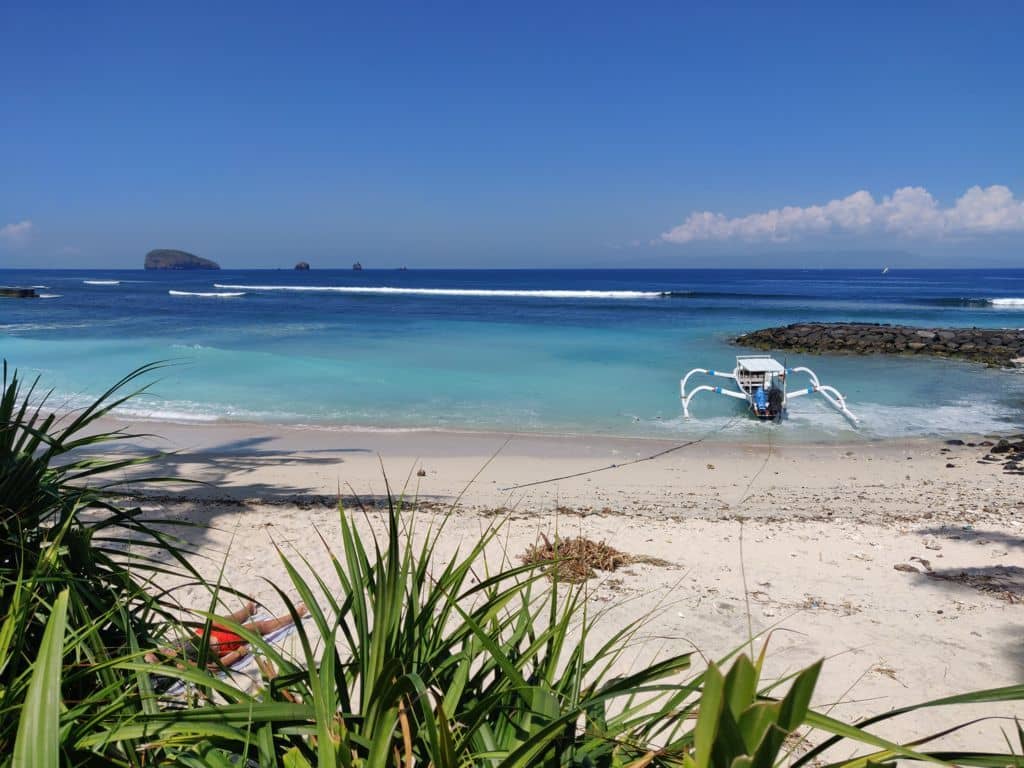 Candidasa, located on Bali's eastern coast. It's roughly a 1.5-hour drive from the airport, though travel time can change based on traffic. This seaside town is perfect for families, boasting pristine white-sand beaches and nearby waterfalls. If you're a fan of culture, nature, and scuba diving, Candidasa is an ideal base for your adventures. It's also a lot less busy than most previous places.
The town offers a variety of stay options, many reflecting the enchanting old-Bali feel. You can choose from charming cottages with traditional thatched roofs, beach bungalows under palm trees, or luxurious resorts that boast private beach entries and infinity pools. Some well-known places to consider are Alila Manggis, Amankila, and Candi Beach Resort & Spa. Check out where to stay in Candidasa.
While Candidasa is a haven for relaxation, there's no shortage of activities. Virgin Beach, known for its clear waters and white sands, is perfect for a day outing. You can rent sun beds and grab a cold beer or a quick bite from the local food shacks dotting the shoreline. And don't miss the magical Tibumala Waterfall nearby. Overall, it's a dreamy place for those seeking tranquility in with many Picturesque spots for example the Candidasa Beach.
Amed

Amed stretches over a 14-km line of fishing villages in the Abang District of Bali, Indonesia. This quiet region boasts black sand beaches and is among Bali's top diving spots. It's about 70 km away from the Ngurah Rai Airport (DPS), and a drive there from Denpasar Airport takes around 3 hours.
You can check out my: Amed guide ideal if you just 2-3 days there. But if you're looking to dive deeper into East Bali's offerings, plan for 4 days or even more. The beauty of Amed is that there's no rush; many visitors simply soak in the serene environment. It's a place where you can relax beside waterfalls, discover ancient temples, or watch as the jukung (traditional fishing boats) bring in the day's catch.
When it comes to lodging, Amed has something for everyone. Notable places to consider are the Nalini Resort, Casa De Amed, and Santai Hotel Bali. Nalini Resort has features like a la carte meals, yoga classes, an infinity pool, not to mention its private beach area and water sports facilities. Casa De Amed provides beachfront accommodations complete with an outdoor pool.
Lovina
Lovina is a peaceful beach resort in North Bali, famous for its early morning dolphin-watching adventures. Unlike the bustling tourist centers in the South, Lovina offers a relaxed pace with its less crowded beaches, easy-going roads, and a genuine old-Bali atmosphere. It's situated about 90 km from the well-known Kuta and Nusa Dua areas in the south, making it a three-hour drive away.
If you're a traveler who cherishes calm rural settings and genuine cultural experiences, Lovina is your spot. Here, you'll step away from the tourist buzz of the south and find the heart of Balinese life, stunning scenery, and lots of exciting activities. For accommodation, consider the Lilin Lovina Beach Hotel, Bali Taman Beach Resort & Spa Lovina, or The Lovina Bali Resort.
Lovina isn't just a place to stay, it's a base to explore North Bali's treasures. The top attraction? Dolphin watching. But there's more. Lovina's coast offers a menu of water adventures like free diving, surfing, kite-surfing, and fun banana boat rides. To truly soak in everything Lovina offers, it's best to spend several nights here.
Pemuteran / Menjangan islands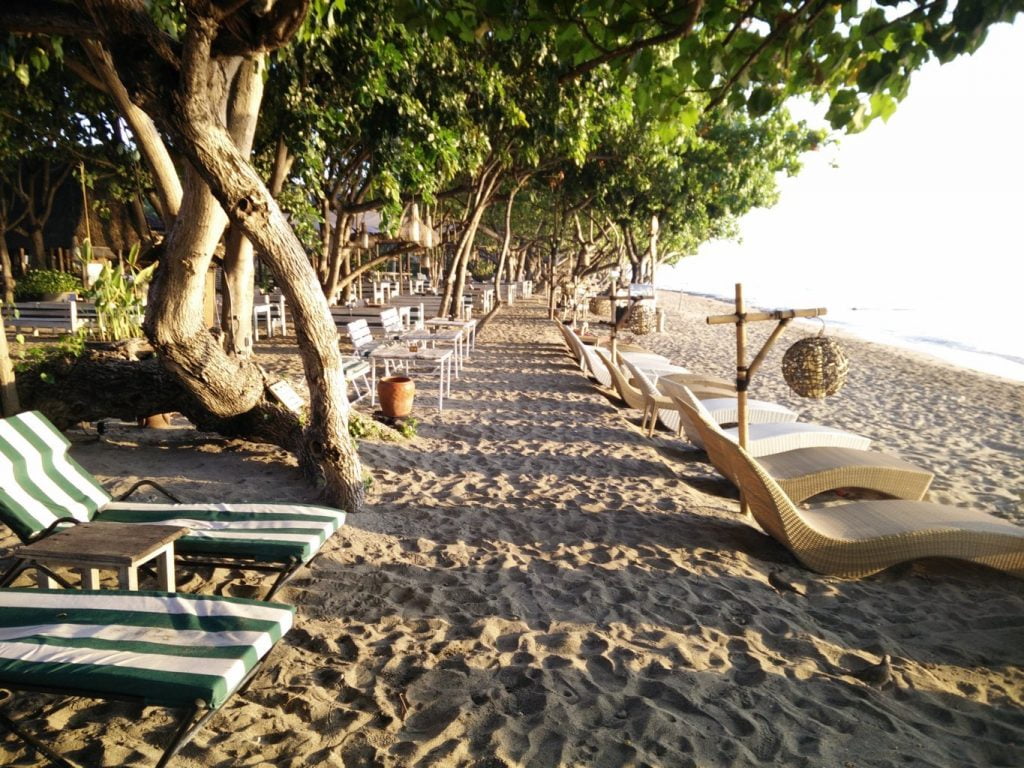 Pemuteran is a cozy coastal village in Gerokgak district, Buleleng, Bali. It's a hidden treasure on Bali's western coast, boasting a calm beach that provides a sweeping view of the stunning Bali Sea. It's about a 4-hour drive from Ubud and roughly 5 hours from Kuta. From Bali Airport, Pemuteran is about 136.3 km away, and it takes nearly 5 hours to get there.
If you're an adventurous traveler keen to see Bali's untouched beauty, both on dry land and below water, Pemuteran is a must-visit. It's perfect for outdoor lovers, whether you're diving into scuba diving or keen to explore the West Bali National Park. For accommodations, you might consider the Taman Sari Resort, Sumberkima Hill, or Puri Ganesha Homes by the Beach.
Pemuteran is a haven for those who love nature, peace, and boutique hotels. It's also great for those who enjoy hopping between islands. To truly experience Pemuteran, it's a good idea to stay a few nights. Popular activities here include snorkeling and scuba diving. There's a number of dive centers, like the Bali Diving Academy Pemuteran. Plus, don't miss the local Buddhist Monastery and Bali's refreshing Hot Springs.
Tampaksiring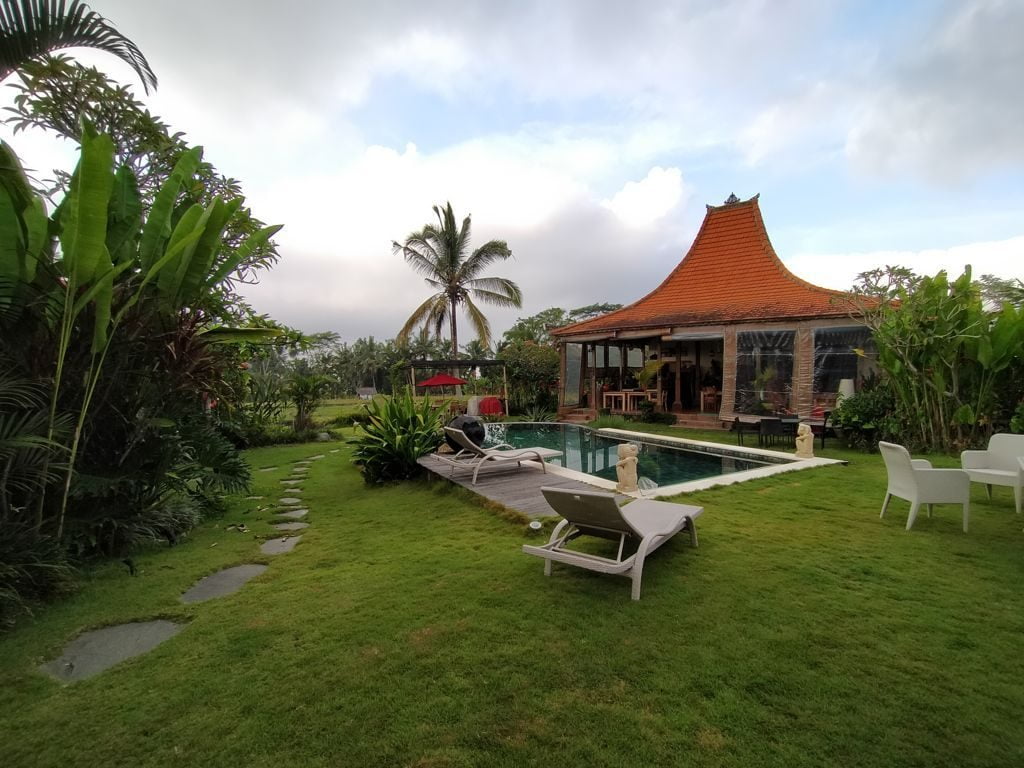 Escape the bustle of everyday life and step into the serene beauty of Tampaksiring. Nestled in Bali's Gianyar Regency, this town is roughly 38.8 km from Ngurah Rai International Airport. You can easily reach it in about 1.5 hours by taxi.
Tampaksiring is an ideal spot for a tranquil few days, immersing yourself in the rich local culture and history. Among the must-visits are spiritual havens like Tirta Empul Temple and Tjampuhan Temple.
For those passionate about history, culture, and spirituality, Tampaksiring is a haven. And if you're a food lover, you're in for a treat for the local authentic dishes as they are meant.
Wondering where to stay? Bali Sawah Indah, a quiet place to stay in Bali will just unwind you.
In summary, Tampaksiring is more than just a destination; it's an experience. Lots of historic temples, local food, and cozy stays, it's the perfect sanctuary to relax and recharge. Whether you're on vacation, enjoying a honeymoon, or working remotely, Tampaksiring welcomes all with its calm embrace.
Nusa Penida a neighbouring small island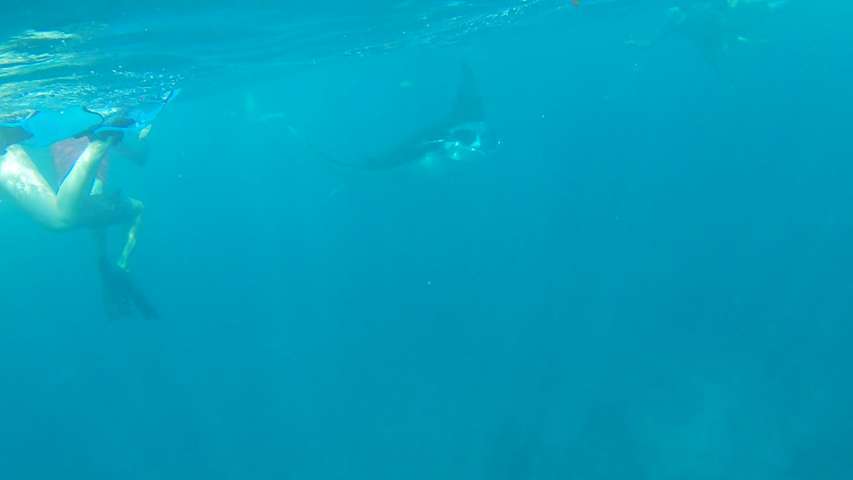 Nusa Penida, a picturesque island, sits off the southeast coast of Bali, Indonesia. It's roughly 40.7 km from Ngurah Rai International Airport (DPS). To get there, a short 30-40 minute drive takes you to Sanur Beach Harbor. From there, hop onto a fast boat or ferry (another 40 minutes), and you'll soon set foot on Nusa Penida.
If you're looking to dive deep into local culture and history, a few days on this island won't disappoint. High on the must-visit list are mesmerizing spots like Kelingking Beach and Angel's Billabong. For the underwater enthusiasts, snorkeling with Manta Rays is an experience like no other. And for those looking to simply kick back, pristine beaches like Crystal Bay and Atuh Beach await.
Adventure seekers, nature lovers, and those keen on relaxation will find Nusa Penida a perfect fit. It stands out as a premier snorkeling destination in Bali, bustling with diving and snorkeling tours. When it comes to stays, you're spoiled for choice with renowned places like Pandawa Resort & Spa Seaview, Coco Resort Penida, and Tropical Garden Inn.
In essence, Nusa Penida promises a slice of Bali's beauty. Be it the alluring beaches, breathtaking viewpoints, or thrilling water adventures, it's a haven for relaxation. Whether it's a holiday, a romantic getaway, or a work-from-remote spot, Nusa Penida beckons with open arms.
Nusa Cenigan
Nusa Ceningan, nestled between Nusa Penida and Nusa Lembongan, stands out as one of Bali, Indonesia's hidden treasures. Just 32 km from Denpasar Airport. The journey will be around 30-40 minutes to the harbor, and another 30 minutes to the islands. This does not include waiting time for the boat.
The island, with its untouched natural spots, provides a refreshing break for travelers seeking tranquility. If you're planning a visit, consider spending a full day to fully soak in its wonders. Here, you can marvel at the radiant Blue Lagoon, discover the secluded Secret Beach, and stroll across the famed Yellow Bridge. For the adventurous, there's zip-lining, exploring seaweed farms, taking daring cliff jumps, and scouting numerous beaches.
When it comes to places to rest, Nusa Ceningan offers distinctive accommodations. "Blue Lagoon Avia Villas" boasts breathtaking views, while "Le Pirate Beach Club Hotel Nusa Ceningan" delivers a one-of-a-kind beach club vibe. For those seeking a touch of local charm, "The Dafish Accommodation Bar & Cafe" is a splendid choice. Each place captures the enchanting essence of the island, ensuring a memorable stay.
Gili Islands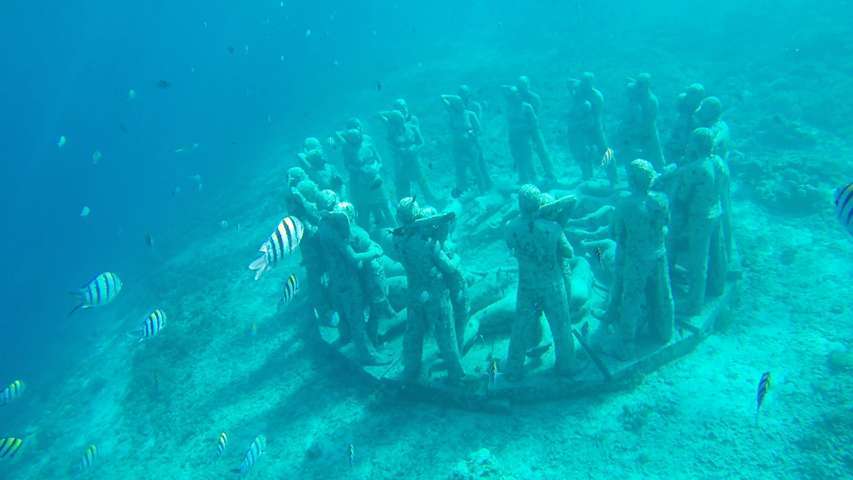 The Gili Islands consist of three lovely islands: Gili Trawangan, Gili Meno, and Gili Air. They are nestled just off Lombok, Indonesia's northwest coast. Lombok International Airport (LOP) is the closest airport, sitting around 51.5 km away. From the airport, simply grab a taxi to Bangsal Pier in Lombok. Next, hop on a ferry to reach the Gili Islands.
For a fulfilling experience, consider a stay of at least 3 days on the Gili Islands. They boast diverse activities to indulge in. Dive or snorkel in the clear waters, surf the waves, try water sports or go fishing. If you fancy some island-hopping, it's right at your fingertips. As evening approaches, the night market beckons with shopping delights. Don't miss the exciting "Stick Fight" tournaments or the local cinema for a movie night. Whether you're an adrenaline junkie, nature enthusiast, or just in for some rustic adventure, the Gili Islands have something for everyone.
When it's time to rest, the islands present a range of delightful accommodations. Over at Gili Trawangan, "Pearl Sunset Resort" offers breathtaking views. For a touch of luxury, "Kubuwatu Boutique Accommodation" invites guests with its outdoor pool and terrace. For a more local feel, "Kusuka Bungalow" makes for a charming stay. Each spot on the islands carries its own allure, promising a memorable time.
It was a long read, but thank you for making it here. I hope this helps a bit for you to select which places in Bali to stay. Need help? my travel agency can help with this. contact me!