Disclaimer: this is not about any of the local food or dishes. This is more a budget-friendly way of eating vegetarian in Pattaya. This article isn't about any local delicacies.
I am a vegetarian. I can no longer say it is a rigid belief, rather it is more of a habit as I have not eaten meat products for over 10 years. Due to the fact that the craze for such diets has now become more popular, and there are many of them, then in a nutshell I will describe what mine is. I am a strict vegetarian as far as meat and fish are concerned. I am not a vegan, that is, I take protein, which is necessary for a man's quality recovery after the gym, not only from soy and other plant products but also from dairy products. You can have an egg every now and then, but it's not a priority food. To put it strictly, it would probably be considered ovo-vegetarianism.
So, I would divide a little guide to vegetarian food into three main sections. The first is the big stores or convenience stores, that is, as familiar as possible to the city dweller. The second is local markets, where you can buy fresh food on a budget. The third is tourist food, regardless of whether it's a cafe or sandwiches from 7-11, that is simply food that is enjoyable and not always a benefit.
Vegetarian Shopping in Pattaya's Stores
The biggest grocery stores are BigC (https://goo.gl/maps/ZsXMks6nMx4oWRoj7), Lotus (https://goo.gl/maps/7EKYrXAipvm2pTR97), and Makro (https://goo.gl/maps/2BSLissHdKuQFRGq9). There is one representative from each of these stores on Sukhumvit Road, near the corner with Thepprasit Road. That's where I go to buy food.
Macro, by the way, is something similar to European METRO, and not only by its name but also by the format of the shelves inside. Most importantly, the prices – if you buy the goods piece by piece, or in small bulk, for example, from 5 pieces.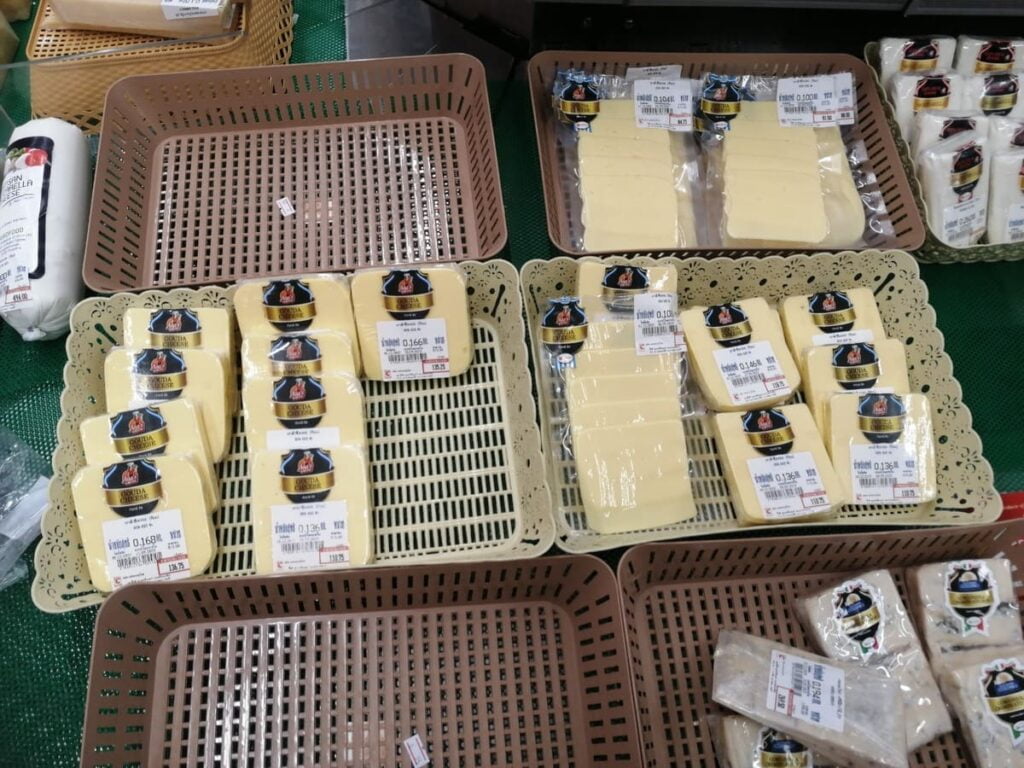 For example, Cheddar cheese, which is convenient for both platters and quick sandwiches, I take there. The cost is 369 baht ($ 10.50) per kilogram. Yogurts are non-fat, but with added sugar, there at 30 baht ($ 0.85) for 800 ml. The usual price in neighborhood stores is 40 baht ($ 1.15). I will not describe what else is there – these are big supermarkets, there in principle you can find all the more or less popular
Products that can be useful to you for a quick breakfast or for full-fledged cooking in the stove. I can't remember, but in one of the above-mentioned stores I also took soy meat, which should be held in water and then fried, or make rolls, as I did.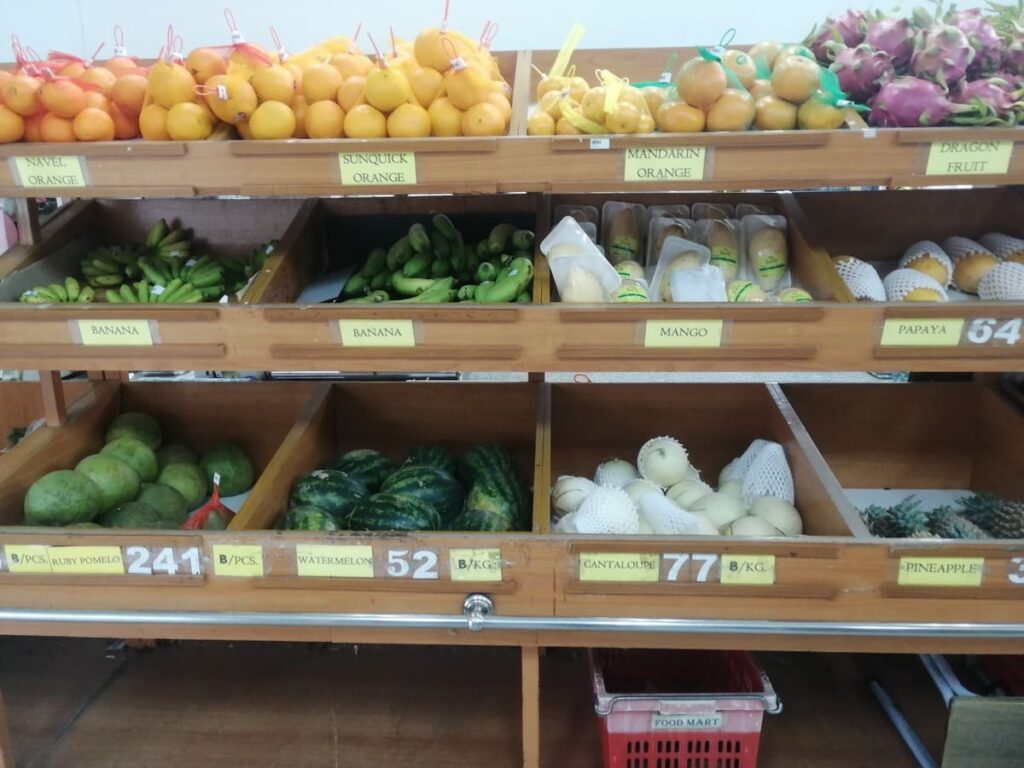 Also, so I don't have to travel far, I stop by Foodmart (https://goo.gl/maps/zDoFQoFv3XVhUZ659) from time to time. The store is right next to the Pattaya South Bus Station. This is the station that is closer to Jomtien. Across from the North Bus Station, by the way, is another large BigS. So, back to the Foodmart. The store is smaller in size and will be a bit more expensive, but still a bargain. There I pick up oatmeal for 50+- ($ 1.40) baht for 400g, or you can get 800g at once for 110 baht. 
But I stop at the first option. Firstly, it is more profitable, and secondly, if you buy two, you can choose flakes crushed in different ways, and also mix them when cooking. In this way, they will be digested after eating different times, and thus, the feeling of satiety will be with you longer.
For protein there you can have feta. Cardboard package 250g – 67baht, 500g – 140baht.  Tasty and quality product. Be careful when choosing such a product – very often next to them are packages in similar cartons, but from another brand, with a cow in the picture.
This is fat. That is, in fact, a little bit of carbohydrates, salt, and the rest is fat. In cooking and it can be useful, just if your diet implies protein and does not imply fat, be more careful and read the composition on the package. Snacks, water, veggies are all available at Foodmart, so it's good for weekly purchases too.
As for 7-11 or FamilyMart, which are increasingly being replaced by Top Daily, it's more of a store for quick pick-ups. For example, 2 liters of milk for 100 baht ( $ 2.80), although you can always buy a bottle of cooked rice for the evening.
or a carton of noodles, which you can boil in the store without paying extra to have it cooked while you go home. Both rice and noodles cost about 15 baht.
Probably doesn't really fit the topic of shopping, but I want to share that, that on Lazada I ordered Whey protein, for 200 baht per pack (https://s.lazada.co.th/s.klsvu).
Delivery within about a week. In general, I found it more favorable to take sports nutrition online rather than in stores.
Pattaya's Local Markets for vegeterians
Markets imply more local and more favorable food. However, the markets in the area between Central Marina mall and Terminal-21, as well as the Pratamnak market (https://goo.gl/maps/MVmBh3qZiohHNcW16), are more about feeding tourists locally. They are great markets and I really like them, and the food and atmosphere is great! I recommend going there.
It's just not the kind of market where normal people buy food to take home. A normal market is when small tents are laid out with goods, and you go to one after another, buying fresh, recently picked herbs, vegetables, or already packed for you, or those that you can choose yourself, feeling the natural smell of a real tomato. Meat and fish are also there, but that's not our topic today. The fact that you can buy sushi there for 10 baht a piece hardly surprised me. The big surprise for me was the doughnuts, also at 10 baht.
for 10 baht apiece. Fruits are there too, and much cheaper too. For example, both in winter and in March I noticed in those entertainment markets the price of 100 baht per kilogram of mangoes, and in such local markets the price can be as low as 35 baht per kilogram.
One of them is here (https://goo.gl/maps/yK7L3LrY4qivi7H49)
If you need more fruits and vegetables – there is a large fruit market on Thepprasit road. In winter, I used to buy ripe mangoes there for 20 baht per kilogram. Now these prices are no longer there because more and more tourists are learning about this market, but the variety of goods is still amazing. In this regard, I will not give specific geolocation. I'll just limit myself by saying that it is located not far from the Colloseum building. Who will be interested – it will be a little quest for you.
Delicious Vegetarian Eats Around Pattaya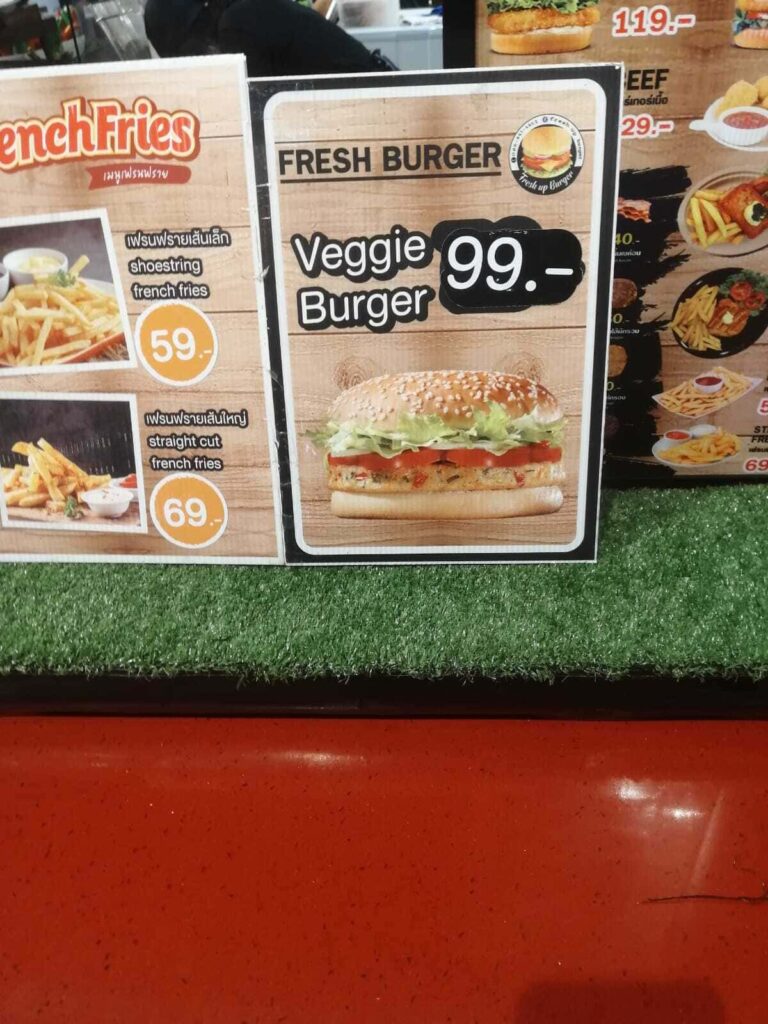 If you don't plan to stay in Pattaya for long, you might be interested in the already-prepared food at the cafe. There is a great cafe right across from the Foodmart (https://goo.gl/maps/hxrh7zrTyZ9YFYC99) with very tasty coffee. The coffee and croissant costs about 100 baht. And it will be very tasty freshly brewed coffee with an equally tasty croissant. Yes, they don't have a big menu, but the atmosphere is wonderful.
Central Festival Pattaya (https://goo.gl/maps/xAaadqkS2WgYEhMs5) has a food court on the basement floor that has veggie burgers for 99 baht. A very calorie-dense meal, and it's strange that McDonald's, which is right across the street from this cafe, wouldn't take this practice to work.
If you need a snack on the run – in any 7-11 there is coffee, which will be brewed in front of you z 35-50 baht, and there you can take a cake or croissant for 20 baht. There is also instant coffee for 10 or 15 baht, but of course, 3-in-1 coffee is not the top of quality and taste.
By the way, there are a couple 7-11's with their own cafe on the second floor. There 3 days a week you can get 2 small pizzas for 99 baht. Normally a pizza costs 79 baht for one. It's more than enough for a tasty snack.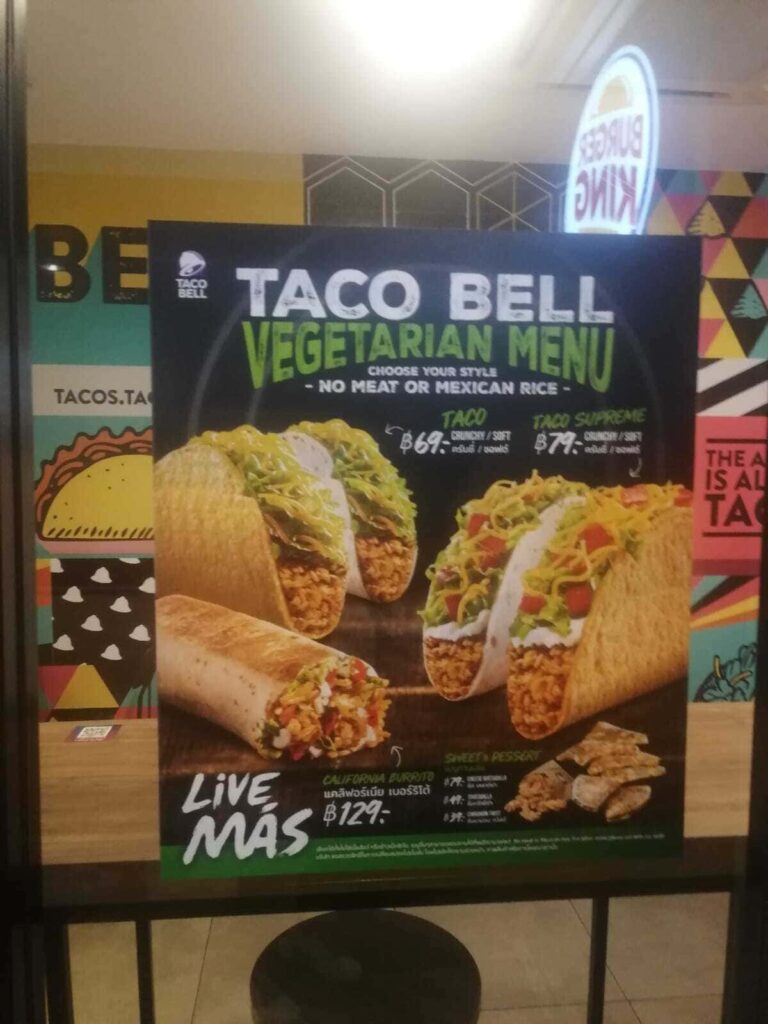 On the Second road, parallel to Walking street there is a great number of Indian cafes, in which both owners and cooks are Hindus. Since they are vegetarians, you can safely go there to eat. But I will specify two things – firstly, Indian cafes are much more expensive than any other cafes, both Thai and simple tourist ones, if we do not take the luxury segment. One small dish there can cost 200, 300 or even 400 baht.
If you eat there every day – it can affect the budget. The second point is the spicy food. If you are a fan of spicy food – everything is fine, but if you are in Asia for a short time, then ask for not very spicy, or not spicy at all. Chances are it will still be spicy. I'm used to it, but of those who are here for the first time, not everyone is aware of this point.
By the way, there's a famous shawarma in about the same location, there's a vegeratian one there for 80 baht. Not that it's very big, but it's very tasty. And ask for more sauce. It's here – https://goo.gl/maps/4d1acXPQFA8fbAUM7
There is bound to come a point when you are ready to try some local food. Not in the sense that you'll want Patkapau-mu instead of a burger, but that you'll want to eat at local cafes. Then my advice is to eat where the locals eat. Seemingly trivial advice, but let me explain. There are some irrational fears of getting poisoned when traveling to Asia. I'm a vegetarian and post a year of traveling I've hardly had a single day of problems with it. So I would conclude that a good portion of these troubles are related to eating meat, fish, and other things.
Another reason is that tourists, who want to get everything at once, start trying everything indiscriminately, and their stomachs simply can't cope with such an unfamiliar set of products that they don't use in their daily lives. And seafood is the first in line here. Finally, the third point is banal insanitation, which can be absolutely in any cafe.
So, when I see with my own eyes several times that in one place there are two open cafes, with approximately the same menu, prices, and smells good both there and here, but at the same time I see that in one cafe there are 8 tables, and all of them are occupied by locals, and in the second cafe there are 4 tables, but there are no visitors there – I will naturally choose the one where people are sitting. Yes, there may be other reasons for this – competition, habits, coincidences, but I also consider the option with bad food as a possibility. 
food, I also consider it a possibility. After all, there's a reason why I get awesome veggie burgers for 45 baht at a local girl's "cafe on wheels" where it's not so crowded.
Maybe after this post there will be a little more satisfied customers there. Approximate coordinates https://goo.gl/maps/CkjCdobnQRJ85c3j8