Pattaya is a popular resort city located on the coast of Thailand. It is known for its beautiful beaches that attract thousands of tourists every year. Beach tourism is the mainstay of all tourism in Thailand and the most famous leaders within the country in this regard are Phuket, Pattaya and Samui. As I have been in Pattaya for just under half a year in the last 10 months, in this article we will take a look at some of the best beaches in Pattaya to visit to enjoy the sun, sand and sea.
Pattaya Beach, The Heart of the City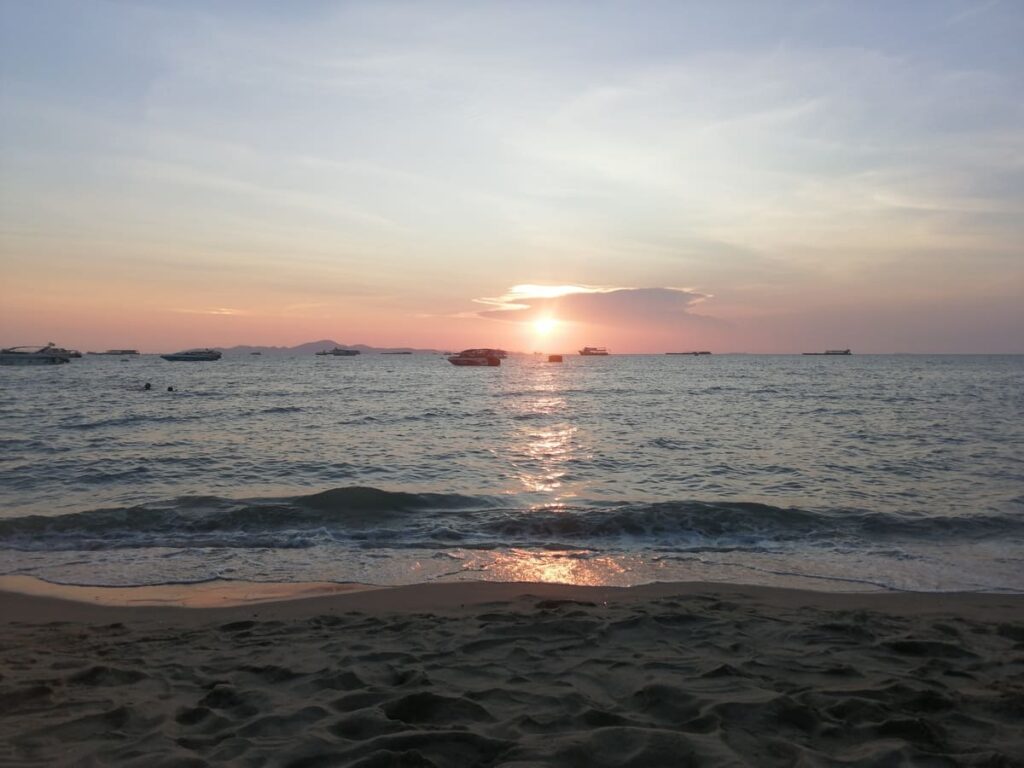 Pattaya Beach is by far the most famous beach in the city. Its long sandy shore stretches for 4 kilometers along Beach road, and is washed by the warm waves of the Gulf of Thailand. This beach is in close proximity to the city center, making it easily accessible to tourists and one of the most densely populated areas in the city.
Here you'll find plenty of cafes, restaurants and bars where you can sample delicious Thai cuisine and refresh yourself with drinks. Pattaya Beach is also popular for water sports such as Jet Skiing and windsurfing. Right on the beach there are representatives of companies that own boats and provide the opportunity to take a ride on a tour or go on an individual trip on a small boat, or even a rather capacious vessel with a large company.
As for swimming in the sea – the city authorities do a lot to clean up the beach, but the cleanliness of the water itself is questionable, and the close proximity of the boats makes this beach available mostly for relaxing, jogging and sunbathing, and leaves the possibility of swimming at other beaches.
Jomtien Beach & Dongtan: Laid-back Coastal Retreat
Jomtien Beach is located south of central Pattaya and is known for its laid-back atmosphere. This beach is ideal for families and those seeking privacy. The sandy Jomtien Beach stretches for 6 kilometers. It is divided into, directly, Jomtien Beach itself, and Dongtan Beach. But as one flows out of the other, and it's quite difficult to define them by eye, I would consider them as one beach.
It is surrounded by a variety of resorts and hotels. You can rent sunbeds and umbrellas here, and enjoy delicious street food at nearby cafes. Swimming people are much more common here than at Pattaya beach, but still not as many. And this is not due to seasonality, it is due to the percentage of all the current tourists.
The water here is cleaner than Pattaya beach and it is generally safe, but still the municipal authorities know that a lot of decisions need to be made to make it one of the best beaches.
Koh Larn beach, a slice of Island Paradise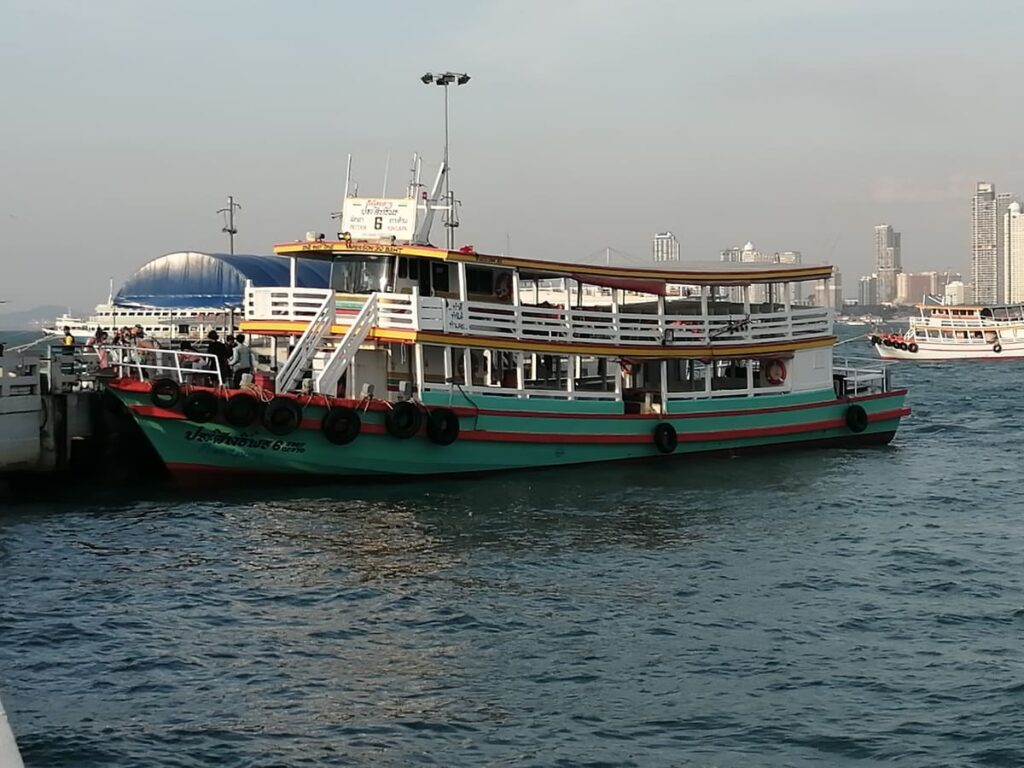 To see a real paradise island beach, you need to take a short boat trip to Koh Larn Island. This place is located just 7 kilometers from the coast of Pattaya, but offers a completely different world.
In one of the previous posts I described how to get there, but I will describe it in a nutshell:

From Bali Hai Pier beach from about 8 a.m. to 5 p.m., there are passenger ships for about 100 people. Despite a clear schedule, they depart as they fill up. The cost is 30 baht one way. Travel time is 40-50 minutes.
Also on the pier there are representatives of the owners of "speedboats", speed boats, which for 20 minutes, and in my case, for 18 minutes, will take you to Manki Beach, one of the beaches of Koh Larn.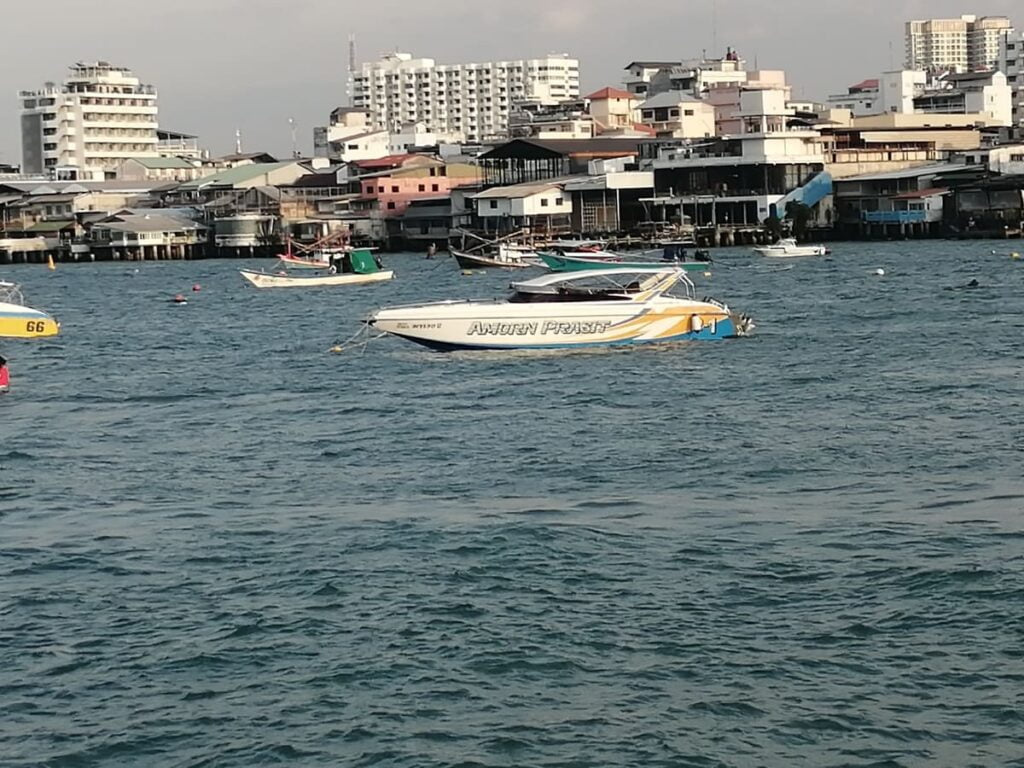 Once again, if you are not planning to rent a room on Ko Larn, consider the departure time of the last boats from the island. If you have rented a private boat, the public ships run until 17-18 hours.

Ships dock at Tawaen pier or Na baan pier. From there, you can either rent a scooter or take a mashrut cab to other beaches on the island.
Koh Larn is famous for its crystal clear waters and soft sand beaches. You can swim here everywhere – this is the main difference between the island directly from Pattaya, and I will point it out here, so as not to write about it as an advantage of each beach separately. I will try to tell very thesis about the main popular beaches there:
The most popular beach on the island is Tawaen Beach – at least because every other ship goes directly there. There are also canopies and sunbeds along almost the entire beach, and there are plenty of cafes behind where you can always buy everything you need.
Hat Sangwan
Next to it, on the other side of the pier is Hat Sangwan, a very small beach for a cozy rest. Also there in the presence of bars, which for some reason love Asian tourists. There are a lot of them there. I don't know why, maybe it has something to do with organized excursions. Also in the water of this beach, at a small distance from the shore there are a lot of sea urchins, which can be easily seen in the water at low tide.
Speaking of sea urchins, I immediately remember stepping on one at Ta Yai Beach, the farthest and wildest beach on the island. There are small rocks there that daredevils climb at their own risk, and most importantly, because of the beach's location, it has the strongest waves on the entire island.
Tong Lang and Tien Beach seem similar to me. They are the kind of beaches that most people imagine when talking about beach vacations. Scorching Sun, warm waves, clean sand, and palm leaf roofed bars. Perfect. TIP: make sure you stay hydrated on these hot days!

Overall, Samae Beach is very similar, except that on one side of the beach is a large, unfinished government building, unbeknownst to me, in the shape of a sea stingray, and on the other side, not too far away, out of walking distance, is a beautiful viewpoint, which I'll even leave a link to if you go by scooter https://goo.gl/maps/tTEp1WpREa7DDLKf9.

Monkey beach is the second beach after Tawaen in terms of the number of people who vacation on it. Paragliding, banana rides, and other active forms of entertainment and recreation are about Monkey beach. There are also persistent rumors that the monkeys there really come out to people. But I have not seen them in my experience.
Koh Chang beach
I will add to the list something for those who like to combine both travel and beach vacation.
Although Koh Chang is some distance from Pattaya itself, its beaches are worth a visit. This island is part of a national park and is famous for its natural beauty. Koh Chang's beaches, such as White Sand Beach and Long Beach, offer a peaceful atmosphere, crystal clear waters and plenty of diving and snorkeling opportunities.
Cosy Beach
Cosy Beach is a small, cozy beach just south of central Pattaya. It is a bit hidden from the big roads, and therefore many people overlook it. It is known for its beautiful nature and peaceful environment. This beach is great for those who want to get away from the hustle and bustle of the city and enjoy some peace and privacy. The beach offers stunning views of the sea and the horizon, making it the perfect place for romantic evenings. This is the one evening beach where you can observe very beautiful sansets.
In conclusion, Pattaya offers a variety of beaches that will satisfy every taste. Whether you are looking for a place for an active vacation or planning to relax on the beach, you will find a beach in this Thai resort city that meets your expectations – snorkeling, diving, photo set, lying with a drink on the sand – there is a perfect place for everything in Pattaya.