Welcome to your go-to guide for venturing into Thailand in 2023! This article is crafted especially for those setting foot in Thailand, the Land of Smiles, for the first time. Goal of this article is to prepare you with invaluable tips and insights. So you would have a seamless and unforgettable Thai adventure. At the end there is a full checklist for you!
Thailand, rich of culture, breathtaking landscapes, and warm-hearted locals, will give travelers an experience like no other. But, as with any cherished destination, a touch of groundwork is essential. Whether it's navigating visa protocols or having the perfect travel essentials. This article will help you every step of the way. So, let's set the stage for your Thai escapade!
Thailand's Visa Requirements
Before embarking on your Thai adventure, it's essential to grasp the visa requirements to ensure a seamless entry. In 2023, Thailand provides a diverse range of visa options tailored to the needs of foreign nationals, based on their visit's purpose and desired length of stay. Each visa type has distinct requirements, associated fees, and processing durations.
Visa-exempt Stamp
A special provision for nationals from certain countries, the visa-exempt stamp simplifies short-term tourism. If you're planning a brief getaway or a business trip and hail from an eligible country, this might be your best option
Application: Upon entering Thailand, an immigration officer will place a visa exemption stamp in your passport.
Cost: Free of charge.
Validity: Up to 30 days if arriving by air or land. However, until the end of March 2023, a 45-day stamp is provided upon entry.
Extension: A 30-day extension available at local immigration offices, costing THB 1,900 ($55).
This Visa is given to people from 64 countries
Visa on Arrival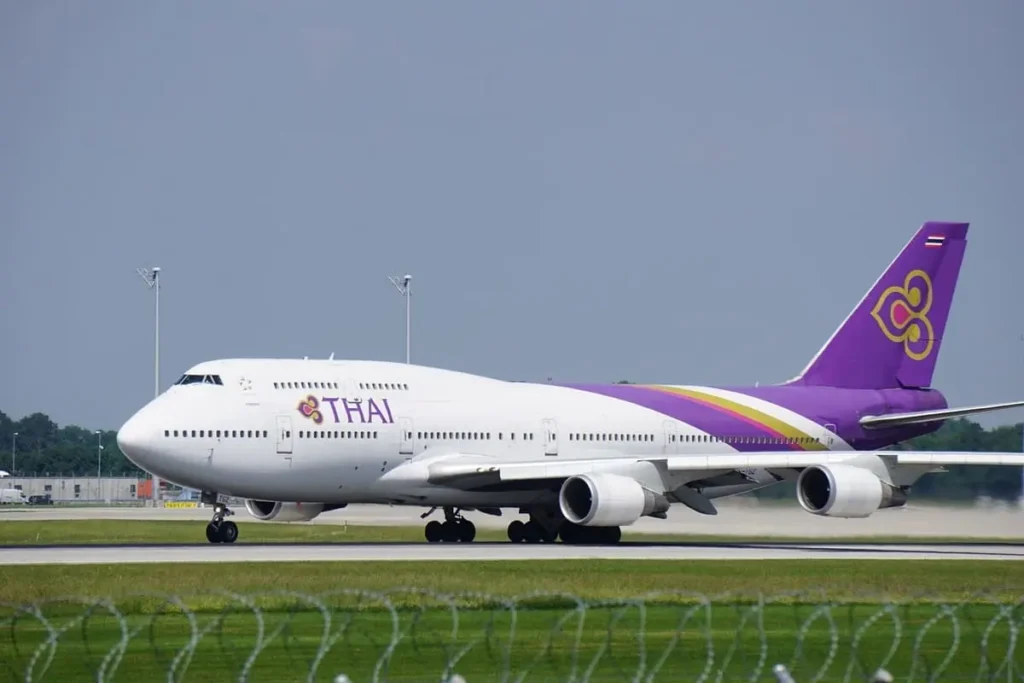 A convenient option for travelers from specific countries who decide on a spontaneous Thai trip. If you're from an eligible nation and have a short stay planned, this visa can be obtained directly upon arrival:
Application: Apply at the immigration checkpoints on arrival for tourism purposes
Validity: 15 days, whether arriving by air or land.
Extension: A 7-day extension available at Thai Immigration offices.
Cost: A fee of 2,000 THB ($57), payable in cash and exclusively in Thai currency.
This Visa is given to people from 18 countries
Tourist Visa (TR)
The Tourist Visa (TR) is ideal for those visiting for leisure, sightseeing, or reconnecting with friends and family. Especially for travelers who are eager to explore Thailand's beauty. Whether you're a solo traveler, a family on vacation, or a couple on a honeymoon, this visa has you covered:
Application: Apply at a Thai embassy or consulate in your home country, or a country outside of Thailand if you live abroad or are already traveling. Alternatively, use the E-Visa online system.
Validity: 60 days from the date of arrival.
Extension: An additional 30 days, obtainable at a Thai Immigration Office.
Entry: Options for both single and multiple entries.
Cost: Approximately USD 45, with an extension fee of 1,900 THB.
source: Single Entry Tourist visa for Thailand.
Non-Immigrant Visa (B)
Crafted for professionals, businesspersons, and entrepreneurs aiming to work or establish a venture in Thailand:
Application: Apply at a Royal Thai Embassy or Royal Thai Consulate-General
Validity: 90 days from the date of issuance.
Entry: Typically single entry.
Cost: 2,000 Baht ($57) for single-entry (three-month validity) and 5,000 Baht ($ 142.50)f or multiple entries (one-year validity).
Non-Immigrant Visa (ED)
For students, researchers, and academic enthusiasts looking to study or engage in educational activities in Thailand:
Application: Apply at a Royal Thai Embassy or Consulate in your home country, or at a local Immigration office inside Thailand depending on the reasons you are applying for the Non-Immigrant O Visa
Validity: 90 days from the date of issuance, extendable up to 1 year.
Non-Immigrant Visa (O-A) – Retirement Visa
A perfect choice for retirees or those aged 50 and above, seeking a peaceful and extended stay in Thailand.
Application: Apply at a Royal Thai embassy or Royal Thai Consulate-General in your home/residence country or at the Office of the Immigration Bureau in Thailand
Validity: 1 year.
It's paramount to stay updated as visa regulations can evolve. Always consult official sources or trusted travel experts before your journey. Safe travels!
Different plugs (electricity) in Thailand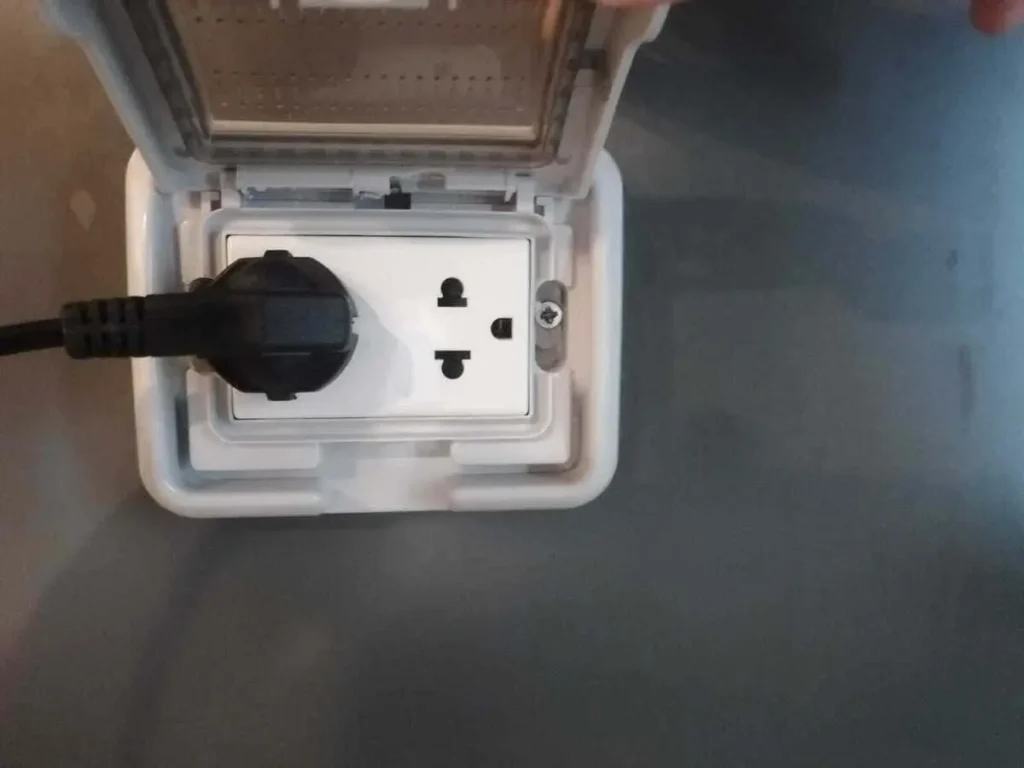 It's important to be familiar with the country's electrical system to ensure your devices remain powered up. Here's a simplified guide:
Plug Varieties in Thailand Thailand accommodates four plug types: A, B, C, and O.
Type A: Commonly found in North and Central America, China, and Japan. It features two flat parallel pins.
Type B: Similar regions as Type A but includes an additional grounding pin.
Type C: Known as the "Euro" plug, it's equipped with two round pins.
Type O: Exclusive to Thailand, this plug has three round pins.
Interestingly, many Thai sockets are hybrid, fitting all the mentioned plug types.
Voltage and Frequency Thailand operates on a 230-volt system with a frequency of 50 Hz, aligning with many countries worldwide.
Do You Need Adapters or Converters? The need for an adapter or converter depends on your home country's voltage.
No Converter Needed: If you're from regions with a voltage range of 220 – 240 V, like the UK, Europe, Australia, and much of Asia and Africa, your devices will work in Thailand without a converter.
Converter Required: For travelers from areas with a voltage of 100 V – 127 V, such as the US, Canada, and most South American countries, a voltage converter is essential in Thailand.
Tip: Check your device's label. If it reads 'INPUT: 100-240V, 50/60 Hz', it's globally compatible. This is typical for devices like tablet/laptop chargers, cameras, phones, and even some toothbrushes.
To avoid any struggles, it's wise to secure the necessary adapters (and converters) before your journey. Not only does this ensure you have the right equipment, but it also often guarantees better quality and value for money. Safe travels and stay charged!
Tip: Nowadays you can charge your smartphone or USB gadgets via the TV!
Packing for Your Thailand Adventure
Thailand is a tropical haven, ensuring warmth throughout the year. When preparing for your journey, opt for light and airy attire. Clothes crafted from breathable materials such as cotton or linen are ideal for Thailand's climate. And remember to pack your swimwear for those beach escapades!
Thailand has monsoon season (the rainy season). Here's when it usually happens:
North (like Chiang Mai): May to November.
Central (like Bangkok): July to October.
East (like Pattaya): June to October.
West (like Phuket): April to October. But on the East Coast, like Koh Samui, it's September to December.
Even during the rainy season, showers are usually short, and there's still sunshine. Everything turns green, and waterfalls are at their best. But, the sea can be rough, and some activities might be off-limits.
Getting Around in Thailand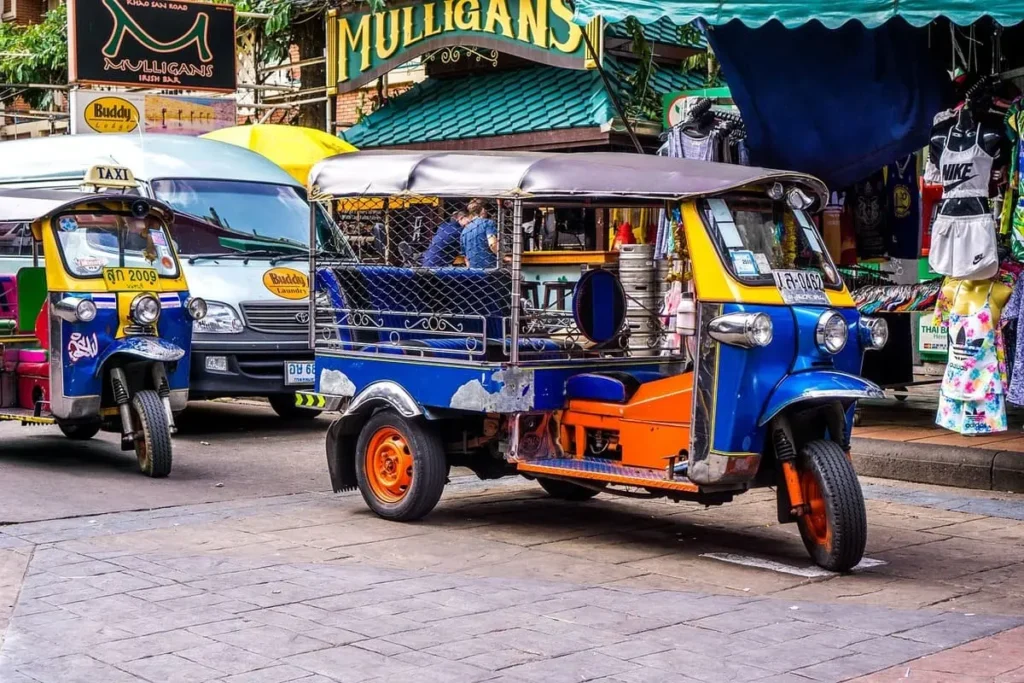 Exploring Thailand is an adventure, and how you get around is part of the fun! Also check out what to do in Pattaya!
Ever tried a tuk-tuk? It's a three-wheeled scooter, and it's one of the coolest ways to zip through Thai cities. For a more laid-back vibe, hop on a ferry. It's the go-to choice for soaking in views of the stunning islands and coastal towns.
The best part? Traveling in Thailand won't empty your pockets. Whether it's a budget flight to Bangkok, a comfy overnight bus, or a quick tuk-tuk ride, prices are super friendly. So, dive into the Thai transport adventure. After all, it's not just about where you're going, but how you get there!
Going around Thailand is easy with Grab! Since its debut in 2013, Grab has zoomed its way to become Thailand's top ride-hailing choice. By 2023, it's not just in Bangkok but in 15 hotspots, from the lively streets of Pattaya to the serene beaches of Koh Samui. If you have used Grab somewhere in Philipinnes, or used it in Bali as online taxi, you can use that same app in Thailand. No need to reinstall or make a new account.
Tips for Accommodation
Thailand, a traveler's paradise, offers a vast array of accommodation choices, ensuring every visitor finds their perfect fit. Whether you're traveling on a shoestring budget or looking to indulge in luxury, Thailand's hospitality scene won't disappoint.
Guesthouses are a popular choice among many travelers. They often resemble cozy, small-scale hotels or refurbished homes, providing a warm, homely atmosphere. On the other hand, bungalows are for those who seek a closer connection to nature. Typically located on serene beaches or nestled in lush green landscapes, bungalows offer a rustic charm with their hut or villa-style structures.
Booking Made Easy
When it comes to securing your stay, platforms like Agoda, Booking.com, and Hotels.com are at your service, simplifying the booking process. For those keen on immersing themselves in local living, Airbnb provides a range of apartments and villas. A pro tip for savvy travelers: It's always beneficial to compare prices across different platforms to ensure you get the most value for your money.
If you're considering a visit during Thailand's peak tourist season, which runs from November to March, it's a good idea to reserve your accommodation 2-3 months in advance. However, if you're more inclined to experience Thailand during its quieter, rainy months from April to October, booking 1-2 months ahead should suffice.
Lastly, remember that hotel rates can vary based on demand. Prices generally drop during quieter periods and can surge around popular holidays like Christmas. So, timing your booking strategically can lead to significant savings.
With your accommodation sorted, all that's left is to dive into the vibrant culture, scenic beauty, and warm hospitality that Thailand offers. Enjoy your stay!
Staying Safe and Sound in Thailand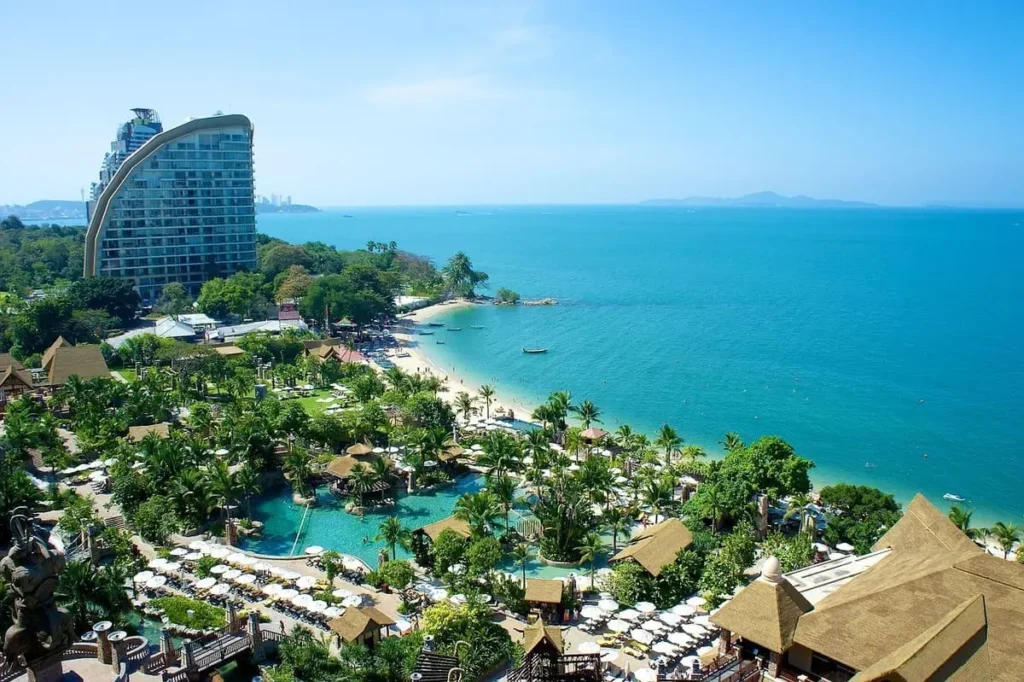 Thailand is a captivating destination, known for its warm hospitality. While generally Pattaya is a safe place to explore, it's always wise to be informed and cautious. Here's a friendly guide to ensure you have a smooth journey:
Guard Your Passport:
Your passport is your most prized possession abroad. When renting items like scooters or jet skis, it's common for businesses to ask for your passport as collateral. However, it's better to offer a photocopy or another form of ID instead.
Handy Emergency Contacts:
General Emergency: 191
Tourist Police: 1155
Ambulance: 00 66 2011 5222 or 1669
Fire Department: 199
Secure Your Belongings:
Whether you're at the beach or in your hotel room, always ensure your valuables are safe. Use luggage locks and, when possible, store important items like your passport and camera with you.
Friendly Heads-Up on Common Scams:
Thailand is mostly scam-free, but it's good to be aware of a few things:
Tuk-Tuk Tours: Some tuk-tuk drivers might offer a day's tour at a tempting price but might lead you to shops where they earn commissions. It's okay to decline politely.
Jet Ski Caution: After a fun ride, some operators might claim damages. Always inspect the jet ski before renting.
Gem Deals: Be cautious if someone offers gems at a price that sounds too good to be true.
Attraction Updates: If a local informs you that a tourist spot is closed and suggests an alternative, it's a good idea to double-check.
It is a joy to explore. Use your common sense, stay informed. Then you'll be able to experience the rich vastness of culture and adventure this country has to offer. Safe travels and enjoy every moment!
Conclusion
Thailand, often called the 'Land of Smiles', is a place where every traveler finds a piece of magic. From its lively cities to peaceful beaches and from age-old temples to modern wonders, Thailand is a story waiting to be lived. As you gear up for this exciting journey, remember that the real charm of Thailand lies not just in its scenic beauty but in its warm people and rich traditions. With the guidance from this article, you're all set for an unforgettable experience.
Thank you for journeying with us through this guide. We appreciate your time and hope you're now better equipped for your Thai adventure. Safe travels and cherish every moment in this beautiful land!
Checklist for Your Thailand Adventure:
Valid Passport with at least 6 months validity.
Appropriate Visa or Visa-exempt stamp (based on your nationality and purpose of visit).
Copies of important documents (passport, visa, travel insurance).
Electrical adapters and converters (if required).
Lightweight and breathable clothing.
Swimwear and beach essentials.
Personal toiletries and medications.
Emergency contact numbers saved in your phone.
Downloaded Grab app for transportation.
Pre-booked accommodations (especially during peak seasons).
FAQs:
What's the official currency of Thailand?
The official currency is the Thai Baht (THB). 1 USD = 35 THB
Is English widely spoken in Thailand?
While Thai is the official language, English is commonly spoken in tourist areas, hotels, and major cities.
Is street food safe to eat in Thailand?
Thai street food is renowned worldwide and is generally safe. However, always ensure the food is freshly cooked and the stall looks clean.
What's the tipping culture in Thailand?
Tipping isn't mandatory but is appreciated. A tip of 10-15% in restaurants is common, and small change can be left for taxi drivers and service staff.
Is tap water safe to drink in Thailand?
It's recommended to drink bottled water. While tap water in cities is treated, it's best to avoid drinking it directly.
Do I need vaccinations before traveling to Thailand?
It's advisable to consult with your doctor about recommended vaccinations before your trip. Common recommendations include Hepatitis A, Typhoid, and Tetanus.