Pattaya, located on the coast of Thailand, is known for its beautiful beaches, diverse entertainment and rich nightlife, and it is definitely worth visiting, at least once. Many people may think that it is a branch of paradise on Earth. One often hears that Thailand is a land of smiles. However, like any other tourist location, there are also threats and risks that tourists should be aware of. In this piece we are going cover some off them.
Crime in Pattaya
Pattaya, despite its fame, can be prone to different kinds of crime. Tourists should stay alert and avoid dark and empty places, especially at night. Theft and scams can also be a problem, so it's worth keeping items safe and using safes in hotels.
It would seem – this is the most clear message you would expect. However, I would like to comfort you a little – it's not all that bad. Indeed, if you are walking through empty non-touristy streets in the middle of the night with a bag of money – you are either a brave person, or you are so drunk that they stopped selling alcohol in the bar and you chose to go in search of adventure.
Nightlife in Pattaya: A Solo Traveler's Safety Perspective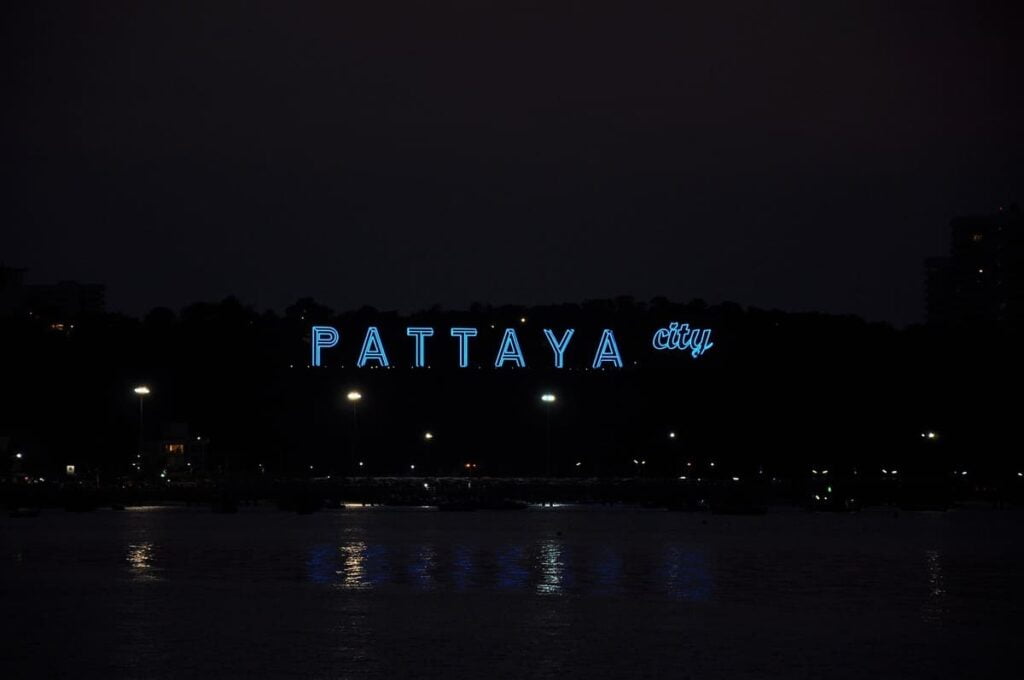 But in the few months of living only in Pattaya, I have returned home at night more than once, but it always happened safely. Local youths on bikes, whom I often passed by, eventually started even saying hello to me. And always with a smile. So, I would say that Pattaya is safe for solo travelers. The secret is that the principle "Don't disturb anyone – and no one will not disturb you" works here.
I told a little about it in the article "Pattaya and Bali – where is friendlier for tourists" . Here, in Pattaya, I only heard surprised questions: "And how here in Pattaya with safety?" and stories that in New York at night you can easily be robbed with weapons. Although it seems to be a developed country and the first economy of the world.
Here sometimes you can be cheated with the price, counting on the fact that you are a stranger and do not know anything. This applies to illegal places selling anything, although if you know the estimated real price, you can bargain. Cash scams are also rare, more likely to be a mistake than a planned act. I have heard that there are pickpocketing when girls or guys, especially ladyboys with low social duty, start bugging with unclear offers. But even in this case, moving away from them, I had all my things still in place.
Robbed at the ATM machine in Pattaya
I read a story in a chat room of someone who withdrew 100,000 or so baht late at night and was robbed almost right next to an ATM, and the robbers were armed. But this was an isolated incident, and I'll tell you what I think about it later.
Therefore, I will give a little more detailed, even, we can say, a universal answer for all tourist places.
Keep valuable things in safes and at home, do not carry a lot of jewelry with you – in the night Pattaya party they will not appreciate them, and even just lose them will be very offensive.
Take as much cash with you on the street as you will not be sorry to spend. And put it in those pockets from which it is difficult to get it out. In general, use a card – they are accepted in many places in Pattaya.
Be vigilant when counting money. Mistakes are possible everywhere.
You should avoid deserted places in Pattaya at night, it really can be a good location even for spontaneous robbers who do not plan anything in advance.
Oddly enough, avoid places that are too crowded – pickpockets all over the world take advantage of getting up close to a person in a crowd.
And if you and so, without my advice, observe these rules, your vacation will be successful. And, in case of emergency. The tourist police phone number is 1155.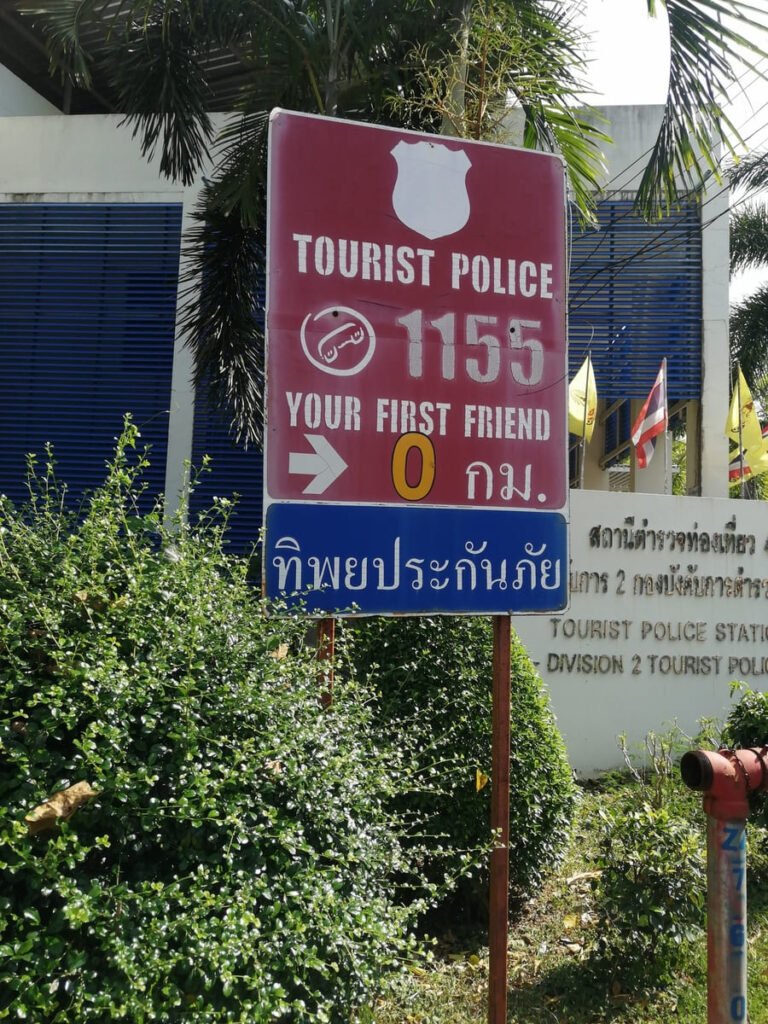 (un)Safe transactions
Online safety. Again, this doesn't really apply to Pattaya, but you'll understand why I'm talking about it. I am a member of many Pattaya themed chat rooms in messengers administered by people in my language. Initially, they are designed to help tourists, but, of course, there are scammers there too.
For example, one girl asked about a free room two days before she was going to fly in on vacation. I warned her in private messages not to send a prepayment to anyone until the moment of check-in. To which she replied to me that she did exactly that a few days ago and the owner stopped contacting me. There have been similar cases of people who were supposedly willing to bring medication to the house but disappeared after prepayment.
To share my thoughts on that robbed guy from the previous paragraph, a little context needs to be introduced. My ATM cards don't work in Asia. And so, to get some cash, sometimes people resort to the services of a "changer", that is, a person who will bypass the bank and change non-cash currency into cash baht. One of the dangers here is that, as in the case of the girl, dishonest changers disappear after the prepayment. But there are some decent people who change money when you meet them, and sometimes even come to the house. And that rare case with robbery for a large sum at the ATM indicated by the changer seems suspicious to me. I can't say anything, but you can do it.
The Dangers of Drug Use in Thailand
Thailand has strict laws regarding drugs and their use or illegal possession can result in serious penalties, including imprisonment. Tourists should avoid getting involved in illegal activities in Pattaya. Prison here is not at all like Norway, and even tourists from developing countries, with their less than perfect penitentiary system, shy away from Thai prisons.
Smoking marijuana is allowed here, but only at home or in specialized cafes. Be sure to make a disclaimer that any drugs, including even alcohol, are strictly unrecommended for use. As for growing and selling – you need a separate business and special licenses for that.
Essential Tips for Tourists on Thai Traffic and Safety
Road rules and driving style in Pattaya may be different from what tourists are used to seeing in their home countries. Even just crossing the road, be vigilant – drivers do not tend to let you pass even at crosswalks. That is, the street is safe for pedestrians exactly until you start crossing the road. Traffic accidents, bicycles and motorcycles can be dangerous, so be careful if you decide to rent a vehicle. There is a small set of rules on top of what the average tourist may already know when renting a bike.
The first thing to remember is to wear a helmet. Always! Skull cracking is simple, I'm not kidding. I can't show pictures of accidents, just trust me. The chance that everything will be fine after an accidental fall, if you are wearing a helmet, increases many times over.
You can get a license by going to school, it takes about a month. Of course, there is also a gray market, but then you are likely to miss some important nuances.
Riding without a license, and, by the way, without a helmet too, is punishable by a fine of 500 baht.
Traffic here is quite free, and if you are used to the crazy traffic of Denpasar or long traffic jams in Malaysia – you will like it here, because the traffic is much less.
By the way, the traffic here is left-handed. So, I will clarify this nuance just in case.
Diseases: As elsewhere, tourists should be vigilant about protection against infectious diseases. Vaccinations and mosquito repellents are recommended, as some areas of Pattaya may have insects that carry diseases such as dengue and malaria. And of course, use personal protective equipment in close encounters.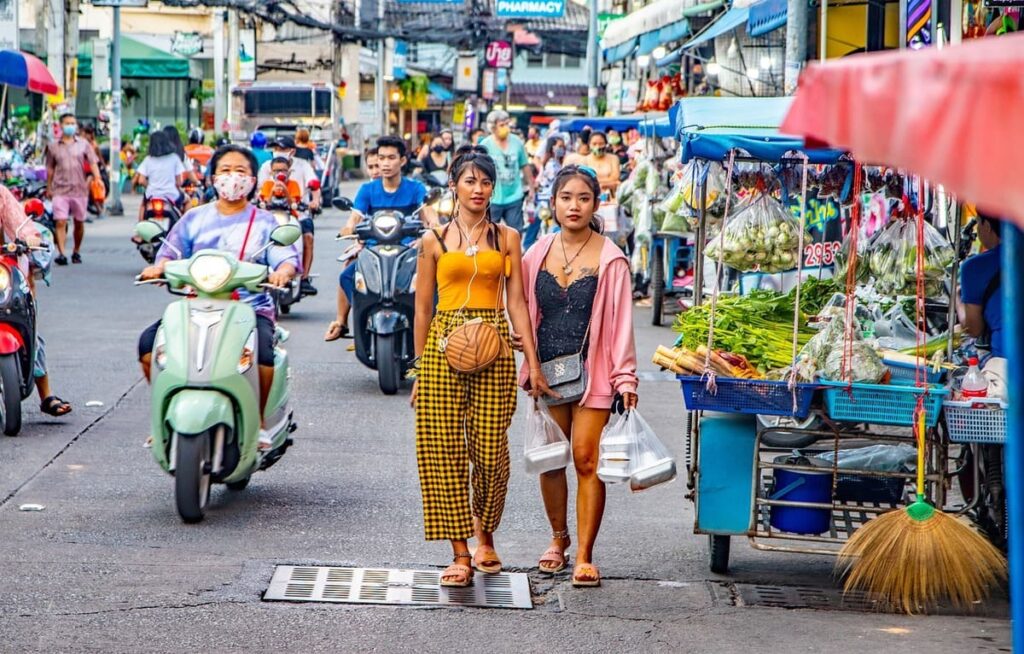 Drinks and Food
Beware of drinking tap water and eating food from street stalls. Try to buy bottled water. Choose reputable restaurants to avoid food poisoning incidents. If you want to try real local food – look out for places where a lot of locals are seated – this is an indicator that such cafes are trusted.
I am a vegetarian, and I have avoided poisoning, but I have often heard of cases of poisoning from animal food specifically. So again, choose places you trust and evaluate your options. Often poisonings are not because the chef is bad, but because the body is simply not ready for so much seafood.
Excessive alcohol consumption: Pattaya is known for its bars and nightclubs, and tourists can sometimes overindulge themselves with alcohol. This can lead to dangerous situations, including fights and accidents, as well as loss of belongings and showdowns with the police. All in all, I write with the expectation that I will be read by wary people so let's move on….
Prostitution and Sex Tourism
Pattaya is known for its entertainment districts and nightclubs where prostitution is widespread. Tourists should realize that many sex workers may be victims of human trafficking and it is illegal and morally unacceptable to participate in such activities. There are also situations where the girls are minors. And this can lead to big problems, including with the police, because in Thailand, as well as many other countries in the world, sex with minors is punished much more strictly than prostitution. And again, use personal protective equipment.
Dogs and other stray animals
In general, you will hardly meet any wild animals. Locals say that they have seen snakes, but it is definitely not about tourist places, so the probability of seeing a snake, and that it was poisonous, and that it would be so frightened that it started to attack – tends to zero.
Dogs are more difficult, they are really dangerous. In December, when I was here for the first time, it looked like this – during the day at a temperature of about 30 degrees in the shade, they are hot, the sun bakes in the head, and they practically do not move. Seeing a dog like this on the road, sometimes it was even safe to cross it. By evening, however, they are awake, hungry because they haven't eaten all day and have been hiding, and therefore angry.
Some of them have information in their brains that it is necessary to protect the territory, and that is why they jumped out of the fields onto the roads with unkind barking, and frightened passers-by. Some kind women were not afraid to feed them, but I preferred to avoid them.
Once we even ran away from a pack of 5-6 dogs. A little life hack – even if they are mean, they are afraid of scooters, so if you pass them near passing scooters, they won't do anything dangerous. As for the current situation – I hardly see any dogs now, and the ones I do see are very peaceful. Why – I do not know, either they began to feed them, or the state somehow else solved this issue.
Pattayas Beaches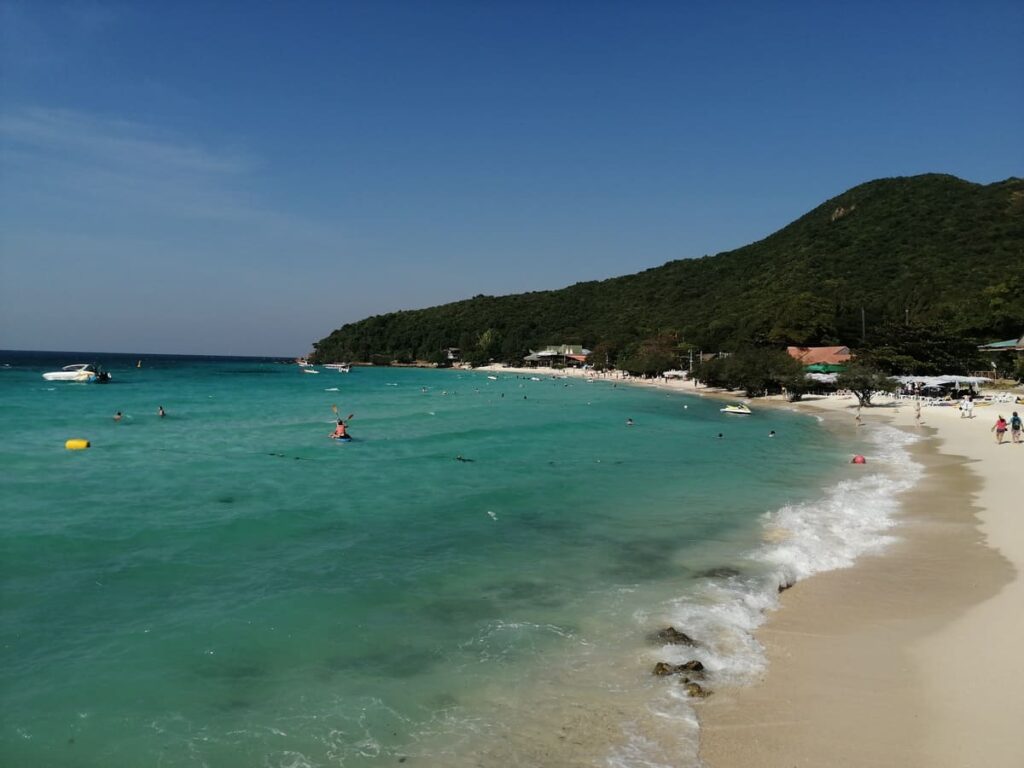 These cautions may seem trivial to some, like "Wear sunscreen and don't swim if you feel unwell" because they are so common. But still, this is a text about safety and about Asia. If in Europe or in the USA you leaned on a handrail and it was not secured, it is the problem of the municipalities who did not notice this violation. If you fall into a pothole on the road in Asia – next time look in front of you better! Of course, my examples are somewhat exaggerated, but you get the point.
On Ko Lan, you can see a pier at a height of 3-4 meters, which at some point has no handrails at all, and underneath it are rocks washed by seawater. Sea urchins on one of the beaches at a distance of 10-15 meters from the shore, and there are no warnings. Wires hanging straight from a pole onto the sidewalk are also the norm. Don't touch them, please!
All this is a consequence of the fact that Thailand is still a developing country, it is growing at a good rate, and they chose not to hang a warning sign for every danger to keep up the pace of this growth. Therefore, all vigilance in this case falls on you. Despite such nuances, I would say that in general, the beaches of Pattaya are quite safe for family vacations.
Tourists visiting Pattaya should be vigilant, observe safety precautions and comply with local laws and customs. By taking the above dangers into consideration and using common sense, you can make your trip to Pattaya more enjoyable and safer. I am sure you will have a safe and enjoyable trip to Pattaya.