It's been a while since I last wrote. It's becoming busier but that doesn't mean we should stop traveling or enjoying life altogether. I went with my Family in January- February 2023 to Manila. We planned this trip a while back but then all travel got suspended. So I am happy to share my review about traveling with Air Asia from Bali to Manila with a child.
Reading tip: Travel AirAsia with infants tips and best practises
Booking a flight with Air Asia: Tips and Tricks
Since we were traveling only with the 3 of us as a family towards another tropical country we expected not to require too much luggage. Included in the flight was already 7KG hand carry. We only wanted to add 1 additional 20KG but somehow when going through the Air Asia website booking process this was immediately added for all 3 of us. It wasn't possible to use only add 1 luggage with their system.
We had to split up our booking. So I would book with my child, and my husband had to book separately and choose the extra luggage. The cost of this extra luggage for 20 kg is around 30 USD 1-way. So for a return flight, this would be around 60 USD. And since he had booked separately, we had to purchase our seats together.
With all these extra costs, flying with Air Asia was still cheaper than Cebu Air Pacific, which also has direct flights from Bali to Manila. The total amount for 1 round trip ticket is around 3.8 Million IDR rounded upwards. This is almost 250 USD. It would be cheaper if we didn't add the extra luggage, pay for seats etc. This ticket was bought 4 months in advance, and the prices became slashed around 2 months later. This was a lesson learned for us.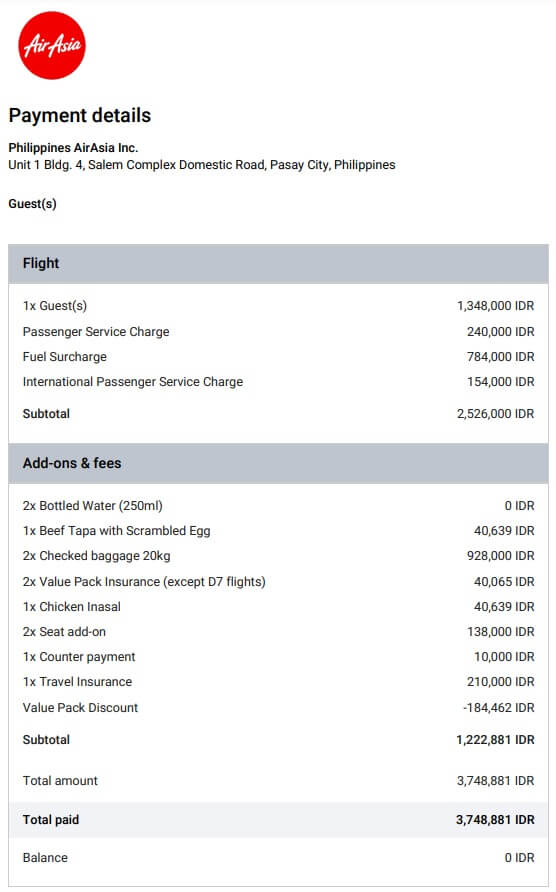 Traveling with a young child: tips
We took a flight for after dinner time. This allowed our daughter to rest finally in the airplane after all the security checks and going from line to line. Actually, because of this, it was nearing her bedtime, and when we boarded all she wanted to do was sleep. She tried to stay awake for 15 minutes and play with her toys but before the plane took off, she fell asleep already in her chair.
But in any case, we brought her some toys to play with, and some things for her to draw. Easy and simple toys to increase the mood in case of crying. You never know and this is something easily preventable.
I also noticed another child maybe around the age of 2-3 years old in the airplane. That child was dressed for a tropical place indeed. But in the airplane, it becomes rather cold. Babies and toddlers need a comfortable temperature, and it is wise to pack something extra that will be warming your child. As an adult, we can most likely endure 4 hours of the temperature. But remember when going from Bali to Manila, you are going from a warm place, into a colder airplane, to another warm place. So make sure the plane ride is comfortable for your little one.
Packing for your trip: Essential items for traveling with a child
During a flight, it is time to spoil your children a bit more. This makes your flight also more pleasurable. What I bring for my child during the flight:
Toys: for every 1 hour 1 new small toy. the things from those surprise eggs (without the candy) work miracles for me.
Drawing board that is "renewable". We have this kind of magnetic drawing thing. Some kids love these.
Warmer clothing.
Make also sure to have drinks. It could be that security confiscates water and other liquids. But you can buy them after or on boards as well.
Tablet with movies. We downloaded them from YouTube beforehand so it is available to watch via your YouTube Library.
In-flight entertainment options for kids on Air Asia flights
On-board amenities for families traveling with children aren't really a thing. It's almost a 4-hour flight, just sit back and enjoy. We brought our tablet as backup entertainment. Just in case to keep her calm. Other than that, Air Asia does come with some souvenirs and toys.
Why I chose Air Asia over Cebu Pacific Airlines
This all comes down to the price. Traveling is costly, and going to a destination where you still need to continue to spend, is even costlier. So Air Asia was just decided on the price and knowing we've used it before by going to Yogyakarta. See this one, traveling with a baby on Air Asia.
Food available on Air Asia
If you get some appetite, or feel like you need to eat something than you can order. These can be pre-ordered online while managing your booking at the Air Asia website. Which is a lot cheaper. But you can also just order them during the flight. Use the service button on the chair to order food, or ask the flight attendant when you get an opportunity.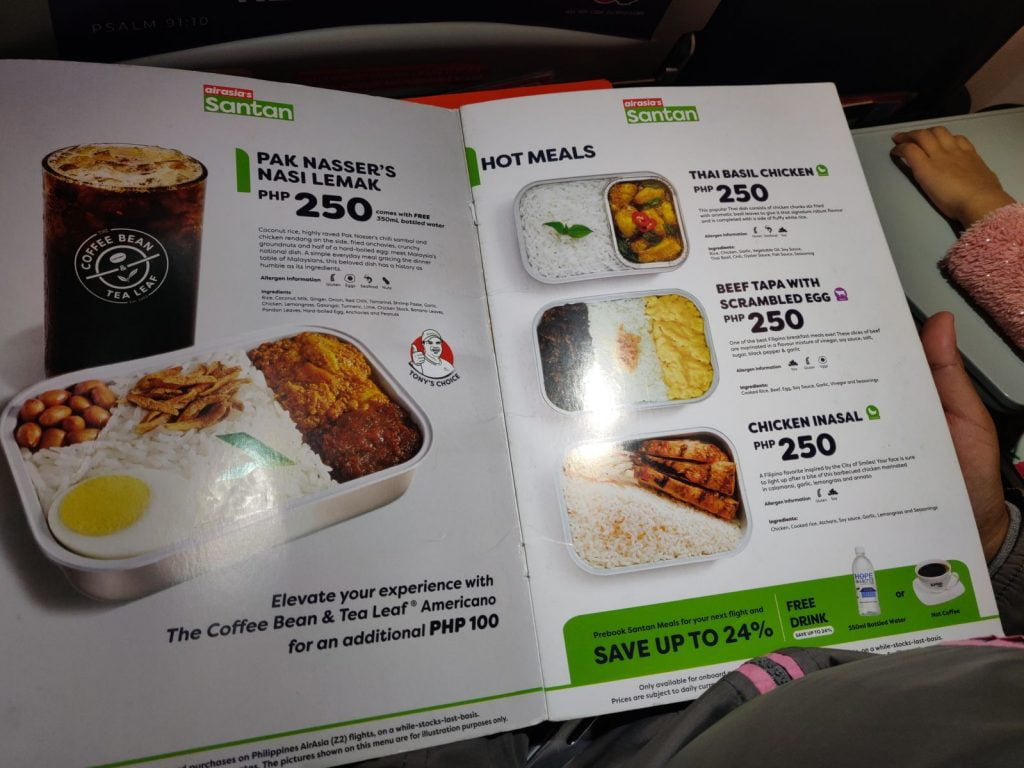 You can see from the meal it's beef tapa with scrambled eggs. which costs 40k IDR, which is around 2.60 dollars. During the flight it costs 250php this is 4.7 dollars!
The taste is simple and it will give you at least the feeling you ate. There are also choices to eat some snacks or drink some cold/hot beverages. If you're traveling on a budget, prepare yourself before in order to prevent costs that can accumulate causing your budget flight not to be so budgeted anymore.
Flying Post-Pandemic with Air Asia
Most people still wear mask during the flight. But these mask are off as soon on the air port. The flight itself only had a handful of seats free. Almost like 90-95% occupancy. So make sure to book your flight in time, and not too early like we did.
Arriving at Manila Airport
During the flight itself, you need to fill in a form. This form will be handed in at the airport. The questions are mainly about you, accompanied bags, unaccompanied bags and where you are going to stay. Keep your passport with you as you will need the passport number and your flight number.
We've arranged for pickup. After retrieving the luggage we went out of the airport. Since it was only around 4 am, my daughter was sleeping, and we carried her. Going out from the airport we were surprised that there were already multiple traffic jams.
This was it for the flight experience with Air Asia going from Bali to Manila with a child. If you are interested I got the flight experience for Qatar Airways Economy, and reviewed the vegetarian food of Qatar Airways as well.

Hi I am Dwi. I am a blogger, travel agent and a mom of a lovely daughter and wife to a supportive husband. I customize and plan tours in Bali and islands nearby for a living and have been doing this for more than 14 years. Get in touch via contact [at] taletravels.com